Man who killed Fox executive having an affair with his wife gets 11 years in prison
A Los Angeles jury convicted John Creech, 44, of voluntary manslaughter in the beating death of Gavin Smith, a 20th Century Fox executive. (Sept. 19, 2017) (Sign up for our free video newsletter here http://bit.ly/2n6VKPR)
Evan Smith's voice got louder then turned to a hiss. He clenched his jaw and glared at the man in handcuffs — a convicted drug dealer who beat his father to death and buried him in a shallow grave.
"Give this man the maximum today for savagely ripping my dad out of my life," Smith told a judge in a downtown Los Angeles courtroom. The judge gave a small nod and a family friend in the audience mouthed "amen." The defendant, John Lenzie Creech, stared ahead, expressionless.
The powerful plea came Tuesday during a hearing in which Los Angeles County Superior Court Judge Stephen A. Marcus sentenced Creech to 11 years in prison for his role in the 2012 slaying of Smith's father, Gavin, a 20th Century Fox executive whose decomposed body was found in the desert more than two years after he disappeared.
Before handing down the maximum sentence allowed by law, the judge turned to address Creech: "Frankly, you're a cold and cruel person."
John Lenzie Creech is brought into the L.A. Superior courtroom of Judge Stephen A. Marcus for sentencing for voluntary manslaughter in the 2012 death of 20th Century Fox executive Gavin Smith.
(Al Seib / Los Angeles Times)
Dylan Smith, son of 20th Century Fox executive Gavin Smith, delivers an impassioned plea during victim impact statements at the sentencing for John Lenzie Creech, who was convicted of voluntary manslaughter.
(Al Seib / Los Angeles Times)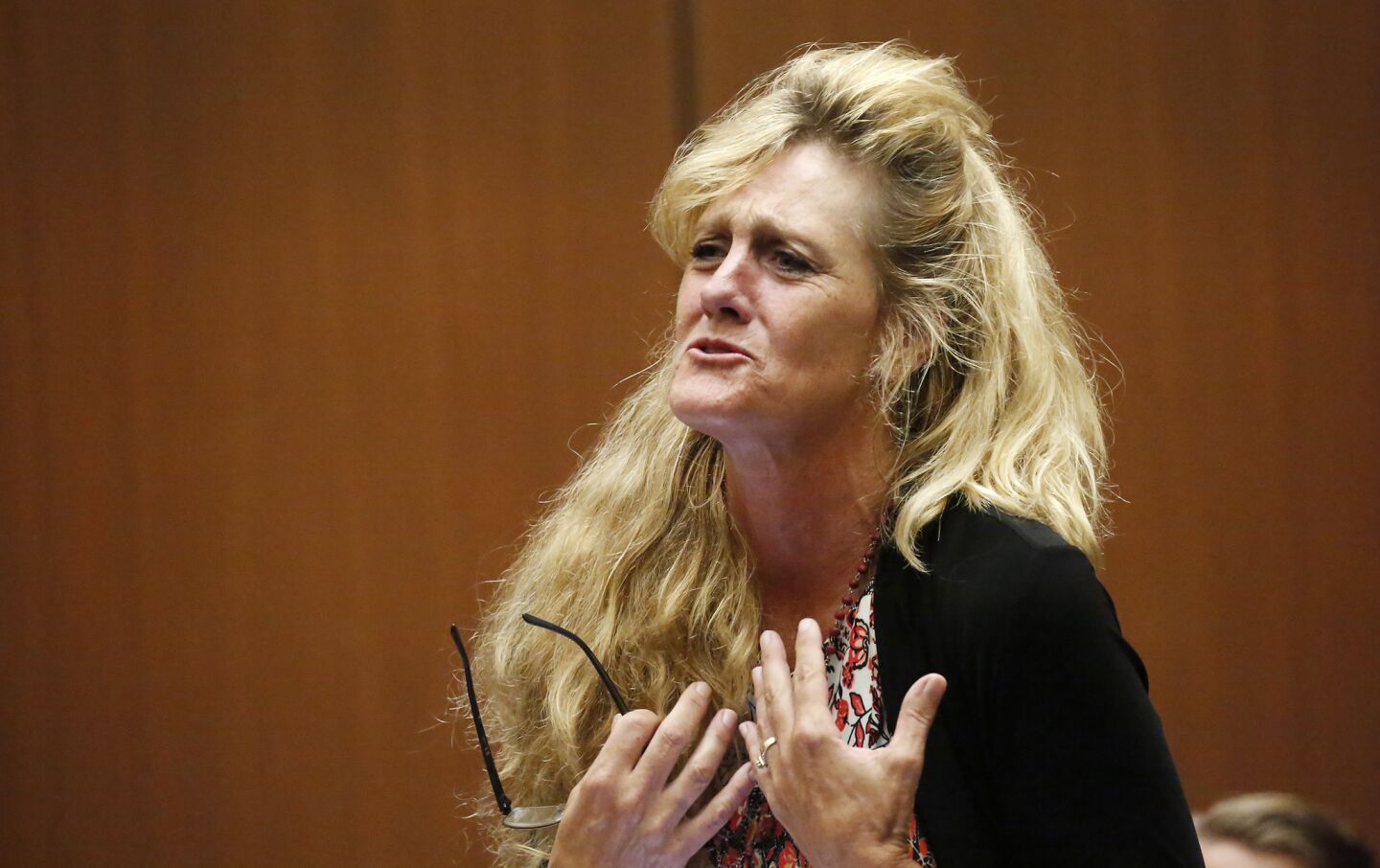 Lisa Smith, wife of 20 Century Fox executive Gavin Smith, gives an emotional steatement to Judge Stephen A. Marcus during the sentencing of John Lenzie Creech, who was convicted of voluntary manslaughter.
(Al Seib / Los Angeles Times)
Evan Smith, son of 20th Century Fox executive Gavin Smith, gives a victim impact statement as defendant John Lenzie Creech is sentenced.
(Al Seib / Los Angeles Times)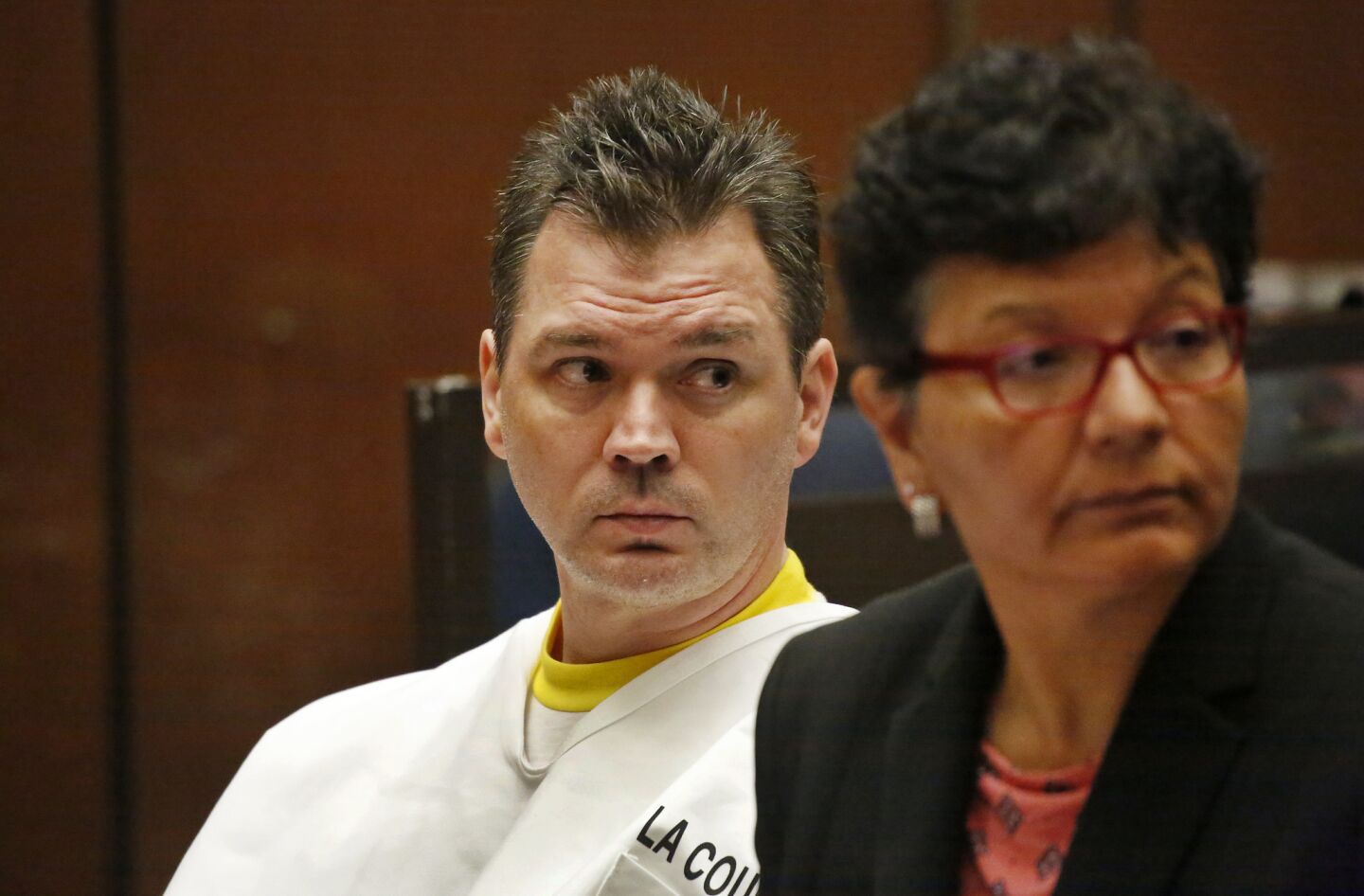 John Lenzie Creech and his attorney, Deputy Public Defender Irene Nuñez, look toward the Smith family during the sentencing.
(Al Seib / Los Angeles Times)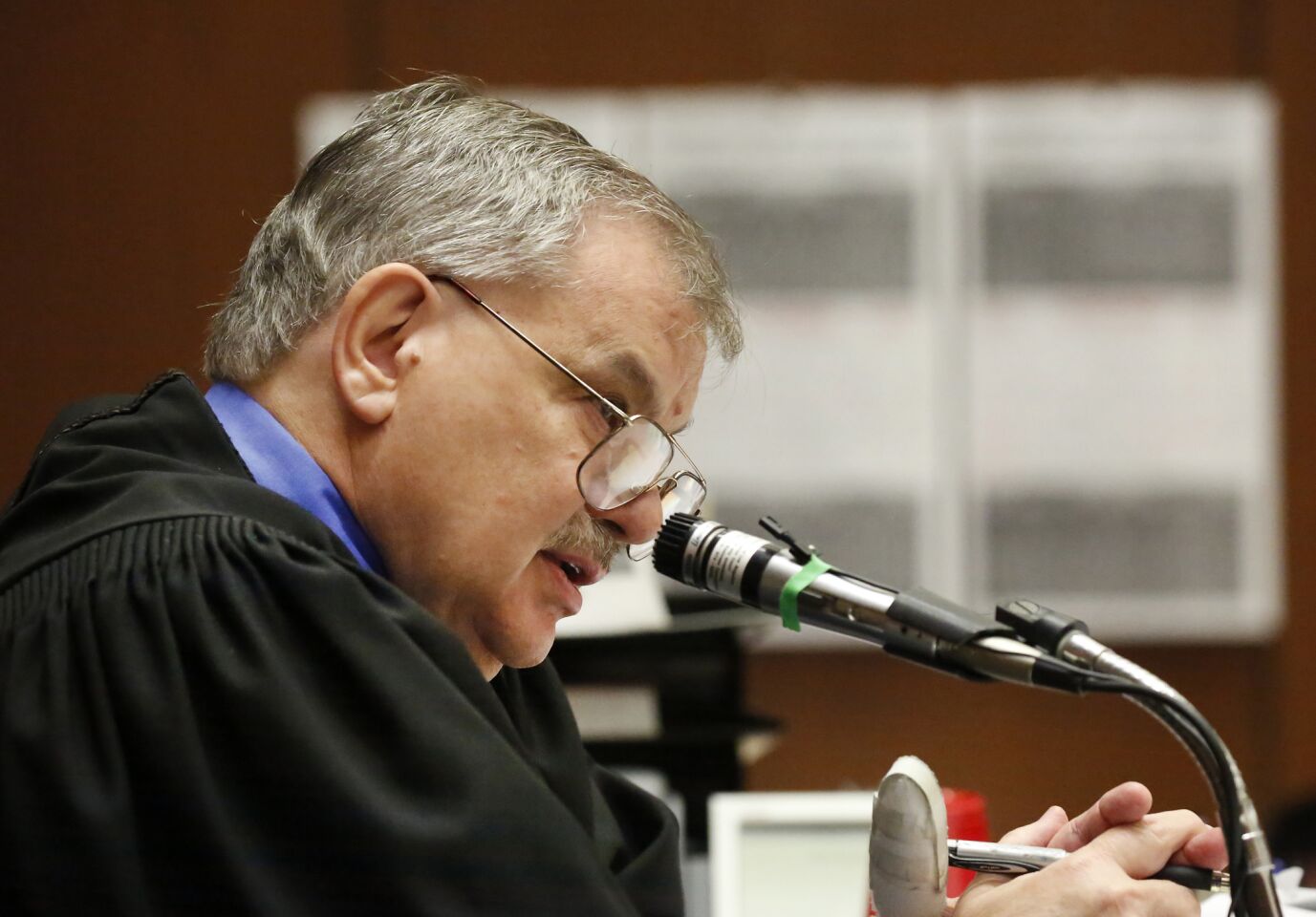 Los Angeles Superior Court Judge Stephen A. Marcus delivers the sentence to John Lenzie Creech. "Frankly, you're a cold and cruel person" Marcus told Creech.
(Al Seib / Los Angeles Times)
A jury in July rejected prosecution arguments that Creech, 45, committed murder when he killed Gavin Smith after catching him in a romantic tryst with Creech's wife, but the panel convicted him instead of voluntary manslaughter.
After Smith disappeared on May 1, 2012, authorities searched for clues at the spots he'd last been seen, and the Fox executive's family offered a $20,000 reward. By the next spring — as speculation started to shape into painful reality — sheriff's investigators confirmed that Smith likely had been killed and named a person of interest: Creech, who was by then serving an eight-year sentence for selling and transporting cocaine. Authorities had found Smith's missing Mercedes-Benz stained with dried blood and parked inside a Simi Valley storage locker tied to Creech. But still, no body.
A few days before Halloween in 2014, a man hiking in the desert near Palmdale stumbled on a shallow grave. The bones and skull — still covered with a clump of hair — belonged to Smith, the coroner confirmed.
At Creech's murder trial this summer, Deputy Dist. Atty. Bobby Grace argued that the drug dealer had deliberately killed Smith after catching him in the passenger seat of his car with Creech's wife, Chandrika Cade. Smith and Cade met at a drug rehab facility in 2008, the prosecutor said, and began an on-and-off affair that year.
The night of the killing, Grace said, Creech used an iPhone app to pinpoint Cade's location in West Hills, where she'd met Smith at a secret spot. Creech then sneaked up on them and committed "an act of almost stunning brutality," the prosecutor told jurors. The defendant, Grace said, beat Smith to death with his bare fists. Cade — who was granted immunity from an accessory-after-the-fact charge by prosecutors in exchange for her testimony — fled the scene.
At trial, Deputy Public Defender Irene Nuñez told jurors that her client acted in self-defense after Smith choked him, gouged at his eyes and threatened him with a tool resembling a hammer and an ice pick. Creech testified that Smith had punched him in the face.
"I defended myself," Creech told jurors, adding that he'd left the scene but returned soon afterward to find Smith slumped backward in the car. Creech said he frantically checked Smith's neck for a pulse, and it dawned on him that he was likely dead, but he feared calling 911 because he had a criminal record.
"If there was any chance of him being alive," Creech said during the trial, "I would've taken him to the hospital."
Creech later testified that he'd said a little prayer for Smith while burying his body in the desert.
In finding Creech guilty of voluntary manslaughter, jurors found him not guilty of first- and second-degree murder — more serious charges that could've earned Creech a life-behind-bars sentence.
Before the judge sentenced Creech on Tuesday, Grace, the prosecutor, read a letter from Marques Johnson, who played college basketball with Smith at UCLA under legendary coach John Wooden in the 1970s. Smith — No. 55 — was tall and played the game with a sense of joy, wrote Johnson, who now works for the Milwaukee Bucks. His former teammate, Johnson said, had an irreverent sense of humor and always filled the locker room with laughter.
As Dylan — another of Smith's three sons — addressed the court, he described his father as someone who loved action. When his sons skimboarded, surfed or played basketball, he joined in. He was also exceedingly kind, Dylan said, choking up at the thought of his future children never meeting his father.
When Smith's wife, Lisa, stood behind a lectern, her hands shook and she took deep breaths to quiet her sobs. Not only had Creech stolen Smith's life from them, she told the judge, but also his death. For two years before his body was found, his family hadn't been able to fully mourn. Years later, she said, she couldn't help but think of her husband's body rotting as it sat inside a car parked in the garage of Creech's friend's home.
Her son, Evan, simmering as he listened to his mother's painful memories, punched a bench in the courtroom. A few moments later, Lisa turned to look at Creech and shook her head.
"He needs to be in walls," she said, "like the animal that he is."
The probation officer who wrote a pre-sentencing report for the judge said that Creech "poses a potential threat to the victim's family and society," and suggested he serve prison time.
Toward the end of the hearing, Marcus, the judge, explained that one thing he considers in deciding a sentence is whether the defendant displayed a high degree of viciousness. In this case, he said, "the answer is 'yes.'" The judge said he was shocked by Creech's argument at trial that he hadn't sought immediate medical help because he worried how he'd be perceived as an ex-convict. He'd had a "moral obligation as a human being," Marcus said, to call for help.
While he has to respect the jury's verdict, the judge said he hadn't accepted the defense argument that Creech went out searching for Cade that night because he was concerned for her safety, as she'd been drinking that day.
"He was well aware that his wife was seeing somebody else," the judge said. "He went out there for the two oldest motives: jealousy and pride."
For more news from the Los Angeles County courts, follow me on Twitter: @marisagerber
ALSO
Instagram post of guns lets LAPD track down gangster on Texas' most wanted list
Man removed from sex offender registry arrested on suspicion of possessing child porn, police say
A California businessman is a suspect in 3 execution-style slayings in L.A. and Las Vegas, police say
---
UPDATES:
3:05 p.m.: This article was updated with additional details from the sentencing hearing, as well as Creech's criminal history.
10:20 a.m.: This article was updated with details from the sentencing hearing.
This article was originally published at 5 a.m.
---
The stories shaping California
Get up to speed with our Essential California newsletter, sent six days a week.
You may occasionally receive promotional content from the Los Angeles Times.