Topless carwash raises cash for deputies wounded in gun battle at Rastafarian pot farm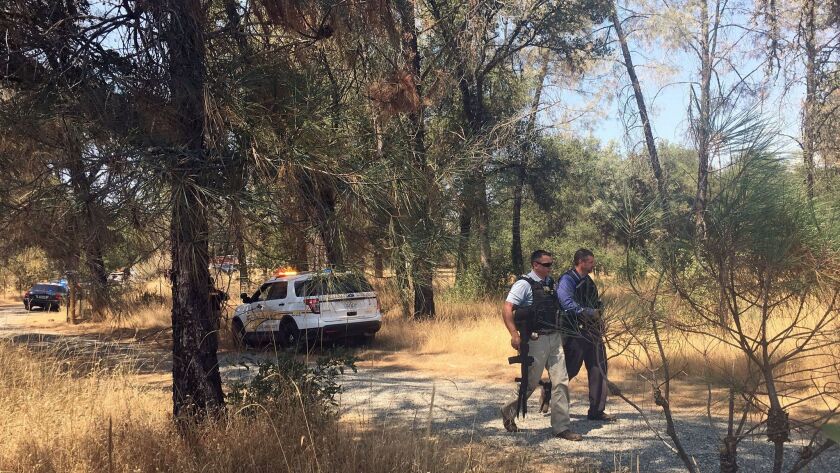 The tops came off, and the wallets came out.
A Yuba County strip club, feeling particularly philanthropic, used its abundant assets — topless ladies — in a weekend carwash to raise money for two sheriff's deputies who were injured in a shootout at a Rastafarian pot farm last month.
The shirtless carwash at City Limits Showgirls in Marysville on Saturday raised $2,560, the strip club wrote on Facebook. A long line of cars snaked outside the fundraiser, which was held in a tented parking lot.
The charity event was held for Yuba County sheriff's Deputies Phillip Bronson and Andrew Everhart, who were shot multiple times on Aug. 1 at a Rastafarian church's marijuana farm in Oregon House, a small community northeast of Sacramento.
That day, a new worker at the farm who was armed with a handgun started acting erratically, pulling marijuana plants from the ground, Heidi Lepp, a reverend at Sugarleaf Rastafarian Church, told KCRA-TV.
When deputies were called to the farm, the man hid, then began firing, hitting Bronson and Everhart. The shooter, identified as Anthony Sanchez, 33, of Gilroy, died after being hit by return fire from the wounded deputies, according to the sheriff's department.
Everhart and Bronson both underwent surgery after the shooting and have since been released from the hospital, said Leslie Carbah, a spokeswoman for the sheriff's office. They are still under medical care and are recovering at home, she said.
The sheriff's department said it was not affiliated with the strip club carwash. The department "looked into the legality of the event" but found that since it was held in an enclosed space and that identification was checked before any adult could enter, it was a "legal business promotion."
"While we appreciate the sentiment of support from the business owner, we do not endorse the event," the department said in a statement.
Hal Meyer, the operations manager for City Limits Showgirls, said he hopes the deputies' families can use the money.
Sheriff's officials "don't promote it, but they didn't condone it. Most of the deputies and people that we have spoken to on an individual basis," Meyer told KCRA before the event. "Some of them are even bringing their own vehicles through."
If people gave a larger donation, they got a longer wash, Meyer told the Sacramento Bee.
One of the dancers who planned to participate in the carwash, Talina Kirker, was asked by a TV reporter if she had ever washed a car before.
"No, actually, I haven't," she said, laughing.
She volunteered to do the carwash, she said, because the deputies make the dancers feel safe while they're at work.
The strip club's Facebook page is filled with thankful comments.
"Thank you for your Community spirit," one woman posted. "Great job Ladies."
"I'm a retired cop," a man wrote. "I thank you for putting [forth] the effort to help. Your hearts are golden."
Twitter: @haileybranson
---
The stories shaping California
Get up to speed with our Essential California newsletter, sent six days a week.
You may occasionally receive promotional content from the Los Angeles Times.