Rape and molestation charges against La Luz del Mundo leaders roil church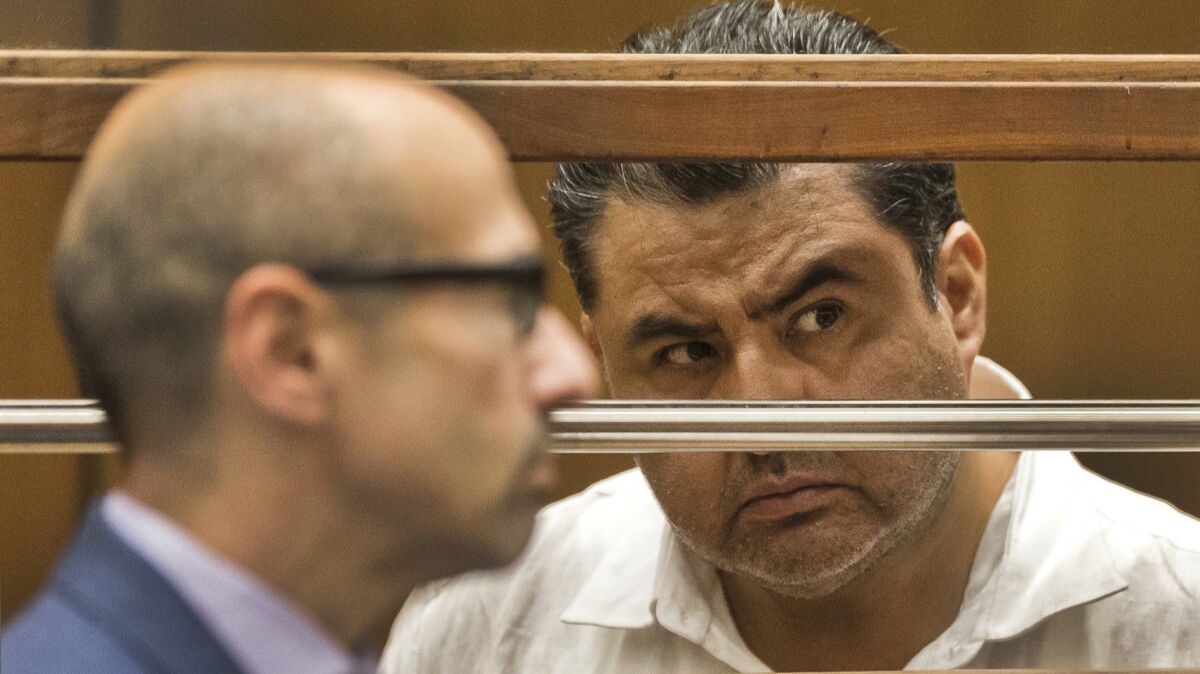 Within hours after news broke that "the Apostle" had been arrested on human trafficking, rape and child pornography charges, bishops of La Luz del Mundo exhorted church members via video to start praying for their leader, and not stop.
The doors of Naason Joaquin Garcia's church in East Los Angeles — one of about 40 in Southern California — were left open overnight so the devout could petition God on Garcia's behalf.
Members of the Guadalajara-based faith, if they were willing to talk at all on Wednesday, said they believe their 50-year-old leader is the target of a smear campaign. It is designed, they said, to tear Garcia down, along with the church his father led before him, the one his grandfather founded 93 years ago.
"We're united in prayer," said Jack Freeman, a minister who has been with the church for 27 years. "An attack like this, which is meant to stumble us or bring us apart, it actually brings us closer together…. We're not giving up. The church is still going to go forward. We believe this is still the church of the Lord."
Garcia and his three female co-defendants are all affiliated with La Luz del Mundo — Light of the World — which is the largest evangelical church in Mexico. It has branches in 50 countries and boasts more than 1 million members. The accused are alleged to have committed 26 felonies in Los Angeles County between 2015 and 2018 while leading the religious organization.
Late Tuesday, a judge granted state prosecutors' request to raise Garcia's bail to $50 million. Prosecutors cited new findings from a search warrant.
California Atty. Gen. Xavier Becerra began investigating Garcia; Alondra Ocampo, 36; Azalea Rangel Melendez; and Susana Medina Oaxaca, 24, in 2018, prompted in part by a tip to the state Department of Justice through an online clergy abuse complaint form.
Prosecutors allege that Garcia sexually assaulted three girls and an adult mentioned in the criminal complaint filed in L.A. County Superior Court on Tuesday.
The complaint is filled with graphic and disturbing details about a church leader who allegedly was a sexual abuser and the women who prosecutors say helped procure and prepare young girls for the pleasure of the man they knew as "the Apostle of Jesus Christ."
In one incident outlined in the complaint, Ocampo called a girl to Garcia's home and directed her to serve him coffee in his office — without wearing any clothing. She is identified only as Jane Doe 1. She has yet to celebrate her 16th birthday.
When the girl entered Garcia's office, according to the complaint, he put his arms around her, kissed her on the lips and touched her in intimate locations.
Prosecutors further allege that Ocampo repeatedly took photos of three naked girls, sometimes as they performed sexual acts. She told the girls the photos were for "the servant of God" — Garcia.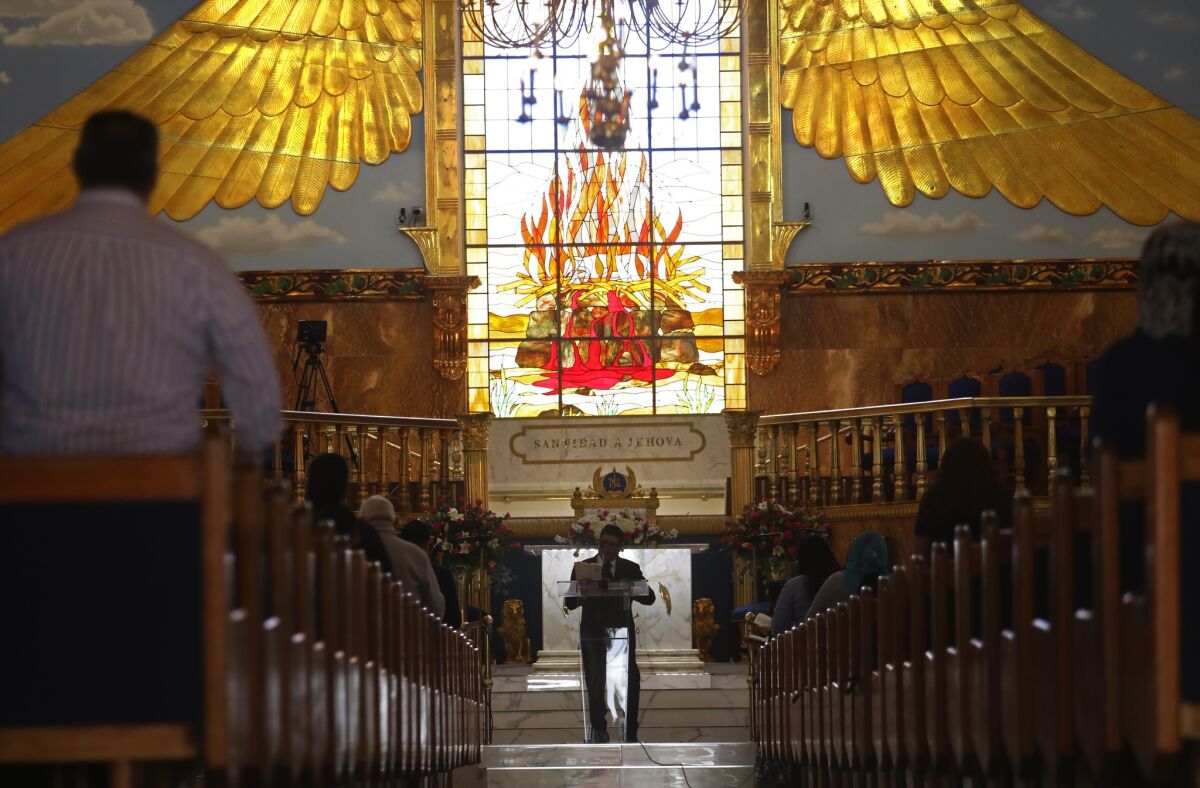 On Wednesday, church officials were out in force, holding news conferences in East Los Angeles and Mexico and posting statements in Garcia's defense online.
Silem Garcia, a spokesman for La Luz del Mundo, told reporters in Mexico City on Wednesday that the church and its members "consider these accusations defamatory and a calumny against our international director, the Apostle of Jesus Christ. We believe firmly in the innocence of the Apostle of Jesus Christ."
He was asked whether he believes there are forces out to get the church. His response was vague. Church officials believe there are some, he said, who are making false claims, and they are trying to get "more information."
In East Los Angeles, spokesman Ashley Valdez said the allegations against "the Apostle" were false and that the church trusts that the legal system will find Naason Garcia innocent.
"The Apostle of Jesus Christ has always adhered to the law," Valdez said.
Congregants believe Garcia, who was once a pastor in the imposing East Los Angeles church, was ordered by God to direct La Luz del Mundo.
"He is the mouthpiece for God," said Valdez, adding that he didn't know what would happen to the church if Garcia were found guilty.
"We're not going to make any assumptions at the moment," he said.
Andrew Chesnut, a professor of religious studies at Virginia Commonwealth University who has been following the Pentecostal movement in Latin America for a quarter century, said a conviction "could have grave consequences for the future of the church."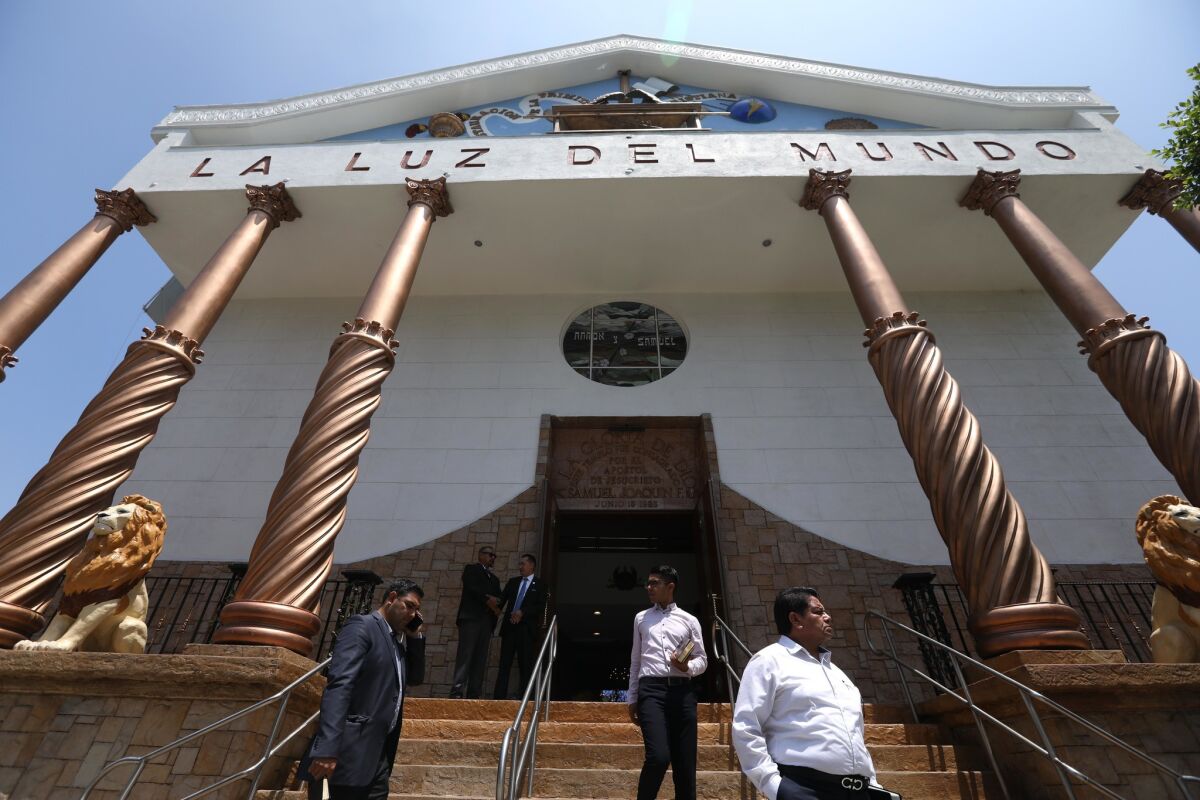 Chesnut said he was not surprised by the allegations against Garcia, "having known about the history of his father."
La Luz del Mundo has been the subject of controversy for decades, as it has spread from Mexico into California and other areas. In the past, critics have compared the church — formed in 1926 — to a cult that preys on the poor.
Samuel Joaquin Flores, Garcia's father and predecessor who died in 2014, was previously the subject of child sex abuse allegations that he adamantly denied. He never faced charges.
Chesnut said La Luz del Mundo is "too large to be considered a cult" but the church has definitely been run as a "cult of personality…. Garcia took on godlike roles, saying he couldn't be judged, that he was like a king."
What draws people to the church is its strong sense of community. Like other fundamentalist groups, he said, the church has "very clear absolutes of the right way for living." At a time when Mexico has suffered so much violence, that kind of clarity offers comfort and safety, Chesnut said.
The church does not celebrate Christmas or Easter. The sexes are strictly segregated during services. Alcohol is prohibited. Women must dress modestly and cannot rise to leadership positions.
"These kinds of churches that are extremely authoritarian, hierarchical and based on cults of personality around strong pastors lend themselves to these kinds of abuses," Chesnut said.
On Wednesday, even the president of Mexico was drawn into the controversy.
A day after the charges were announced, President Andres Manuel Lopez Obrador faced scrutiny about a concert last month at the Palacio de Bellas Artes, a well-known cultural center in Mexico City, that appeared to be a tribute to Garcia.
The government had given permission for the space to be rented for the event, a move that roiled critics who said public venues should not be used for religious purposes.
Lopez Obrador responded that authorities in Mexico did not have the information that came to light Tuesday when Garcia was taken into custody at Los Angeles International Airport.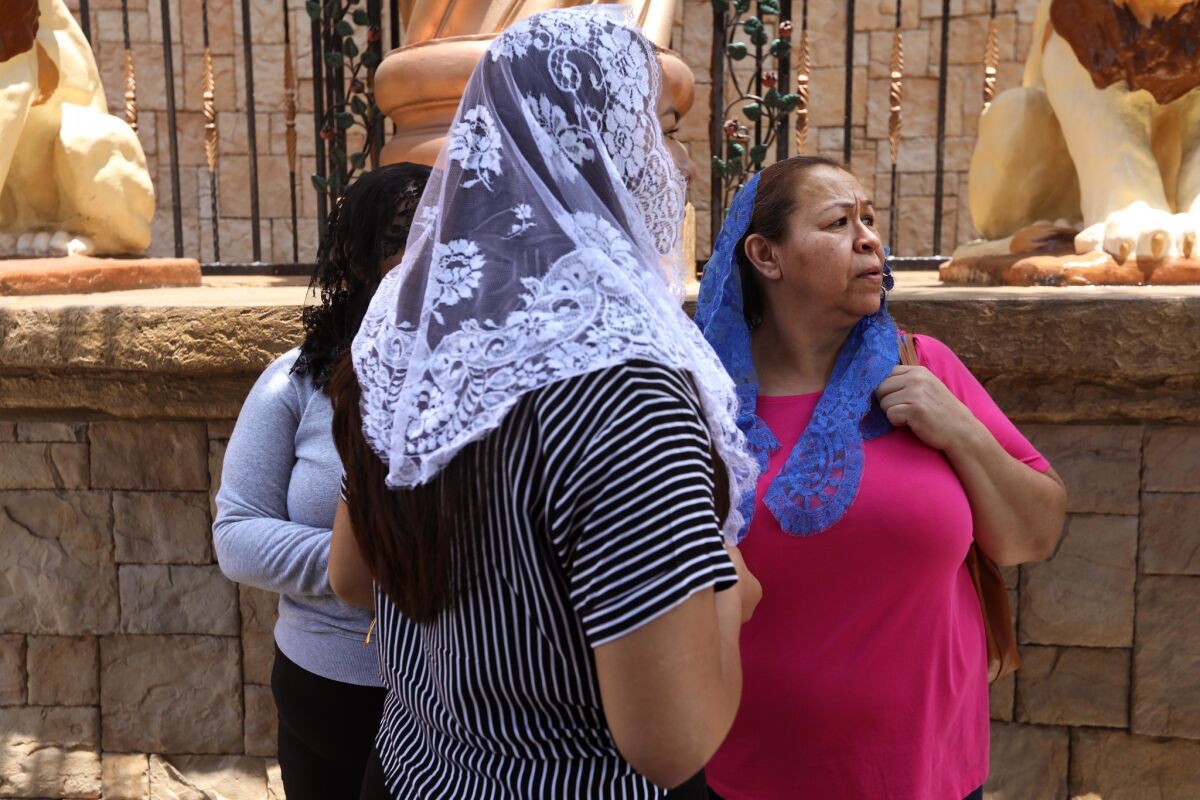 "What I can say is my conscience is at peace, because I am a supporter of respect and tolerance," he said. "That is what I defend."
Garcia, Ocampo and Oaxaca appeared in a downtown Los Angeles courtroom Wednesday morning. A bench warrant was issued for the arrest of Melendez, who did not show up for court. Garcia wore a short-sleeved white polo shirt and black pants as he sat quietly in the corner of the courtroom's custody box, speaking occasionally to consult with attorneys.
Oaxaca, who wore a long-sleeved white blouse, and Ocampo — in an orange jail jumpsuit — sat nearby. Garcia's wife and children sat silently among a packed crowd in the courtroom, staring straight ahead.
Ocampo is being held on a bail of $25 million and Oaxaca on $5 million.
Members of La Luz del Mundo on Wednesday vowed to keep faith with their leader. In Santa Ana, David Salazar defended Garcia in between sips from a foam coffee cup
"He is a man of God," said Salazar, who grew up in the church. "It's not true. … It's just meant to discredit him."
Salazar, who lives in Tustin, said he personally knows Garcia and believes him to be a great leader and a good example for his congregants.
"My children have grown up here," Salazar said of his six children. "They don't use drugs. They are well-mannered and are good people because of the church … because of him."
Francisco Lucas, who stood by Salazar, chimed in.
"This is a living church," he said. "We are a spiritual church. We believe in justice. We are praying for God to do justice."
Garcia's tribulations are nothing new, Lucas continued. "Apostles have long been persecuted."
Times staff writers Patrick McDonnell and Cecilia Sanchez in Mexico City and Hannah Fry in Los Angeles contributed to this report.
The stories shaping California
Get up to speed with our Essential California newsletter, sent six days a week.
You may occasionally receive promotional content from the Los Angeles Times.