Heavy rain prevents Obama from landing in Palm Springs; causes mudslides, flooding across region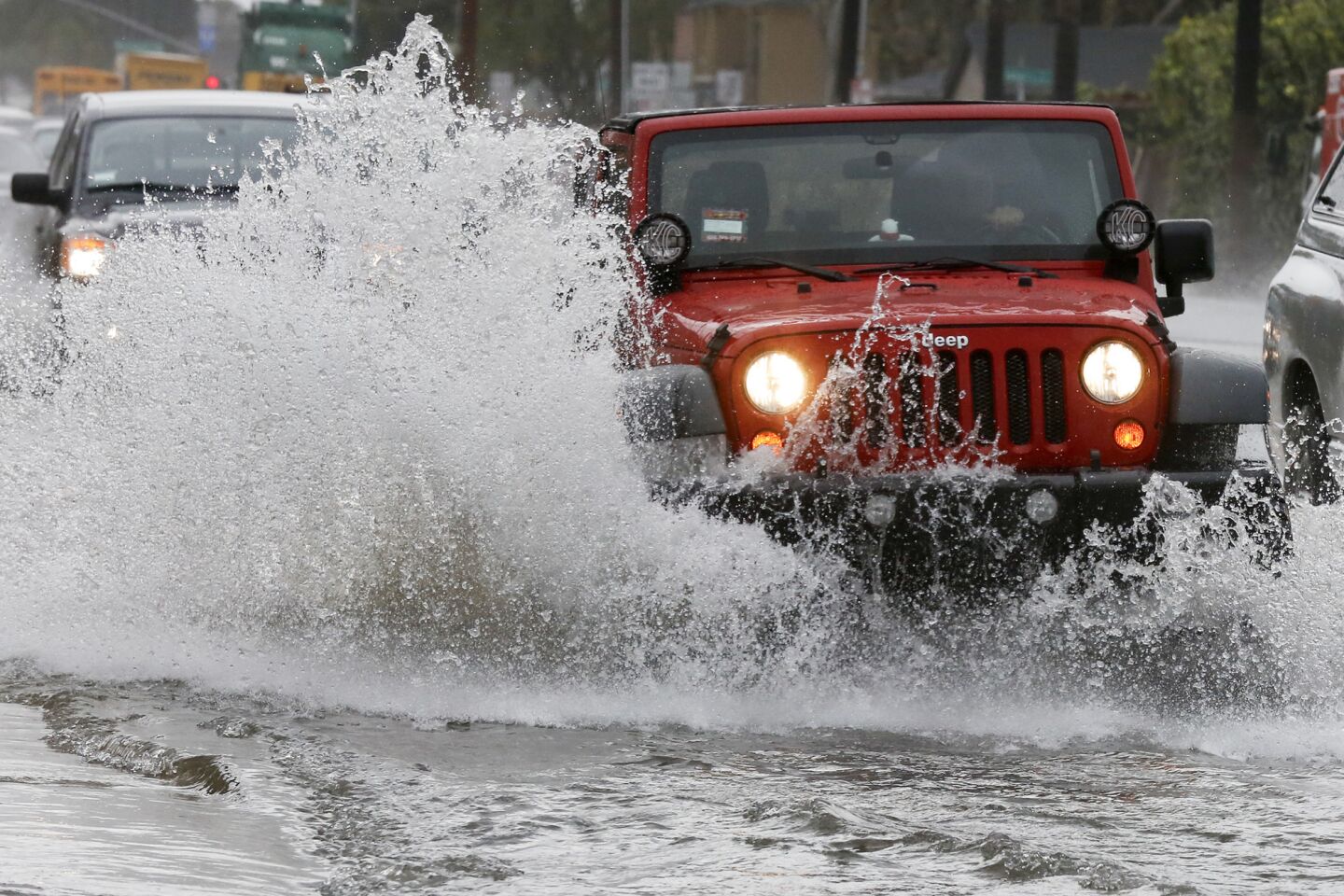 Motorists navigate the flooded lanes of northbound Fairview Street in Santa Ana.
(Mark Boster / Los Angeles Times)
Elizabeth Wolterbeek plays among rocks in the 200 block of Mel Canyon Road in Duarte on Friday after a mudslide.
(Irfan Khan / Los Angeles Times)
Angie Garcia shelters under her umbrella on Hollywood Boulevard and Highland in Hollywood.
(Al Seib / Los Angeles Times)
Umbrellas are very useful on Hollywood Boulevard at Highland in Hollywood as the second of three winter storms begins to drench the Southland.
(Al Seib / Los Angeles Times)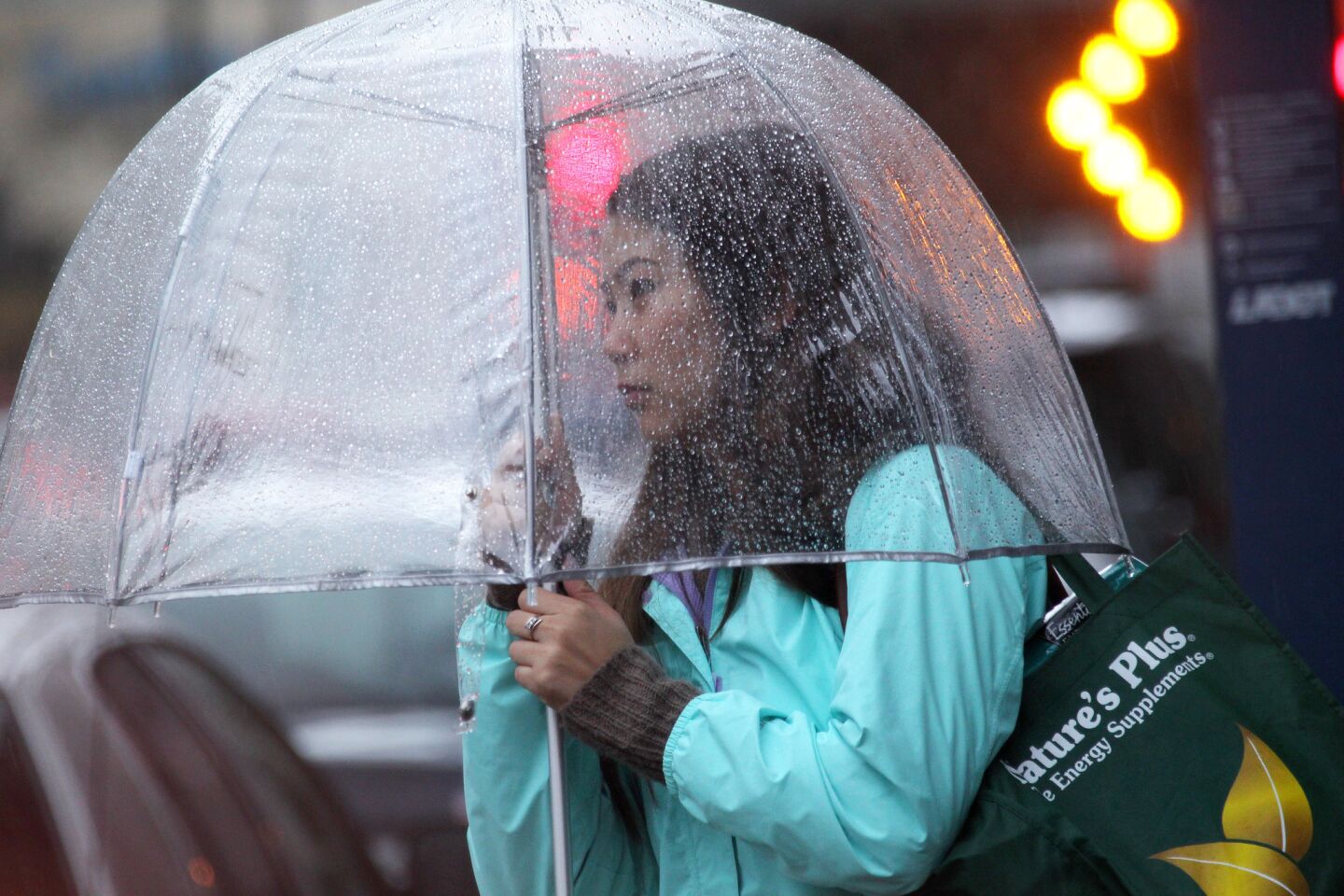 Paulina Tu takes cover under her umbrella as she waits for a ride in downtown Los Angeles on Friday morning.
(Irfan Khan / Los Angeles Times)
Stephanie, 7, and sister Elizabeth, 4, seek shelter under the umbrella of their mother, Carolina Salazar, on Hollywood Boulevard.
(Al Seib / Los Angeles Times)
Pedestrians walk past a wet Donald Trump star on the Hollywood Walk of Fame on Friday morning, the same day Trump was sworn in as president.
(Al Seib / Los Angeles Times)
A pedestrian scurries across the street under her umbrella in downtown Los Angeles on Friday morning.
(Irfan Khan / Los Angeles Times)
Umbrellas are necessary on Hollywood Boulevard as the second of three winter storms begins to batter Southern California on Friday morning.
(Al Seib / Los Angeles Times)
Southern California was battered Friday by the second of three big winter storms, causing mudslides and flooding, and forcing authorities to rescue people trapped at a flooded beachside campground and at a homeless encampment.
The storm lingered into the evening, but an even more powerful weather system was set to hit the region over the weekend, prompting concerns about more trouble.
The bad weather scuttled former President Barack Obama's travel plans. He and his family left Washington on Friday after Donald Trump's inauguration and planned to land at Palm Springs International Airport. But after at least two aborted tries, that landing was scrapped due to poor weather conditions. His plane ended up landing at March Air Reserve Base near Riverside.
The storm hit the Santa Barbara County coast early Friday, dropping more than 3½ inches of rain that quickly overwhelmed the burn areas of last summer's Sherpa fire.
As a result, mud, trees and brush coursed downhill into a creek at El Capitan State Beach.
The debris flow formed a dam, then flooded a campground and sent cars and wooden cabins floating downstream until they became lodged in a bottleneck. About two dozen campers had to be rescued and evacuated by Santa Barbara County firefighters, department spokesman Mike Eliason said.
Several cars in the campground parking lot floated down a culvert below Pacific Coast Highway and ended up submerged in sand and seaweed on the beach.
In the San Fernando Valley, firefighters rescued five homeless people in the Sepulveda Basin after their encampment was hit by flooding.
About the same time, the front of the storm was drenching the edges of Los Angeles and Ventura counties. Rockslides forced authorities to close Malibu Canyon Road leading into the hills, possibly until Monday, the California Highway Patrol said, and forecasters issued a flash flood warning for Simi Valley.
Pacific Coast Highway was also closed Friday afternoon.
The storm was blamed for at least two fatal crashes, one in Anaheim Hills and one in Temecula, and scores of injury and non-injury accidents.
Trees fell on homes in Beverly Glen and Irvine, and mudflows forced police to close Santa Monica's famed California Incline. A mudflow in Duarte lifted up K-rails and carried them down the street, and officials in Orange, Riverside and San Diego counties warned of flash floods. The Los Angeles County Sheriff's Department warned of possible avalanches in Wrightwood because of heavy snowfall.
A small landslide was reported at Hollywood Hills' Runyon Canyon Park. Interstate 15 through the Cajon Pass was closed for a time by a mudslide, roads were flooded out and power lines were down in Lake Elsinore, and a Riverside County Animal Services vehicle became stuck in high, fast-moving water and the driver had to be rescued by firefighters. There were no animals on the truck, authorities said.
Thousands throughout Southern California were left without power due to multiple storm-related incidents.
Northern and Central California were also hit hard. Floodwaters caused evacuations in parts of San Benito and Santa Cruz counties. Rockslides were reported on some coastal roads.
It seems that after six years of drought, suddenly California can't get a break from the rain. Despite the challenges, that's still a good thing, said State Climatologist Michael Anderson.
"It's great when you get these steady storms that aren't too much at once but really let the water soak into the ground, replenish groundwater and get some surface runoff to help with local reservoir conditions," he said. "Certainly it's going to help catch up [reservoirs] to average in some places and get above average in others."
So far, California is on pace for its wettest year on record after six years of drought, according to the Department of Water Resources. Months of above-average rainfall have only accelerated in January, with three consecutive weeks of rain from the Sacramento Valley to the Los Angeles Basin with only days of clear skies in between.
The storms have built up the snowpack for the whole Sierra Nevada, with the southern third of the range at nearly 200% of average for this time of year. The state's biggest reservoirs are brimming and more rain is on the way, forecasters say.
"It's a perfect scenario," Anderson said of this year's storms.
The bulk of the storms have flowed south from the Alaskan gulf, carrying with them cold air and moisture from the Pacific. Unlike in previous years, these storms are staying offshore, allowing them to pull in water that the system turns into tons of snow that it then dumps on the Sierra Nevada along with rain at lower elevations to fill rivers and creeks.
Most of Northern California is considered to be out of drought conditions because of this year's and last year's storms. The same could happen for Southern California, Anderson said.
"String together a couple years like this … that's really the key to getting out of drought conditions," he said.
Friday's rain was falling at a rate of more than an inch per hour, which is the type of downpour that can trigger mudflows and flash floods, said Stuart Seto of the National Weather Service.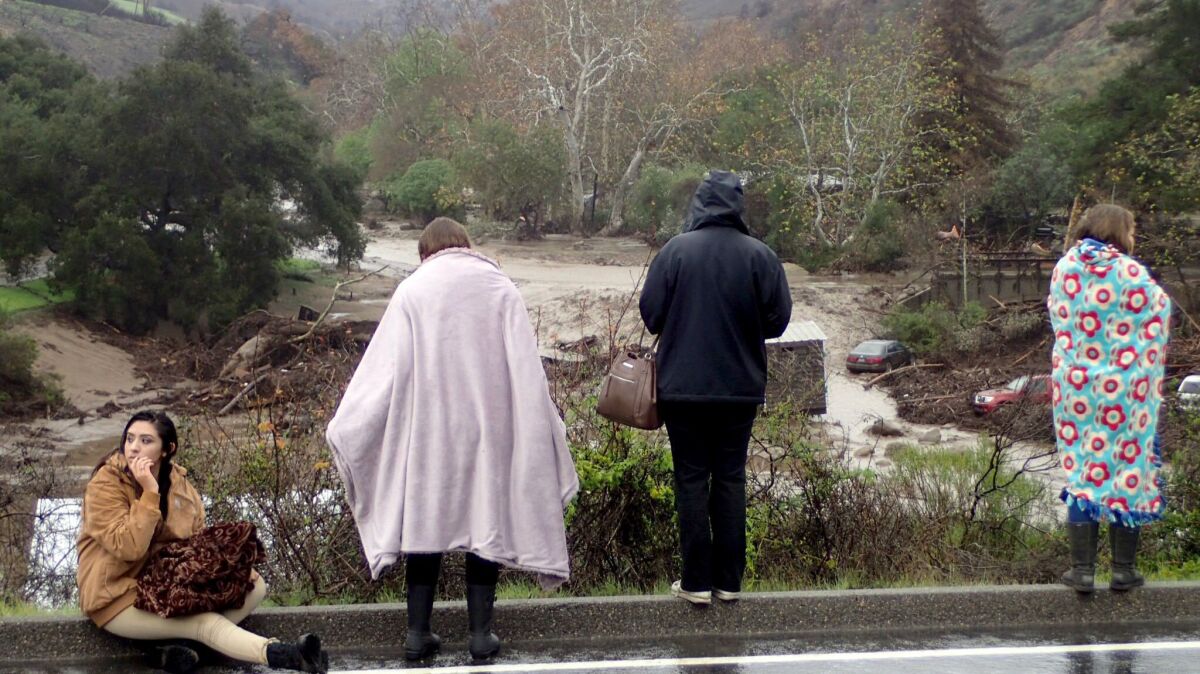 The third storm of the series, expected Sunday, is fueled by warmer, moist air and could dump up to 3 inches of rain in the valleys and foothills, and up to 5 inches of rain in the mountains.
"We're hoping for the best and preparing for the worst," said Eliason, the Santa Barbara County fire spokesman.
Because of the rain runoff, Los Angeles County health officials advised beachgoers to avoid areas around discharging storm drains, creeks and rivers.
Potentially harmful bacteria, debris, trash and other public health hazards from city streets and mountain areas are likely to enter ocean water through those outlets, according to a Los Angeles County Department of Public Health statement.
The health advisory is in effect until at least 7 a.m. Sunday. It could be extended, officials said.
ALSO
Angelenos, protesters: Prepare to get wet
Uber pays $20 million to settle claims it deceived drivers about pay
Former L.A. County sheriff's deputy arrested in fatal stabbing of wife
---
UPDATES:
8:30 p.m.: This article was updated with where President Obama's plane landed and other details.
5:35 p.m.: This article was updated with former President Obama's landing issues.
4:15 p.m.: This article was updated with more details.
4:00 p.m.: This article was updated with additional reports of damage and warnings.
2:05 p.m.: This article was updated with reports of damage in Los Angeles County and comments from the state climatologist.
11:30 a.m.: This article was updated with reports of flooding in Santa Barbara County.
This article was originally published at 7:40 a.m.
The stories shaping California
Get up to speed with our Essential California newsletter, sent six days a week.
You may occasionally receive promotional content from the Los Angeles Times.