Why it took so long for L.A. to embrace the 'sanctuary city' label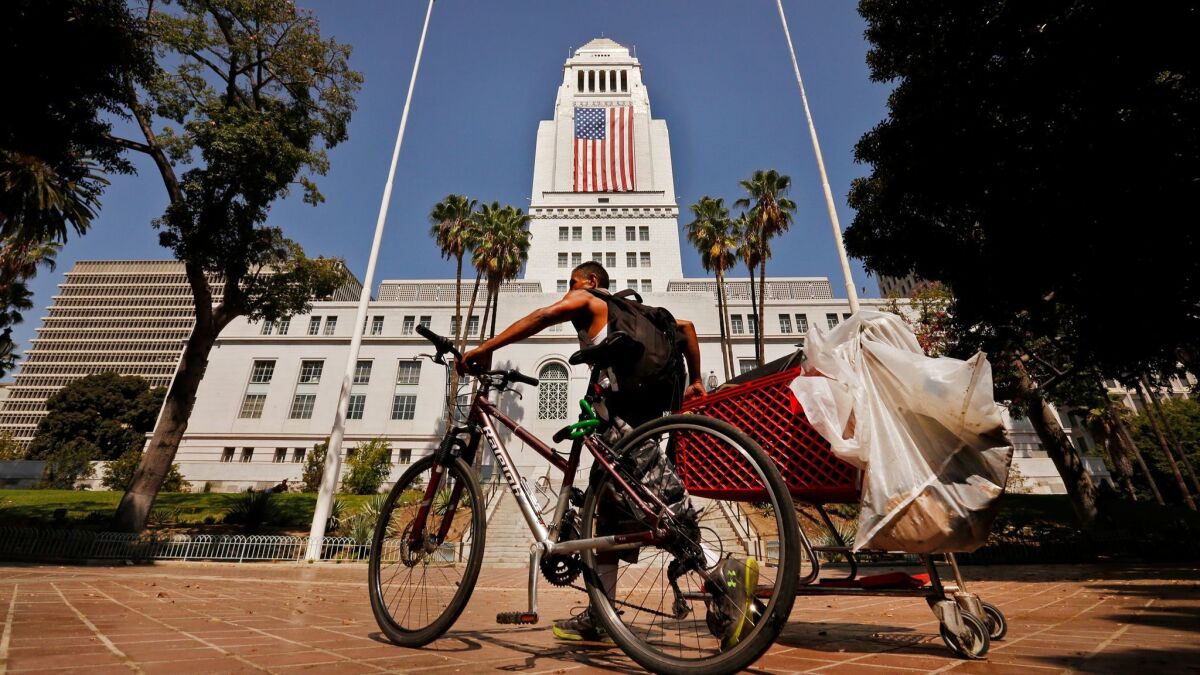 When Donald Trump was elected in November, some elected officials across the country quickly reaffirmed their cities as "sanctuaries" for people in this country illegally as they braced for the president's promised crackdown.
But top politicians in Los Angeles — a center of the Trump resistance — made a point of not embracing that label.
City Hall leaders said it didn't accurately describe the city's policies. Mayor Eric Garcetti, who avoids using the term "sanctuary city" because he says it has no fixed definition, instead focused on creating a legal defense fund for immigrants and restricted city employees from assisting with federal immigration enforcement.
Ten months later, the Los Angeles City Council appears likely to adopt the sanctuary moniker.
Council President Herb Wesson and Councilman Gil Cedillo introduced a resolution Friday to declare L.A. a "city of sanctuary," calling it a direct response to President Trump's announcement this week to unwind a program that protects immigrants brought to the U.S. illegally as children.
The move reflects the fervent opposition to Trump and his immigration policies in the deep-blue city of Los Angeles and puts new pressure on Garcetti to reckon with the term. But it also leaves questions about whether this is purely an act of symbolism or the beginning of real change in city policy.
Immigration groups and leftist activists have pressured the mayor and other L.A. politicians to do more to protect immigrants — and they say simply embracing the sanctuary brand is not enough.
"We commend the city for making this symbolic statement. But I think the time now is for the city to take concrete actions to protect vulnerable immigrant populations here," said Michael Kaufman, a staff attorney for the American Civil Liberties Union of Southern California.
Kaufman argued that L.A. should revise its rules to halt collaboration between the LAPD and federal immigration authorities, ensure that sensitive information about immigrants is better protected from disclosure and reconsider the criminal enforcement of minor violations that disproportionately impact immigrants.
Karla Alegria, who organizes the L.A. branch of the Freedom Socialist Party, said the sanctuary label "may make some of us feel warm and fuzzy, but we need something concrete."
It remains unclear how the city's stance would be greeted by the Trump administration, which has vowed to take action against sanctuary cities.
Trump's crackdown has been mired in the courts. Wesson said Friday that the sanctuary label would not jeopardize the city's federal funding because it was still in line with federal law.
The "sanctuary city" term dates back to the 1980s, when Berkeley and a few other municipalities declared themselves such cities to accept migrants from Central America. At the time, U.S. immigration policies allowed some Central Americans, but not others, to enter the country.
There is no clear definition of a sanctuary city, but in general, cities that adopt the designation seek to offer political support or practical protections to people who are in the country illegally.
For some cities, the sanctuary movement consists simply of encouraging people without legal status to get more involved in government. Other places, such as San Francisco, adopt far-reaching policies, such as taking steps to cut ties with federal immigration officials and refusing to fully cooperate with them.
Cedillo said L.A.'s sanctuary resolution is both symbolic and practical.
It will be followed up with a motion that formally asks the city attorney to create an ordinance calling Los Angeles a "city of sanctuary," he said.
The councilman said the directive is being done in two phases because the formal ordinance could take several months, though the resolution can be finished in several weeks.
The council will also look to pass policies that bolster immigrants' rights, such as helping those without legal status avoid arrest by U.S. Immigration and Customs Enforcement by providing them with letters that outline their legal rights, Cedillo said.
He said Trump's decision to end the Deferred Action for Childhood Arrivals program, which protects immigrants brought to the country illegally as minors from deportation, prompted his resolution. A study by the nonpartisan Migration Policy Institute found that a quarter of the 800,000 DACA participants live in California.
"We're responding to changed circumstances," Cedillo said. "We're evolving."
Garcetti continues to avoid using the phrase "sanctuary city," saying that it is poorly defined. In a televised appearance this week on Fox 11, Garcetti said that Los Angeles defends its immigrants and that its police will not become immigration agents, but he added that the city does not protect criminals.
In a written statement Friday, Garcetti spokesman Alex Comisar did not address whether the mayor would support using the "city of sanctuary" term.
"The mayor is not focused on labels, he is focused on making sure that L.A. is always a city that protects the rights and dignity of immigrants," Comisar said.
Garcetti issued an executive order this year that prohibits city employees from collecting personal information from individuals — including information about their immigration status — unless it is legally required or needed to carry out their job duties.
That order is meant to limit the amount of sensitive information about immigrants that the city would have to turn over to authorities under federal law.
Earlier this year, the city attorney's office advised city employees to tell immigration agents that they could not access parts of city facilities that are closed to the general public without a warrant or court order. However, the office said that immigration agents generally have a right to enter parts of city buildings that are open to the public to question or apprehend people.
Garcetti has said that the LAPD will continue to enforce Special Order 40, which bars officers from contacting someone solely to determine their immigration status.
Santa Clara University law professor Pratheepan Gulasekaram said that since Trump took office, the sanctuary label has been embraced by a wide range of institutions, including college campuses, school districts, private employers and even informal networks.
"If the term had any substantive meaning at all, it is certainly being diluted," he said.
Still, for some immigrants, "the term has become a kind of psychological salve, that the institution gives you support in some shorthand way," Gulasekaram said.
Groups pushing for stricter immigration enforcement say it makes little difference to them whether L.A. uses the phrase. "It's about what they do, not what they call themselves," said Ira Mehlman, spokesman for the Federation for American Immigration Reform.
He complained that L.A. had been "actively impeding immigration authorities from doing their job," referencing LAPD's decision not to honor federal requests to detain inmates who might be deportable past their jail terms.
Wesson said it was "unfair" for reporters to suggest that Los Angeles was late in calling itself a sanctuary city.
"Los Angeles came out quickly," he said, pointing to other City Hall actions after Trump's election, including forming a panel on immigration rights. "We did our job."
ALSO
Congress approves Trump's deal with Democrats, giving the minority party momentum on tax reform, Dream Act
Mexico got early warning before deadly earthquake struck. When will California get that system?
Trump appears to side against federal government in lawsuit over Harvey relief
---
The stories shaping California
Get up to speed with our Essential California newsletter, sent six days a week.
You may occasionally receive promotional content from the Los Angeles Times.