Mexico got early warning before deadly earthquake struck. When will California get that system?
Mexico's massive earthquake Thursday night offered another example of how an earthquake early warning system can provide crucial warnings for preparation.
Mexico, Japan and other countries have early warning systems. California is developing one, but the effort has been threatened by budget cuts proposed by the Trump administration.
The death toll was climbing Friday after the magnitude 8.1 earthquake struck in the middle of the night off the country's southern coast, toppling buildings, damaging hospitals and sending skyscrapers swaying hundreds of miles away.
WARNING BEFORE THE SHAKING
Moments to prepare
Mexico's early warning system has given residents seconds of warning before several large earthquakes.
On Thursday night, this newscast issued the warning before the shaking began.
Some in Mexico said they got more than a minute of warning.
The video below shows how it was broadcast:
---
EARTHQUAKE WARNING SYSTEM
How does it work?
The earthquake early warning system works on a simple principle: The seismic waves from an earthquake travel at the speed of sound through rock — slower than today's communications systems.
For example, it would take more than a minute for a magnitude 7.8 earthquake that started at the Salton Sea to shake up Los Angeles, 150 miles away, traveling along the state's longest fault, the San Andreas.
Countries around the world have implemented earthquake early warning systems. During the 2011 magnitude 9 earthquake in Japan, the warning that blared on NHK television in Tokyo gave viewers more than a minute's notice before the strongest shaking arrived.
BATTLE OVER FUNDING
When will California get an early warning system?
A seismic warning system for the West Coast has been under development for years by the U.S. Geological Survey, the nation's lead earthquake monitoring agency. President Trump's budget would have ended the system before it launched. Officials were looking for "sensible and rational reductions and making hard choices to reach a balanced budget by 2027," according to the administration's proposal.
But the proposal to end the funding raised bipartisan complaints up and down the coast. Twenty-eight lawmakers in the California Legislature, including leaders from both parties, urged officials to protect the earthquake early warning system. Members of Congress from Southern California to the Canadian border say the system is crucial to public safety.
In July, a congressional committee voted to keep funding. The funding proposal awaits further votes by both houses in Congress.
Already, early warning technology is being rolled out that will cause elevators to stop and open at the next floor, sparing occupants from becoming trapped; alert surgeons in hospitals to stop operations; and halt the flow of natural gas through major pipelines, reducing the risk of catastrophic fires.
The system is expected to begin limited operation by next year if stable funding continues.
Even before its completion, the network is beginning to slowly gain traction in both small and big ways.
A scattering of buildings are now equipped with audible alarms that will give occupants an advance warning ranging from seconds to more than a minute before the shaking from a major earthquake begins. And there are plans to program elevators to automatically stop at the closest floor and open its doors to allow occupants to evacuate before a seismically triggered power outage can hit.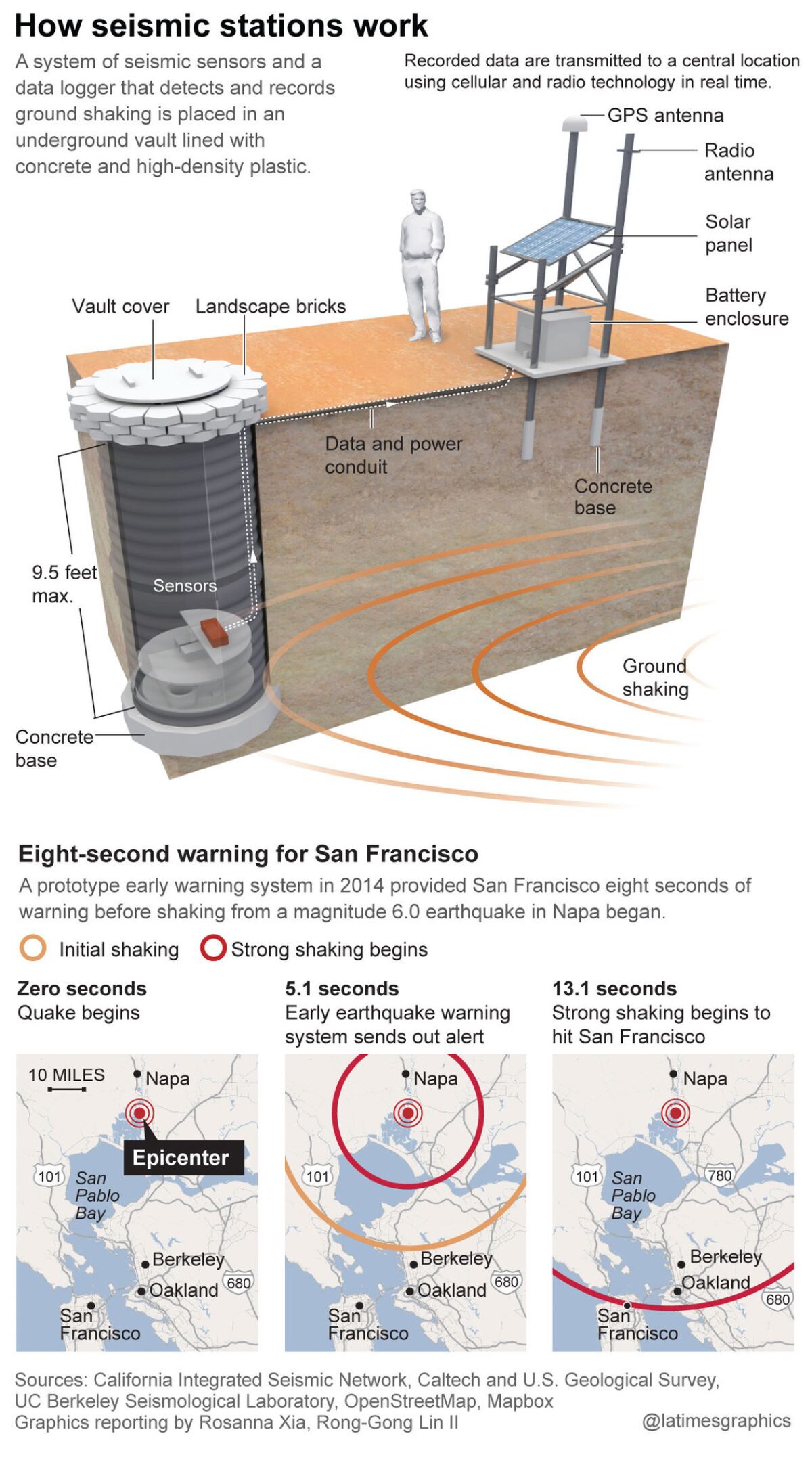 ALSO
From toppled buildings to at least 32 deaths, Mexico's most powerful quake in years prompts chaos
8.4 earthquake in Mexico raises tsunami fears
Houston offers a grim vision of Los Angeles after catastrophic earthquake
Earthquake fault maps for Beverly Hills, Santa Monica and other Westside areas could bring development restrictions
---
UPDATES:
10:35 a.m.: Updated with video of warning.
Originally posted at 9:15 a.m.
---
Must-read stories from the L.A. Times
Get the day's top news with our Today's Headlines newsletter, sent every weekday morning.
You may occasionally receive promotional content from the Los Angeles Times.