L.A. to pay nearly $1 million to family of man who died after police officers arrested him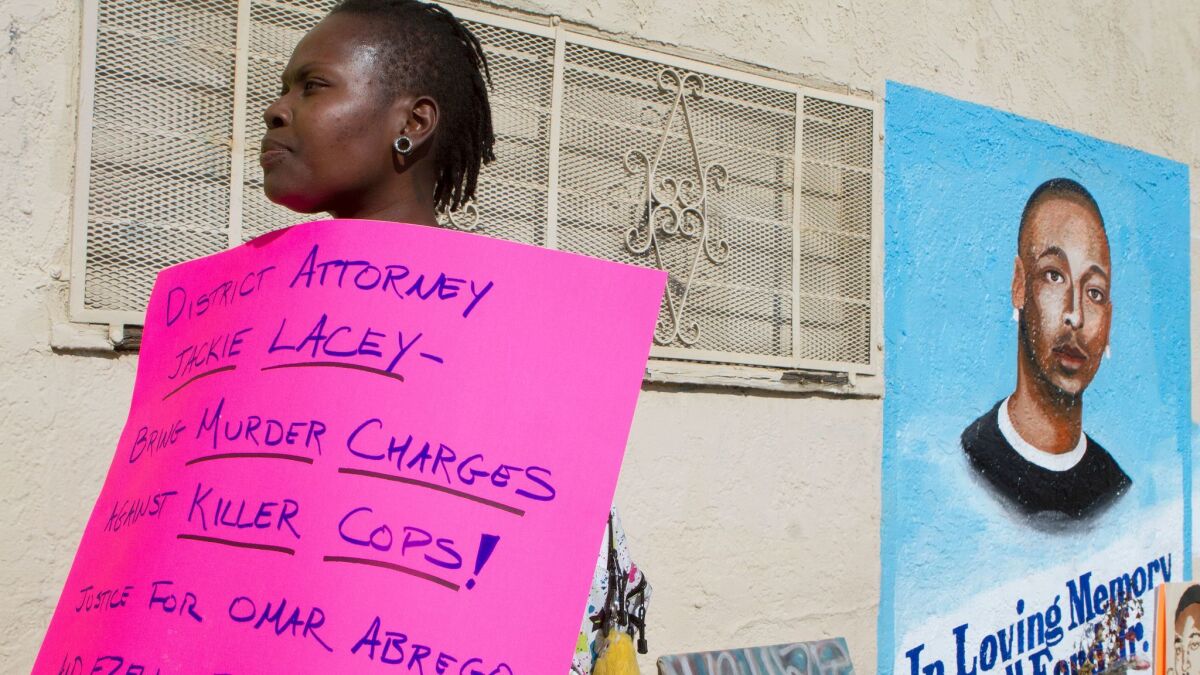 The city of Los Angeles will pay nearly $1 million to settle a lawsuit brought by the family of Omar Abrego, who died after a confrontation in South L.A. with police officers trying to arrest him.
Omar Abrego's death was one of two in August 2014 that drew outrage from activists protesting killings by police. Abrego died about a week before Ezell Ford, a mentally ill black man, was fatally shot by officers just a few blocks from where Abrego was taken into custody.
Coroner's officials determined that Abrego, 37, died from the effects of cocaine but listed the "physical and emotional duress" of the altercation as a contributing factor.
On Wednesday, the City Council approved a $990,464 payment to Abrego's widow and three children, who alleged in their lawsuit that two LAPD gang sergeants used "unreasonable and unlawful force" while arresting him on Aug. 2, 2014.
The encounter with Abrego began when someone flagged down Sgts. Jeff Mares and Robert Calderon to report a suspicious white vehicle in an alley, according to a summary by LAPD Chief Charlie Beck.
The sergeants noticed a white van running a stop sign and nearly hitting a pedestrian, the report said. As they followed the van, the erratic driving continued. When they pulled up next to the van, Abrego jumped out and attempted to flee.
One of the sergeants grabbed Abrego in a "bear hug," according to the report. Abrego broke free, then punched the sergeant in the chest, according to the report. The sergeant responded by punching Abrego three times in the face and using "various additional force."
The other sergeant grabbed Abrego's arm, and both sergeants took him to the ground as he "continued to be combative and resist," the report said.
The sergeants, along with backup officers who had just arrived, handcuffed Abrego and tied his legs together. The sergeants said they believed Abrego was under the influence of drugs because he was sweaty, wide-eyed and seemed agitated.
At the hospital, doctors diagnosed Abrego with kidney failure and a toxic breakdown of muscle tissue, according to his autopsy report. He was also treated for a severe concussion, cuts, bruises and "cocaine toxicity."
He died the next morning.
The Los Angeles Police Commission has ruled that the two sergeants acted within department policy. In February 2016, prosecutors announced that the sergeants would not be criminally charged.
Follow us on Twitter: @cindychangLA and @LATimesEmily
ALSO
LAPD review of cadet scandal finds inadequate supervision, other deficiencies
Los Angeles City Council agrees to pay $450,000 to settle LAPD sexual assault case
Years after brutal stabbing, East L.A. bar owner's slaying solved by LAPD reserve police officer
---
Life is stressful. Our weekly mental wellness newsletter can help.
You may occasionally receive promotional content from the Los Angeles Times.