LAPD releases video of Van Nuys standoff in which officers fatally shot a hostage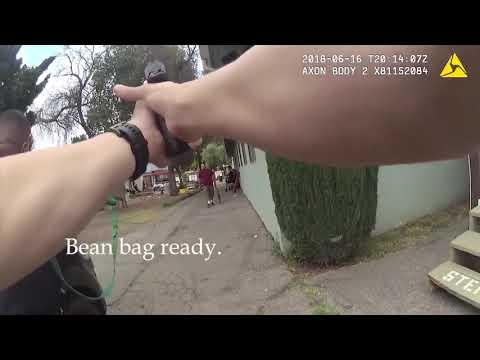 On Tuesday, the LAPD released video footage of the June 16 incident in which a woman being held hostage by a man with a knife was fatally shot by officers.
The Los Angeles Police Department had gone 13 years without killing a hostage or a bystander.
Then, on June 16 in Van Nuys, a man in a confrontation with police officers grabbed a bystander and held a knife to her throat. The officers unleashed a barrage of gunfire at the man that also struck the woman, fatally wounding them both.
A month later at a Trader Joe's in Silver Lake, a store manager was fatally shot by a Los Angeles police officer exchanging gunfire with a suspect.
On Tuesday, at a news conference unveiling dramatic video footage of the Van Nuys shooting, LAPD Chief Michel Moore described changes in tactics and weaponry that may lessen the odds of another hostage situation ending in the death of an innocent person.
The changes had already been in the works, Moore said, prompted by worrying trends in LAPD shootings.
The average number of officers involved in shooting incidents and the number of rounds fired per officer both increased in 2017, a year-end use-of-force report found. Shootings in which the suspect was armed with an edged weapon, such as a knife, also increased.
At the same time, less-lethal weapons like the beanbag shotgun that officers initially fired in Van Nuys have become less effective in disabling suspects, Moore said.
"Tragically, this was another case where officers were forced to make split-second decisions based on the actions of a violent individual," Moore said. "This was a tense situation that unfolded very quickly, and it's every officer's worst nightmare."
During the Van Nuys event, three officers fired a total of 18 rounds at the man, Guillermo Perez, who did not follow their orders to drop his knife and blocked some of the beanbag fire with a metal chair.
The woman, Elizabeth Tollison, 49 and homeless, was standing against a wall during the encounter. She used a walker and may have been either too frightened or too limited by her disabilities to move away, Moore said.
The LAPD identified the officers as Eugene Damiano, Andrew Trock and Cristian Bonilla, all of the Van Nuys Division.
Moore, an LAPD veteran who became chief in June, said he could not comment on whether the number of shots fired by the officers was appropriate until the department's investigation is complete.
In hostage situations, LAPD officers have long been taught to aim a "precise head shot" at the suspect, Moore said.
"The life of a hostage is paramount and protecting that individual from the threat of the assailant," Moore said. "In doing that, the balancing act the officer has is how to protect them by stopping the suspect's actions."
Moore said he will implement new training as well as equip officers with a 40-millimeter launcher that fires foam rounds and has a greater chance of stopping suspects than the beanbag gun.
Recently, Moore issued a training bulletin instructing officers to organize themselves better at scenes to avoid having too many guns pointed at suspects.
Some officers can also be assigned to other tasks such as carrying less-lethal weapons, perimeter control or radio communications, minimizing the number of rounds fired and the danger to the public, the bulletin said.
In confrontations, multiple officers sometimes draw their handguns, Moore said.
"On a scene, the number of those officers can have a direct impact on the number of rounds fired when a gunman presents a handgun," Moore said.
Ed Obayashi, a police shooting expert and Plumas County sheriff's deputy who reviewed videos of the Trader Joe's and Van Nuys shootings, said it is extremely rare for innocent bystanders to be shot by police. Bad luck, not a serious deficiency on the LAPD's part, explains the back-to-back incidents, Obayashi said.
Still, he said, department leaders should analyze the incidents and learn from them.
"What's going to happen here is the endless second-guessing and review of tactics and strategy. Did the officers effectively communicate with each other?" Obayashi said.
Referring to the Van Nuys video, Obayashi said: "This officer is yelling this, another that — it doesn't seem like anyone is really in command of the situation."
Steve Gordon, a member of the Los Angeles Police Protective League board of directors, said Perez put the Van Nuys officers in a "very, very bad position."
"I believe they reacted the best they could under the circumstances," Gordon said. "They deployed less-lethal force the best they could, but in the end, the suspect was able to deflect that."
Deputy Chief Jon Peters, who oversees personnel and training, said mental illness or substance abuse can create such a high tolerance for pain that some people are not stopped by beanbags or Tasers.
The new 40-millimeter weapon, which the LAPD has tested in a pilot program, is accurate at up to 100 feet, compared with 45 feet for the beanbag shotgun. It inflicts greater pain than the beanbag while maintaining a low risk of injury or death, Peters said. A few hundred of the new weapons are already being used by patrol officers, and it will gradually replace the beanbag gun.
"Distance provides us time to make decisions," Peters said. "We don't have to be right up on top of somebody, especially when we're talking about people that have weapons other than firearms — knives, bats, clubs, sticks. It gives us more time to communicate with somebody."
Video footage of the Van Nuys shooting, compiled from security, patrol car and body cameras and narrated by LAPD officials, was released Tuesday as part of a new policy requiring recordings to be made public within 45 days of shootings by police officers.
Perez, 32, had recently gotten out of jail after being arrested on suspicion of domestic violence. He had a robbery conviction and was a documented gang member, according to the video.
At about 1 p.m., two people called 911 to report that a man in a maroon top and camouflage shorts had stabbed a woman at Central Lutheran Church in the 6400 block of Tyrone Avenue. That woman turned out to be Perez's ex-girlfriend, who had lacerations on her hand, Cmdr. Alan Hamilton, who leads the department's Force Investigations Division, said in the video.
A homeless services center called Hope of the Valley Rescue Mission is located at the church, and Tollison was a client, said Pastor Marsha Harris.
In the video, a patrol car pulls up to an alley next to the church.
"Hey, drop it! Drop the knife! Put the knife down!" the officers yell repeatedly. Perez does not comply and walks toward the officers, wielding a metal chair.
Several officers fire beanbags at Perez, who holds up the chair as a shield. Perez moves back toward Tollison, who had been standing against a wall with her walker during the violent confrontation, wraps his arms around her and presses the knife against her throat with both hands.
Gunfire erupts. Both Perez and Tollison fall to the ground. A long knife covered with blood was found next to Perez.
For more news on the Los Angeles Police Department, follow me on Twitter: @cindychangLA
---
UPDATES:
7:55 p.m.: This article has been updated with additional information and comments about the video and LAPD tactics and edited throughout.
This article was originally published at 10:10 a.m.
Sign up for Essential California for news, features and recommendations from the L.A. Times and beyond in your inbox six days a week.
You may occasionally receive promotional content from the Los Angeles Times.