The cold-case killing of Linda O'Keefe gets a hit thanks to DNA testing, genealogical database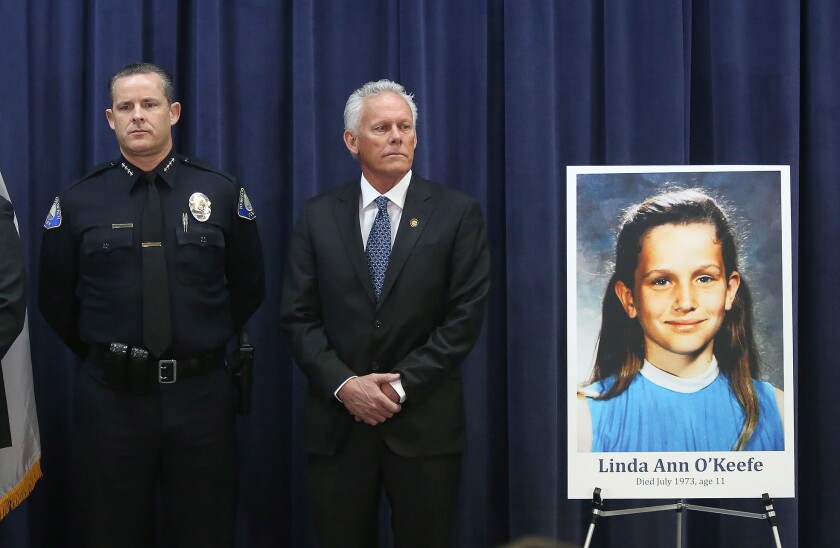 Linda O'Keefe was 11 years old when she vanished July 6, 1973, on her way home from summer school in Corona del Mar.
Her body, still clad in the flowered white dress that her mother had sewn, was found the next day. She had been sexually assaulted and strangled and her body discarded in the brush.
Her case remained unsolved for decades, frustrating detectives and leaving her family in anguish. Then, some scientific breakthroughs led to the arrest this week of a suspect, James Alan Neal.
Here's how it happened:
How did DNA help in the case?
DNA testing wasn't available when Linda was killed. Instead, investigators tested bodily fluids and blood left at crime scenes for proteins that helped provide clues or narrow a list of suspects.
The science eventually became key to the case.
Newport Beach detectives in 2018 contacted Parabon NanoLabs, a Virginia-based medical lab, which used DNA from the crime scene to calculate a possible suspect's facial composite, gender, ancestry, freckles and skin tone, and eye and hair color.
But detectives still couldn't put a name with the computer sketch. They had checked the DNA against databases of convicted felons over the years but continued to come up empty-handed.
Where did the genealogical database come in?
That changed in January when investigators tapped FamilyTreeDNA.com, a genealogical database that the public can use to search for relatives and ancestors.
Private companies that provide ancestry searches from DNA samples submitted by paying participants usually also guarantee privacy for their users. However, customers are alerted to potential matches and can then use the service to connect with possible relatives.
"Anybody who uploads DNA thinking, 'Maybe I'll discover a long-lost relative,' is running the risk that the DNA will be used in a police investigation," said David Kaye, a lawyer and Pennsylvania State University professor who teaches the law of evidence and applications of forensic science.
"You also run the risk of finding out that one of your known relatives is a killer."
As genealogical websites grow in popularity, so does their use as an investigative tool for law enforcement.
Genealogical DNA made a major debut as a crime-solving tool last year after authorities announced they had used it to arrest Joseph James DeAngelo Jr., the suspected Golden State Killer, so named for a string of attacks that included more than 50 rapes and at least 13 slayings throughout California from 1974 to 1986.
"Through both traditional DNA and genealogical DNA, we have every opportunity in the world to solve so many of these cold cases that we never had hoped in the past of solving — and that's a great thing for our community," Orange County Dist. Atty. Todd Spitzer said this week.
How does the case move forward now?
Neal, 72, has been charged with special circumstances murder, kidnapping and lewd and lascivious acts on a minor under 14 in connection with Linda's death. He has not entered a plea.
Authorities have released a decades-old photo of him to the public, hoping it will generate new witnesses and leads.
Officials in Orange County said the photo may depict what Neal looked like around the time Linda was killed.
---
The stories shaping California
Get up to speed with our Essential California newsletter, sent six days a week.
You may occasionally receive promotional content from the Los Angeles Times.