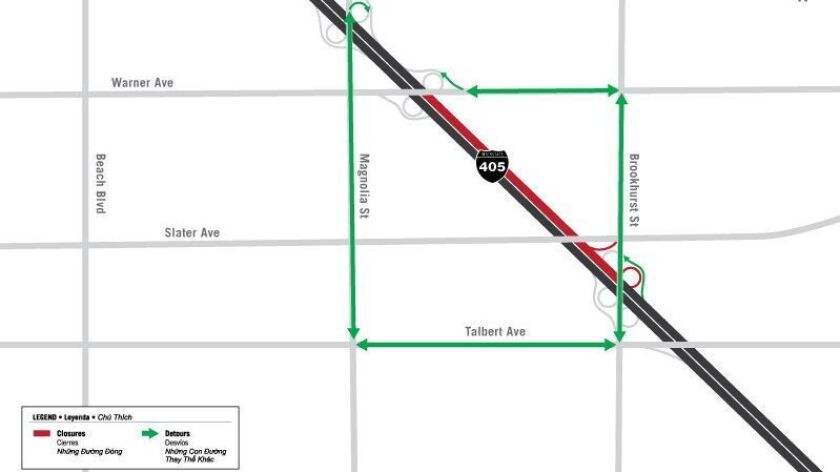 Northbound lanes on the 405 Freeway will be periodically cordoned off overnight in Fountain Valley during the next two weeks to accommodate construction work, according to the Orange County Transportation Authority.
Northbound lanes will be blocked between Brookhurst and Magnolia streets, as will the northbound onramps at Brookhurst.
Closures are expected to continue through April 6 and be in place from 11 p.m. to 5 a.m. weekdays and 11 p.m. to 6 a.m. on weekends. Detour signs will help drivers navigate the area.
The shutdowns are necessary so workers can begin framing the new Slater Avenue bridge over the freeway. That span will replace one that closed in September.
The bridge is one of 18 that will be rebuilt as part of the wider $1.9-billion project to expand 16 miles of the 405 between the 73 and the 605 Freeway near Rossmoor, according to OCTA.
That effort entails adding an additional general-purpose lane and a new "express" toll lane to both directions on that segment of the freeway.
Additionally, the existing carpool lanes in each direction will be converted to express lanes.
For more information, as well as updates on planned closures, visit octa.net/405improvement.
Money writes for Times Community News.
---