Hundreds show up to grab a piece of L.A. history: the 6th Street Bridge
Hundreds wait in line for a free piece of the 6th Street Bridge. Video by Genaro Molina / Los Angeles Times
It was a spectacle that would stay with him into adulthood: two imposing arches that soared past as his father's blue Ford Tempo whizzed down the 6th Street Bridge.
Pete Chavez made sure to peer out the rear window at those iconic structures every time his family traveled between East Los Angeles and downtown.
"When you're a kid, that's magical," he recalled.
Now 34 and living in Anaheim, Chavez made the trek to downtown Los Angeles early Saturday, intent on taking a bit of that magic home. With a line that stretched down Santa Fe Avenue and around Willow Street, the event dubbed "Rock Day" offered up free pieces of the 6th Street Bridge, along with a certificate of authenticity and a T-shirt.
The bridge's demise from chemical deterioration in the concrete has long struck a chord in a nostalgic community. Odes to the 3,500-foot viaduct have been plentiful. And cinephiles know well its role in media, from "Grease" to "Furious 7." In October, a farewell celebration on the bridge drew thousands who wanted to pay their respects. On Saturday, the festivities focused on keepsakes.
"When we started demolition back in January, people were asking, 'How can we remember this bridge?'" said Councilman Jose Huizar, who hosted the event along with city engineer Gary Lee Moore. Over the last few weeks, a team combed through rubble, gathering more than 1,200 souvenirs to be given away first-come, first-serve.
"Now people can hold something and say it's part of that beautiful 6th Street Bridge," Huizar said. "There's few landmarks where people can say, 'Oh that's L.A.' This is one of them."
As local teen bands played rock music on a stage, hundreds of visitors waited single file in the sun, eager to choose from an assortment of concrete chunks small enough to be toted in one hand. Many planned to put it on display in their home and then bequeath it to their children. One man said he would sell it and hoped to nab at least $100.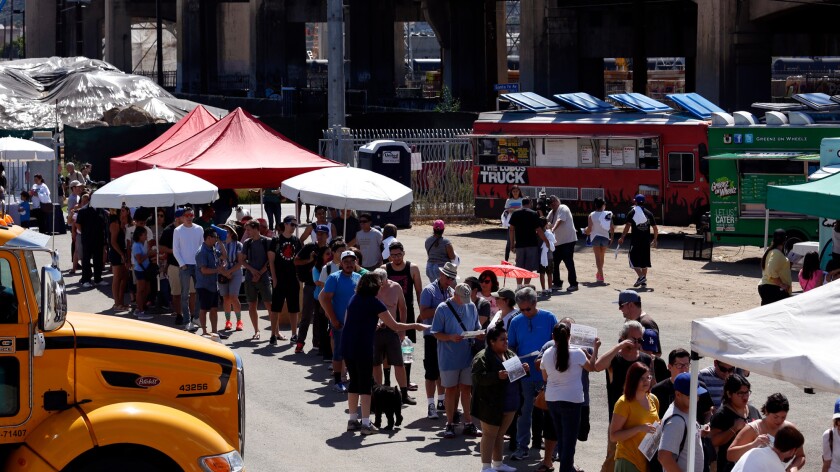 Yasmin Elming stood aside as her husband took his time picking out a rock. "He just wants something that really speaks to him," she said.
Meanwhile, the 48-year-old nurse marveled at what he had chosen for her. Craggy, but with a flat top, it appeared to have once been a segment of the bridge's surface. She liked that it had possibly been touched by people before becoming part of the wreckage.
The couple used to go to the 6th Street Bridge every spring on the Persian New Year. In a personal take on a cultural tradition, they would toss lentils into the water. "Right between the two arches," Elming said. "So it's our bridge."
That sense of ownership was universal among the crowd.
Fanchon Rice, 75, said she had crossed the bridge for five decades, starting when she worked at an area tortilla factory. Years later, her daughter, an actress, would have a small role in "Terminator 2: Judgment Day" and film a scene on the bridge.
Rice waited for two hours, then quickly selected a rock shaped like an arrowhead. The memorabilia, she said, represented Los Angeles' evolution, growth and change — all good things.
Still, she noted, the bridge will be missed.
Twitter: @corinaknoll
ALSO
How a tiny bird — along with butterflies, and bureaucracy — create a big obstacle for one eco-developer
Five-day heat wave rolls into Southland, bringing 'elevated fire danger'
---
The stories shaping California
Get up to speed with our Essential California newsletter, sent six days a week.
You may occasionally receive promotional content from the Los Angeles Times.