ACLU sues to stop the transfer of jailed immigrants out of California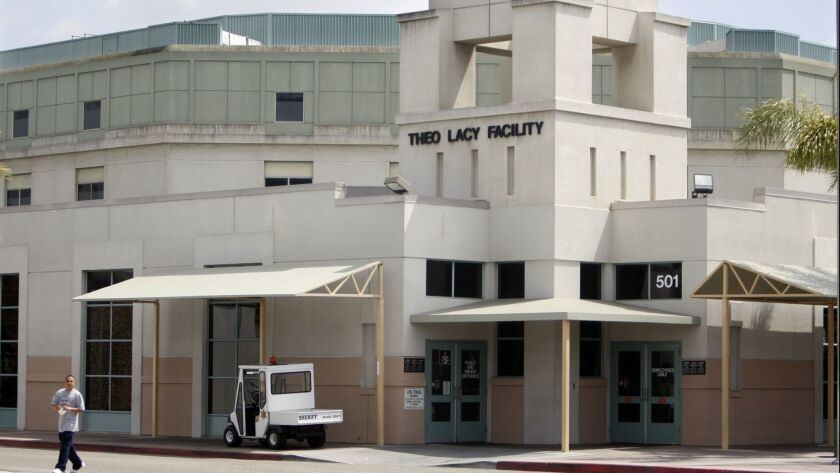 The American Civil Liberties Union Foundation of Southern California sued Immigration and Customs Enforcement this week to stop transfers of detainees held in two Orange County jails that recently ended their contract with the federal agency.
The Orange County Sheriff's Department announced on March 27 that the agreement with the government to house detainees was being ended. As a result, ICE detainees no longer will be housed at Sheriff's Department jails starting Aug. 1, and the federal agency has stated that they could be transferred farther away.
That prompted the ACLU to file a lawsuit Thursday in the U.S. District Court Central District against the Department of Homeland Security and ICE to halt any such transfers. The ACLU is asking the court to prevent transfers of immigrants outside of Southern California if they already have attorneys or if they have immediate family in the region.
The organization is also planning to file a request for a preliminary injunction to stop any transfers pending a full trial.
"If ICE transfers these individuals thousands of miles away from their lawyers and their families, it makes it practically impossible for them to fight their deportation cases and then they could be deported to countries where they would suffer significant harm, persecution, torture, death," said Sameer Ahmed, senior staff attorney at ACLU of Southern California.
Currently there are 404 detainees being held in Orange County jails.
ICE said it does not comment on pending litigation.
The suit was filed on behalf of several detainees being held in the James A. Musick and Theo Lacy facilities, as well as two legal organizations, Public Law Center in Santa Ana and Public Counsel in L.A., which provide free legal services to immigrants.
Among the plaintiffs is Ubaldo Arroyo, who was arrested by ICE for an unknown reason on Feb. 23 and is being held at the James A. Musick Facility in Irvine. He is being represented pro bono in removal proceedings and, according to the lawsuit, he said he would be unable to pay for another lawyer to represent him if he were transferred far away.
His immediate family, who live in Anaheim, do not have a car, but his mother still visits him as often as she can.
"Imagine if they send him somewhere else," said his mother, who asked not to be identified. "I don't know what would happen and if I would see him again."
The agreement with the Sheriff's Department ended in order to free up space for better treatment of mentally ill inmates, according to Orange County Sheriff Don Barnes, who said the county had seen a 40% increase in mental health cases in its jails since 2015.
It's unclear exactly where the detainees will be moved to, but ICE's detention options in California have become increasingly limited, according to previous statements by agents.
The ACLU has asked ICE several times when out-of-state transfers would begin and has not heard back, according to Ahmed.
In a statement in March, ICE spokeswoman Lori Haley noted the effect on detainees and stated that ICE would "have to depend on its national system of detention bed space to place those detainees in locations farther away, reducing the opportunities for in-person family visitation and attorney coordination."
"Obviously we don't want to wait until our plaintiffs are transferred thousands of miles away to file this lawsuit," Ahmed said. "They said it was going to happen and that's why we had to file the lawsuit as soon as possible."
Times staff writer Cindy Carcamo contributed to this report.
---
The stories shaping California
Get up to speed with our Essential California newsletter, sent six days a week.
You may occasionally receive promotional content from the Los Angeles Times.