A 911 call in Rialto fuels a national discussion on racial bias and police involvement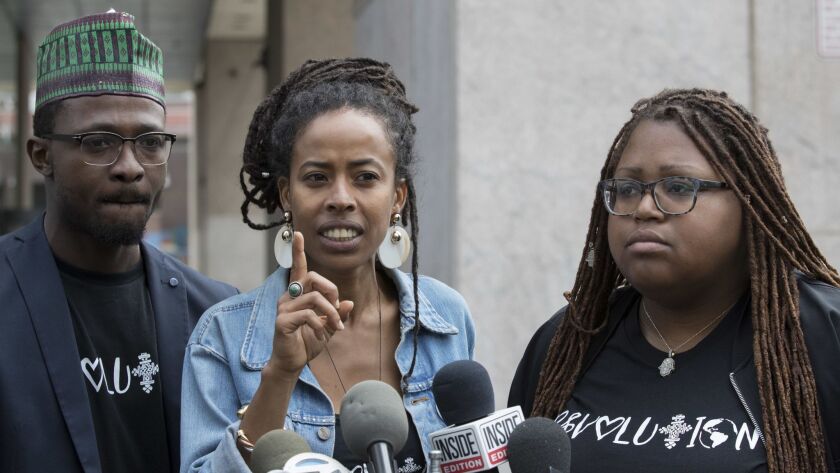 The Airbnb guests were departing the house they had rented in a residential neighborhood of Rialto when they spotted a woman watching them.
Kelly Fyffe-Marshall had a feeling the woman was going to call the police. She even joked about it to her friends after they dragged their suitcases to the car.
Moments later, six police cars surrounded their vehicle.
Police said they were responding to a call voicing concern that three black strangers were burglars. The three say the incident was racially motivated and that they feared for their lives when police arrived.
Rialto police say officers responding to the incident acted professionally and that the 911 call and subsequent encounter had nothing to do with race.
The April 30 encounter comes amid a growing national discussion about bias and the way law enforcement is called to respond to people of color.
Last month, two African American men in Philadelphia waiting for their friend at a Starbucks were arrested on suspicion of trespassing.
In late April, police were summoned after a woman called police on two Native Americans visiting Colorado State University for acting "odd," a call that kept them from finishing the tour.
On Wednesday, a black student at Yale who fell asleep in her dorm's common area was awakened by a white student who said she wasn't authorized to be there and called campus police.
The incident in Rialto has sparked a nerve.
Fyffe-Marshall, an artist, posted a video of the incident on her Facebook page. It has been viewed more than 1.6 million times.
Fyffe-Marshall and two fellow Airbnb renters, Donisha Prendergast, a filmmaker and a granddaughter of Bob Marley, and Komi-Oluwa Olafimihan, another artist, can be heard in the videos posted on social media expressing frustration that the incident wasn't resolved sooner.
The Airbnb guests said Thursday at a news conference in New York that had they been white, the situation would not have occurred.
"I almost died because somebody was afraid of me," Prendergast said.
When police arrived on the scene, they told the guests in the car to raise their hands, Fyffe-Marshall said at the news conference Thursday with their legal team.
"We kept telling them we were with Airbnb," she said.
Later, the guests said, they showed police a receipt of their Airbnb rental. Officers say the guests just showed law enforcement the property's Airbnb listing.
Police say their body-camera footage shows that officers treated the Airbnb guests with professionalism and respect.
In a news release dated Monday, police said the incident lasted 22 minutes and that officers let the guests go after verifying their identities and determining that no crime had been committed.
The guests' videos also show moments when officers and the guests make lighthearted conversations.
Rialto Police Lt. Dean Hardin told the Los Angeles Times that there had been a series of burglaries in the area and that because the guests weren't U.S. citizens, it took longer for officers at the scene to verify their identities.
"They were obviously inconvenienced and we were cognizant of that and we acted cordially," Hardin said.
"And for the most part, they were cooperative," he added. "We were taken aback by the whole situation."
Airbnb released a statement this week expressing concern that "the Police Department's response was dictated by the guests' race."
"As African American women who have seen the inequitable treatment of people of color, we know that these kinds of incidents are often rooted in implicit and explicit bias," Airbnb Senior Advisor Laura Murphy and head of national partnerships Janaye Ingram said in a joint statement.
The guests' attorney, Jasmine Rand, said Thursday that she has asked Rialto police to preserve all evidence in case of litigation.
Hardin said that he understands the frustration of the Airbnb guests.
"I'm definitely cognizant. I happen to be an African American male, so I get it," he said.
"In this instance, we were responding to a call and we just can't ignore it," he added. "We had to take proper steps and verify that people were being completely honest with us."
Twitter @melissaetehad
---
UPDATES:
10:15 p.m. May 11: This article was updated to clarify details on the Airbnb guests.
This article was originally published at 4:50 p.m. May 10, 2018.
---
The stories shaping California
Get up to speed with our Essential California newsletter, sent six days a week.
You may occasionally receive promotional content from the Los Angeles Times.