Mother laments son's death in El Cajon police shooting: 'I wanted his future to be longer than that'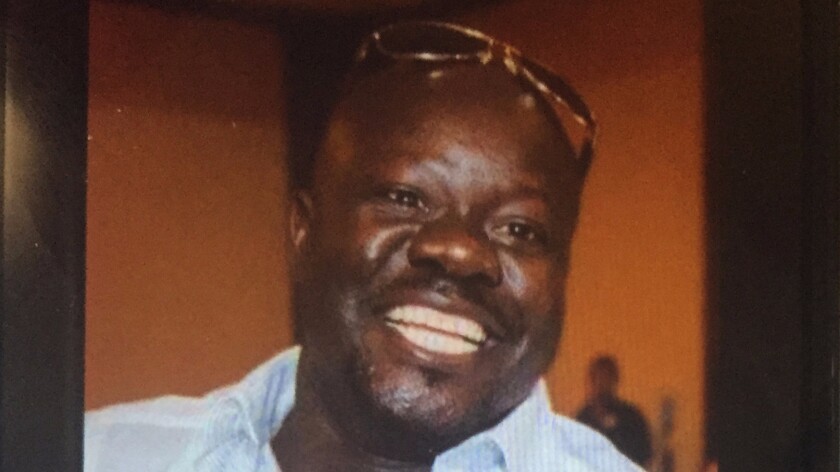 Days after her son was shot and killed by El Cajon police, Pamela Benge told reporters Thursday that she was praying for the deaths of unarmed black men to come to an end.
"It keeps going, it keeps going," she said at a San Diego news conference.
Benge said she had been following the shooting deaths of black men across the country. With each death, she said, she prayed for their families. Then, Tuesday night, she was confronted with the same grim reality.
"I didn't know that the next time it would be me," she said softly, about a dozen family members and clergy at her side. "It has reached me. It has come."
Alfred Olango, 38, was shot and killed Tuesday in a confrontation with officers behind a Mexican restaurant in downtown El Cajon. Police say Olango was behaving erratically and took a "shooting stance" immediately before he was shot and killed by one of the officers.
El Cajon Police Chief Jeff Davis urged the public to let the investigation unfold before making any judgments about the shooting.
At Thursday's news conference, Benge said she brought her family to the United States as refugees from Uganda to escape violence and the uncertainty that comes with living in a war-torn region.
"We wanted protection," Benge said. "That is why we are here."
Benge, who shook and sobbed as she spoke, insisted that her son was not mentally ill, but was instead distraught over the loss of a very close friend.
"I wanted his future to be longer than that," Benge cried. Beside her, Olango's daughter wept.
The son whom Benge remembers is the man who loved his daughter, who loved to play soccer, she said. All he needed was someone to calm him down during a breakdown, she said.
Benge wondered why both officers didn't Tase her son. If they had, she lamented, he would be in the hospital and she could see him again.
Benge called for justice for her son, and called on the community to protest peacefully. She begged for unity.
Her sunglasses still covering her eyes, Benge looked to the sky and raised her arms.
"Pray for us," she said.
ALSO
Immigration officials tried twice to deport Ugandan refugee fatally shot by El Cajon police
Officer involved in fatal El Cajon police shooting was embroiled in sexual harassment lawsuit
El Cajon police say black man was holding vape smoking device in hand when officers fatally shot him
'These things happen in split seconds': El Cajon shooting reignites debate over how police deal with the mentally ill
---
The stories shaping California
Get up to speed with our Essential California newsletter, sent six days a week.
You may occasionally receive promotional content from the Los Angeles Times.