Protesters 'livid' that off-duty LAPD officer won't face prosecution in dispute with teens in Anaheim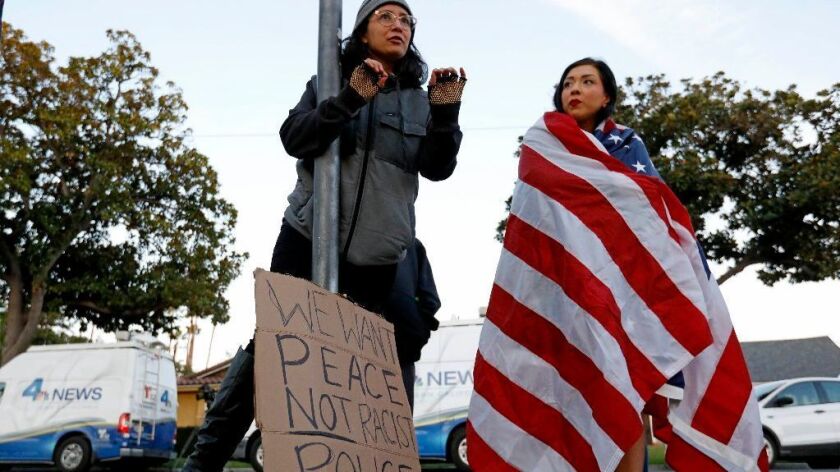 As the sky grew dark Thursday, about two dozen people gathered in Anaheim to protest the Orange County district attorney's decision not to press criminal charges against an off-duty Los Angeles police officer who fired his gun during a confrontation with a group of teens.
The February 2017 incident, captured in a viral video that triggered days of unrest, stirred a national debate on race because the officer, who is white, was heard hurling profanity at a 13-year-old girl and later seen dragging and threatening her male friend. Both are Latino.
Orange County Dist. Atty. Tony Rackauckas announced Wednesday that prosecutors did not have enough evidence to prove that Officer Kevin Ferguson's behavior was criminal, even as his staff had harsh words for the man's actions, calling them "vulgar" and "flat-out horrible."
Protesters said they were "livid" that Ferguson escaped prosecution.
"People who join the police department are supposed to act better, do better," said Joese Hernandez, whose family settled in Anaheim more than 25 years ago. "They are trained to de-escalate violence in a situation, not to escalate it."
As he spoke, demonstrators chanted, "Should have grabbed his badge, not his gun." Then they marched up and down the block, shouting, "No justice, no peace! No racist police!"
"Those kids were not looking for problems. They were just walking home. An adult shouldn't be manhandling a child like that," said protest organizer Naui Huitzilopochtli. "Kids will cross over your grass when you live near a school. To explode in anger is inexcusable."
Ferguson, through a lawyer, has said he acted in self-defense.
Anaheim police kept watch over the protest after circulating fliers about legal protest protocol to ensure neighborhood safety.
---
The stories shaping California
Get up to speed with our Essential California newsletter, sent six days a week.
You may occasionally receive promotional content from the Los Angeles Times.