The anti-vaccine crowd gets its Hollywood moment at premiere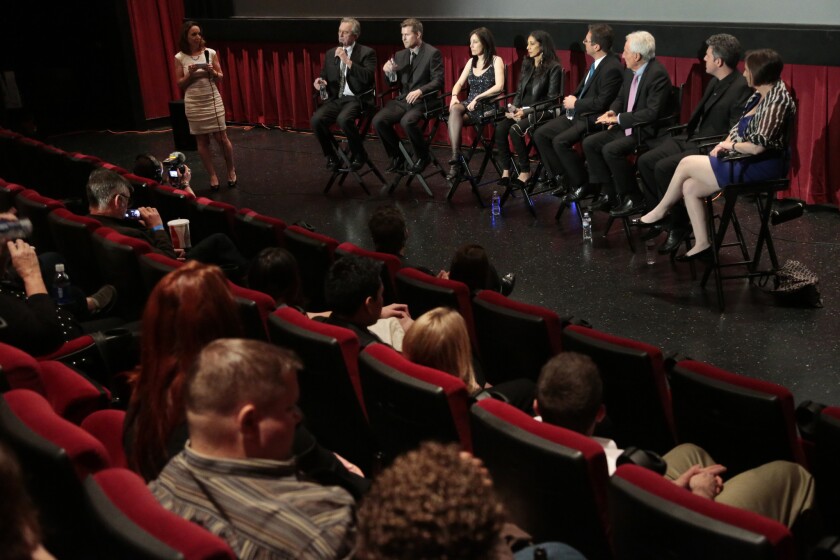 Some of the biggest names in the national debate over vaccine safety were given the Hollywood treatment Wednesday at the premiere of a documentary challenging mainstream medicine's denial that there's a link between autism and childhood vaccines.
The airing of "Trace Amounts" at the Chinese Theater in Hollywood comes as the current measles outbreak continues to grow and the debate over vaccines becomes louder.
In true Hollywood style, the event drew its celebrities: area pediatricians Bob Sears and Jay Gordon, who have publicly supported parents who choose to delay or deny vaccines for their children, wore suits and milled among the well-heeled attendees arriving for the premiere.
"People realize that measles are still around, that vaccines are worth discussing," Gordon said.
But much of the debate has been unpleasant, he added, with everyone "looking for a demon in this."
It was a rare moment in the spotlight for a group that has been increasingly shunned and chastised. Though anti-vaccine proponents say they are doing what they believe is best for their children, pro-vaccine parents argue that choosing not to vaccinate puts the overall health of a community at risk.
Possible legislative change in California also threatens to restrict parents' ability to obtain a "personal belief" exemption from state-required vaccinations.
Sears said he fought even the current exemption rules and would likewise oppose any further restriction. He blamed those behind it for "panicking and unfairly taking advantage of the hype and hysteria."
"Just relax everybody, calm down," he said.
Still, it was a festive atmosphere as everyone gathered to watch "Trace Amounts."
Filmmakers hope the documentary will reinvigorate discussion of a mercury-containing preservative called thimerosal, which director Eric Gladen began to research after he says a tetanus shot he received caused sensitivity to noise, anxiety and erratic behavior.
"Has the science been answered?" Gladen asked. "That's the question."
He added: "This was me trying to get to the bottom of whether this is linked to autism."
Low doses of the preservative are not harmful, according to the Centers for Disease Control and Prevention, but "as a precautionary measure" it is no longer used in most childhood vaccines.
"There's a wall up right now about mercury and harm," Gordon said. "Beyond that would be a lot of liability."
The premier was to be followed by a panel discussion. As long as the popcorn machine kept working, Gordon said he would be around.
Follow @emfoxhall on Twitter for more breaking news
---
The stories shaping California
Get up to speed with our Essential California newsletter, sent six days a week.
You may occasionally receive promotional content from the Los Angeles Times.