Concern over protests about Stephon Clark shooting prompts Arden Fair Mall closure in Sacramento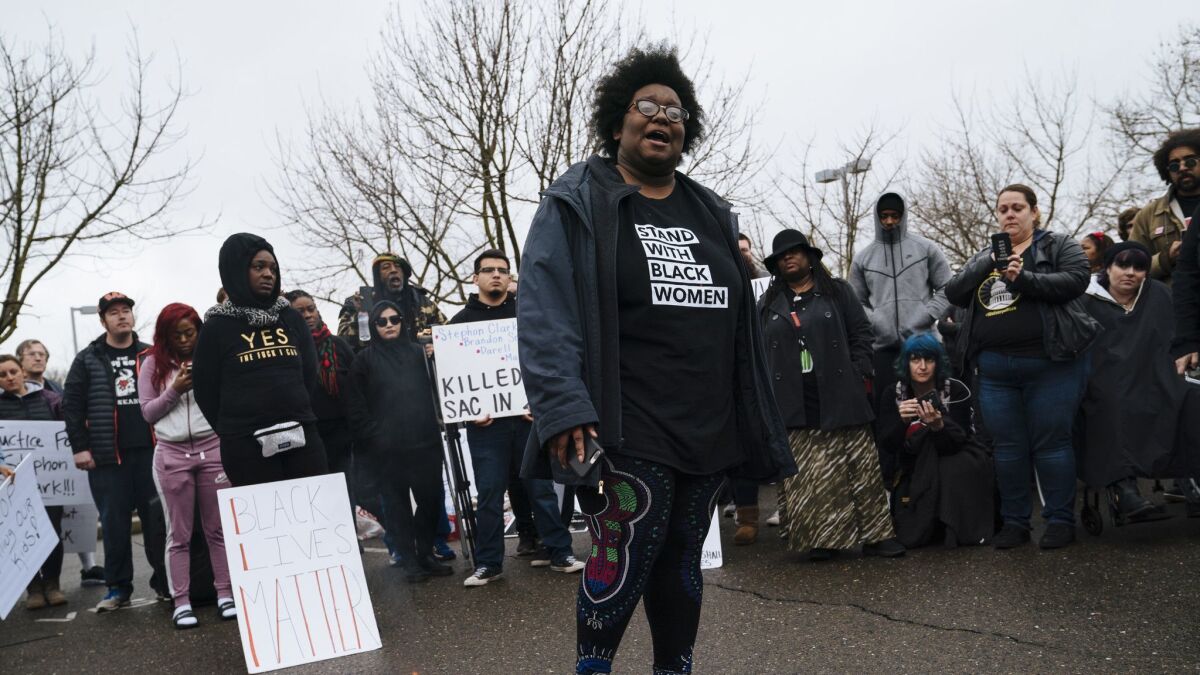 A popular shopping mall in Sacramento was closed Sunday over concerns about protests after the Sacramento County district attorney announced this weekend that two police officers would not face charges in the fatal shooting of Stephon Clark last year.
Shortly before 10 a.m., when mall doors were set to open, management at Arden Fair Mall announced it would remain closed for the day, citing a "concentrated effort by protesters to gather in unsafe numbers."
The closure comes after a small group of protesters spent the night inside the mall carrying signs that read "No Justice, No Peace" and holding a sit-in. They entered the mall around 8:45 p.m. Saturday, said Arden Fair spokesman Nathan Spradlin, and were allowed to remain overnight.
Small protests also occurred Saturday outside Sacramento City Hall and the city's main police station after Dist. Atty. Anne Marie Schubert found that Officers Terrence Mercadal and Jared Robinet had acted reasonably when they fired 20 rounds at an unarmed Clark, 22, last March.
The officers, who chased Clark into his grandmother's backyard and shot him after confusing his iPhone for a weapon, have been under intense scrutiny and were the subject of large protests that temporarily shut down freeway traffic and disrupted a Sacramento Kings basketball game.
The protesters who arrived at Arden Fair Mall over the weekend echoed many of the same sentiments discussed by activists since Clark's death. "What they want to see is everything that a lot of us have been fighting for: accountability, justice and transparency," protester Berry Accius said in a video posted on Facebook.
Other videos Accius posted showed about a dozen people camped out in the mall's atrium area. Some of the organizers encouraged others to join them Sunday morning.
Spradlin said concern over the ability to safely accommodate such a large crowd indoors prompted the closure.
When mall security officials informed them of the closure Sunday morning, Spradlin said, the group left peacefully and continued the protest outside. Videos posted on social media showed them chanting, "Say his name! Stephon Clark!"
"Being a part of this community, we understand the need for people to express themselves," Spradlin said. "There is a large amount of frustration in the city right now … so we continue to want to be a place where the city wants to gather."
Accius called the action a victory.
"All these prominent stores, they're not open for a whole day," Accius told The Times. "And, of course, that is never going to equate to the life that we lost in Stephon Clark, but it sends a clear message to the community of Sacramento, from the public officials to the people on the ground making these decisions, that the people's voices will be heard."
Accius said several dozen people are now gathered outside the mall and will be on hand to educate would-be shoppers about their protest.
"It's not business as usual," Accius said. "My message is clearly this: Sacramento will not feel comfortable. Sacramento will be inconvenienced."
Clark's elder brother, Stevante Clark, held a news conference Sunday afternoon to announce a "legacy weekend" around the March 18 anniversary of the killing of Clark. He said he wants to promote support for Assembly Bill 392, which would make it easier to prosecute officers in fatal shootings by restricting the state's use-of-force rules.
"Stephon is more than just protests," Clark said. "Stephon is legislative change."
For more on California politics, follow @cmaiduc.
Times staff writer Anita Chabria contributed to this story.
---
UPDATES:
1:30 p.m.: This story has been updated with comments from protester Berry Accius.
This story was originally published at 12:05 p.m.
---
The stories shaping California
Get up to speed with our Essential California newsletter, sent six days a week.
You may occasionally receive promotional content from the Los Angeles Times.