Father of missing Baby Ember shot, killed in Northern California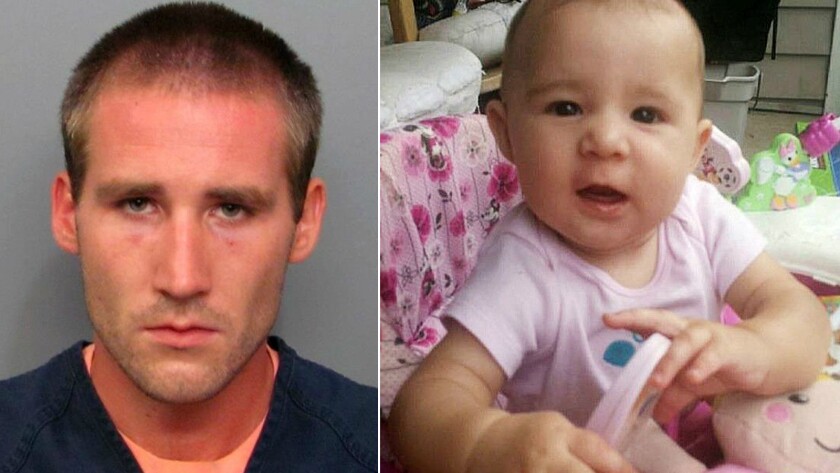 The choice before the man holding a gun in a Shasta Lake backyard seemed simple. Would he take Michael and Heidi Prado's pickup truck or their Buick Lucerne sedan?
The couple said they were sure they recognized the young man as Matthew Graham, a 23-year-old father who fled amid suspicion that he had something to do with his 6-month-old daughter's disappearance.
"He told us to stay calm. 'I know you're scared, I'm scared too,'" Michael Prado, 58, recalled the man telling them. "'All I want is your vehicle.'"
Which one, Prado asked.
The man with the gun picked the Buick Lucerne.
"He took the one with OnStar and GPS, that was a godsend there," he said. "The truck doesn't have OnStar. This could still be going on."
On Monday morning, Graham was spotted by Shasta County and Siskiyou County deputies and California Highway Patrol officers in Dunsmuir. He was shot and killed, according to the Siskiyou County Sheriff's Department.
But with Graham's death, the search for baby Ember Skye seemed to get harder.
"I'm sorry they had to do what they did," Prado said. "The story is what did he do with this baby?"
Ember has not been seen since Graham said he discovered her missing July 2. Graham called Shasta County deputies and said his daughter had been abducted in the middle of the night while he was sleeping after smoking marijuana.
Graham, who was on probation in connection with driving under the influence and forgery, was arrested that night on suspicion of a probation violation but was released two days later. Authorities said they still considered him a person of interest in his daughter's disappearance and that his alibi was full of inconsistencies.
Soon Graham vanished, as did money, a phone and a semiautomatic gun that were in his mother's purse, authorities said Saturday.
On Sunday, Graham was seen on security camera buying drinks and cigarettes at a gas station in Shasta Lake. Authorities said it didn't appear he had a car and could possibly still be in the area.
Now it appears he slept in the Prados' backyard Sunday night -- about a mile away from the gas station.
When Prado went out to get his newspaper Monday about 6:15 a.m., he noticed the gate to his backyard was open. He walked back there and found that the cushions on some furniture were gone so he called out to his wife.
That's when Graham stepped out from the side of the house, gun in hand.
"I knew who he was. I thought he was going to shoot us," Prado said. "I almost called him Matthew, said, 'Matthew, calm down.' I played it like I didn't know who he was."
Graham told the couple to stay together and marched them through the house to the front, Prado said. Along the way, Graham grabbed the newspaper – the Redding Record Searchlight – which had a story about him on the front page.
Prado said he started the car for Graham, who he said warned the couple, "Don't do anything until noon or I'll come back."
But as soon as Graham and the car were out of sight, the Prados called 911. They then went into the backyard and found that Graham had built himself a little bed out of the cushions and a towel next to the home's air conditioning unit. The makeshift sleeping area was on the other side of a wall from the Prados' bedroom.
"We're kind of coming down from the high and realizing how close something could've happened," Prado said. "We have two weenie dogs that were no help at all."
Meanwhile, dozens of searchers and canine teams continued their search for the baby.
Ember has a seizure disorder and is supposed to take medication twice a day to treat her seizures, authorities said.
After the baby's disappearance, authorities said Graham showed no remorse and didn't ask how they planned to find his daughter; they said he refused to submit to a voice stress test and asked for a lawyer.
Investigators said they also found it tough to believe that a stranger could break into Graham's 25-foot camper trailer undetected and snatch Ember away, as he claimed.
The trailer has no running water or working bathroom and is covered in garbage, officials said.
The home is surrounded by two fences and protected by guard dogs; the room where Ember slept apparently has no working door and can only be pried open with a screwdriver, which would make a lot of noise, detectives said.
Times staff writers Veronica Rocha and Lauren Raab contributed to this report.
For more news, follow @joseph serna and @raablauren on Twitter.
---
The perils of parenting through a pandemic
What's going on with school? What do kids need? Get 8 to 3, a newsletter dedicated to the questions that keep California families up at night.
You may occasionally receive promotional content from the Los Angeles Times.