Baldwin Hills mall may soon get a makeover that would add more than 900 housing units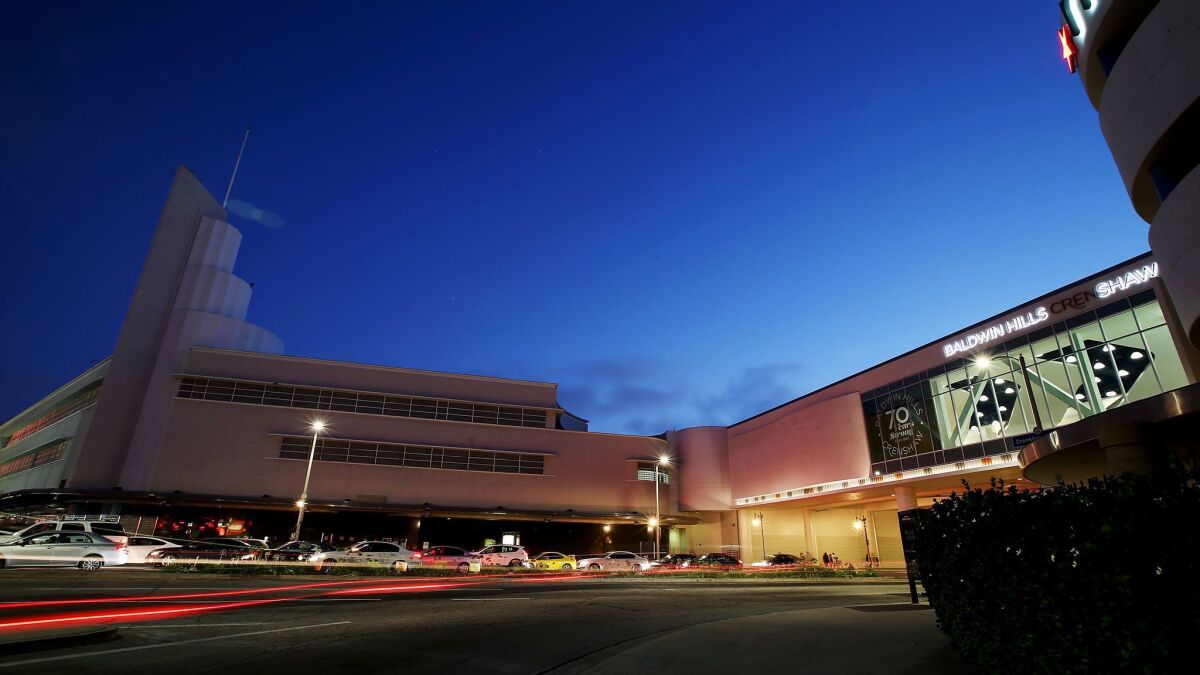 Decades ago, when Baldwin Hills Crenshaw Plaza opened its doors, its developer was determined to show that a shopping mall could prosper in a black neighborhood.
Now a new owner is pushing, once again, to prove it can thrive — this time in the digital era.
The South Los Angeles shopping center, long seen as a linchpin in the revival of Crenshaw Boulevard, could soon get a makeover that would triple its square footage with a new hotel, offices, shops and more than 900 new apartments and condos near a new Metro station.
Backers of the project argue that with online shopping on the rise, malls are doomed unless they become destinations where people can live, work and play. Scores of people showed up at a Los Angeles City Planning Commission hearing Thursday to support the plan, saying that South L.A. deserves to have the same kind of commercial mecca as other neighborhoods.
"I don't want to go to the Grove every day.… We need this in our neighborhood. We want this in our neighborhood," said West Adams resident Eva Aubry.
But some neighbors raised concerns about traffic and blocked views. And some activists worried about gentrification and displacement argued that the massive project would price out people from the surrounding area, particularly black residents, as the city faces a housing crisis.
At the hearing, they contended the city needed to scrutinize how the redevelopment plan would affect financially strained residents, demand much more local hiring and insist on more affordable units.
"We are fueling a gentrification crisis in South L.A. that will soon rival Oakland and Harlem," said Damien Goodmon, founder of the Crenshaw Subway Coalition.
The commission, whose members are appointed by Mayor Eric Garcetti, voted unanimously to back the redevelopment plan after hours of testimony and discussion. Planning commissioners insisted that 25% of the workers hired to build and run the project should be local residents.
Under a proposed agreement with the city, the mall developer would also have to ensure that 10% of the apartments and condos are set aside for households that fall under specific income thresholds — a higher percentage than had originally been proposed.
Half of those — 5% — would go to households making 50% of the area median income or less. Under current guidelines supplied by the planning department, that would mean that a family of four would have to make less than roughly $43,000. The other half would go to households making less than 150%, or around $130,000 or less for a family of four.
That failed to satisfy Goodmon and other critics, who said they would continue to fight the redevelopment plan. The proposal still must be vetted and approved by the City Council.
The plan includes more than 1.2 million square feet of new housing, a hotel, a 10-story office building and a walkable "retail village" open to the sky, which architect Steven Lott likened to the Third Street Promenade in Santa Monica. The existing enclosed mall and movie theater will remain, but some other outbuildings on the 43-acre site will be demolished.
The revamped center will sit alongside a new Metropolitan Transportation Authority station that is slated to open in two years. A Kaiser Permanente medical center is under construction nearby.
The mall has a long and storied history, bound up with that of South Los Angeles. A shopping center originally opened at the Crenshaw Boulevard site in the 1940s. When that center was overhauled, turned into an enclosed mall and renamed Baldwin Hills Crenshaw Plaza in 1988, then-Mayor Tom Bradley called it "a symbol of perseverance" — a pioneering project that aimed to prove that urban, minority neighborhoods could support the kind of malls popping up in the suburbs.
The mall has struggled at times to draw some of the more affluent residents from surrounding neighborhoods, such as Baldwin Hills. Joanne Kim, an aide to City Councilman Marqueece Harris-Dawson, lamented that in years past, the mall sometimes had trouble attracting and keeping retailers even though business was booming.
"It epitomizes how racism can trump capitalism," Kim said. "Investors are risk averse in South L.A. — even when it's disproven."
Under its current owner, Capri Investment Group, Baldwin Hills Crenshaw Plaza has already gotten tens of millions of dollars in upgrades. Capri, a minority-owned firm from Chicago, has also thrown open its doors to the community with free concerts, fitness classes and a weekly farmers market. On a hot summer afternoon, a steady stream of families, young couples and seniors crisscrossed the glossy floors inside the mall, eyeing strappy sandals, fidget spinners and baby clothes. Perfume and hot pretzels scented the air.
But the mall suffered a blow last year when Wal-Mart abruptly closed its doors, stirring up worry that other retailers would follow. And it faces the same stresses as other malls as shoppers turn to online retailers such as Amazon and Zappos: At the Thursday meeting, Capri and its partners told commissioners that 20% to 25% of the shopping centers in the United States are expected to close by 2022, according to the financial firm Credit Suisse.
As planning commissioners weighed how much affordable housing to require, Capri Chairman and Chief Executive Quintin Primo urged them to give his company "flexibility," emphasizing that his firm would still have to raise $500 million to $700 million to carry out the redevelopment project in a "woefully underinvested" area.
"In a perfect world there would be more affordable housing," commissioner Marc Mitchell said.
But, Mitchell added, "what I want, versus what is possible at this moment, are two different things."
Twitter: @LATimesEmily
ALSO
Earthquake fault maps for Beverly Hills, Santa Monica and other Westside areas could bring development restrictions
Massive Metropolis condo complex ushers in a new era of residential development in downtown L.A.
Robin Abcarian: When it comes to L.A. development projects, does anyone really care what the neighbors think?
The stories shaping California
Get up to speed with our Essential California newsletter, sent six days a week.
You may occasionally receive promotional content from the Los Angeles Times.