Baldwin Park's former police chief sues city over his firing; city says he had acted inappropriately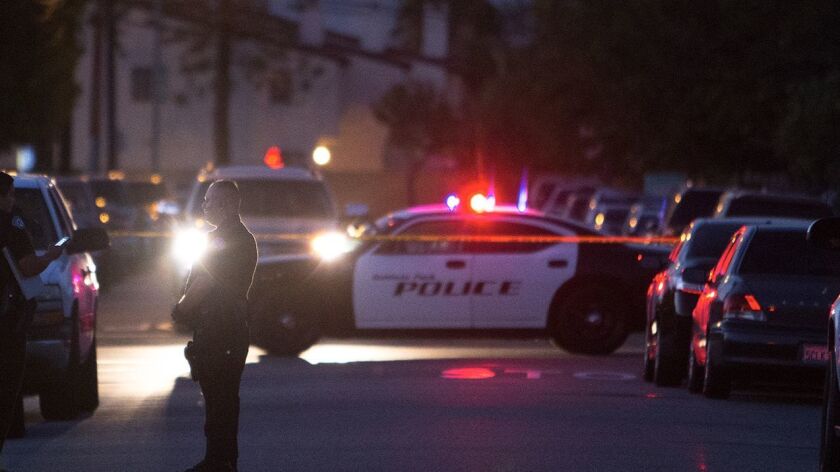 Baldwin Park's former police chief — who was fired after just 49 days on the job — is now suing the city alleging that he was discriminated against because he is Latino and because he complained that a council member had asked him to fix a ticket and perform other favors.
In a whistleblower lawsuit filed in Los Angeles County Superior Court this week, plaintiff David Salcedo alleges he was subject to harassment and retaliation during his brief tenure as chief. He said he was eventually fired when he refused to do favors for Councilman Ricardo Pacheco and complained about the requests.
The Baldwin Park City Council fired the police chief in April in a 3-2 vote. The former Inglewood police captain had been appointed to lead the small San Gabriel Valley police department in January. His predecessor, Mike Taylor, was fired in September 2016, but he has since returned as Salcedo's replacement.
City officials say the former chief's allegations are meritless.
"There were incidents of inappropriate behavior by the former chief that warranted his termination," Baldwin Park City Atty. Robert Tafoya said Wednesday. "We uncovered he canceled a contract for police helicopter services without the authority of the City Council — a vital protection."
In addition, the city attorney said the chief was operating a consulting business while performing his duties as chief. "This wasn't done without a lot of thought," Tafoya said. "But above all else, as his own lawsuit spells out, he lost the trust of the troops as their leader."
Salcedo's attorney, Carney Shegarian, wrote in the lawsuit that the Baldwin Park Police Department has "a pattern and practice of racial discrimination'' when it comes to promoting Latinos.
According to the suit, Salcedo was told that many white officers said "they would do their best to make sure he didn't last more than a year, at most."
In filing suit against the city, Salcedo joins former Police Chief Lili Hadsell, who also sued after she was fired in 2013. A trial is pending.
Salcedo says he refused a request from Councilman Pacheco in March to fix a ticket. According to the suit, the councilman was incensed and eventually hung up on the chief while discussing the issue on the telephone.
Pacheco could not be reached for comment, but publicly denied the allegation of attempted ticket fixing when it was first made earlier this year.
The lawsuit also claims Pacheco requested other favors, such as towing a truck that was legally parked, posting no-parking signs in violation of city laws and sending a patrol car to investigate a vacant house on the elected official's street.
Salcedo refused to perform actions for political reasons and reported his concerns to the mayor, city manager and city attorney, the suit alleges.
Officers within the department organized against him after he initiated several internal affairs probes, including one into whether an officer's family had ties to a gang, the former chief alleged in the suit.
The suit also alleges that the city refused to help accommodate Salcedo's carpal tunnel syndrome and a back injury with special equipment.
Upon his termination, Salcedo alleges his office was "ransacked" and a memo of insubordination against a captain removed and his personal briefcase searched.
In a claim filed against the city — the precursor to a lawsuit — Salcedo indicated he was seeking $10 million in damages.
Twitter: @lacrimes
---
The stories shaping California
Get up to speed with our Essential California newsletter, sent six days a week.
You may occasionally receive promotional content from the Los Angeles Times.