Barry Bonds' obstruction of justice conviction upheld by appeals court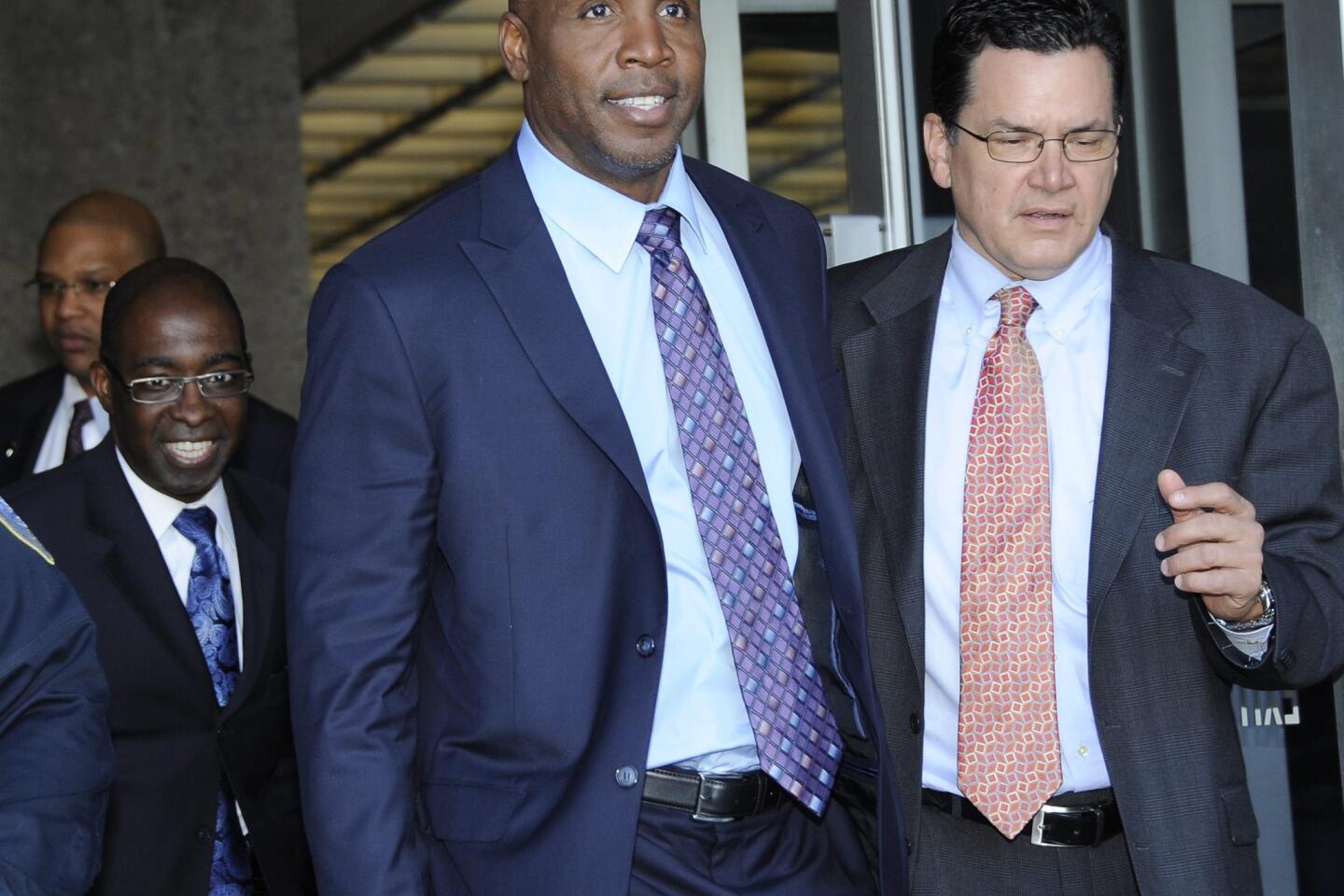 Former major leaguer Barry Bonds leaves the federal courthouse on March 31, 2011, after his perjury and obstruction trial in San Francisco.
(John G. Mabanglo / EPA)
Barry Bonds of the San Francisco Giants points to the crowd after hitting his 754th career home run on July 27, 2007, during the first inning of the game against the Florida Marlins at AT&T Park in San Francisco.
(Jamie Squire / Getty Images)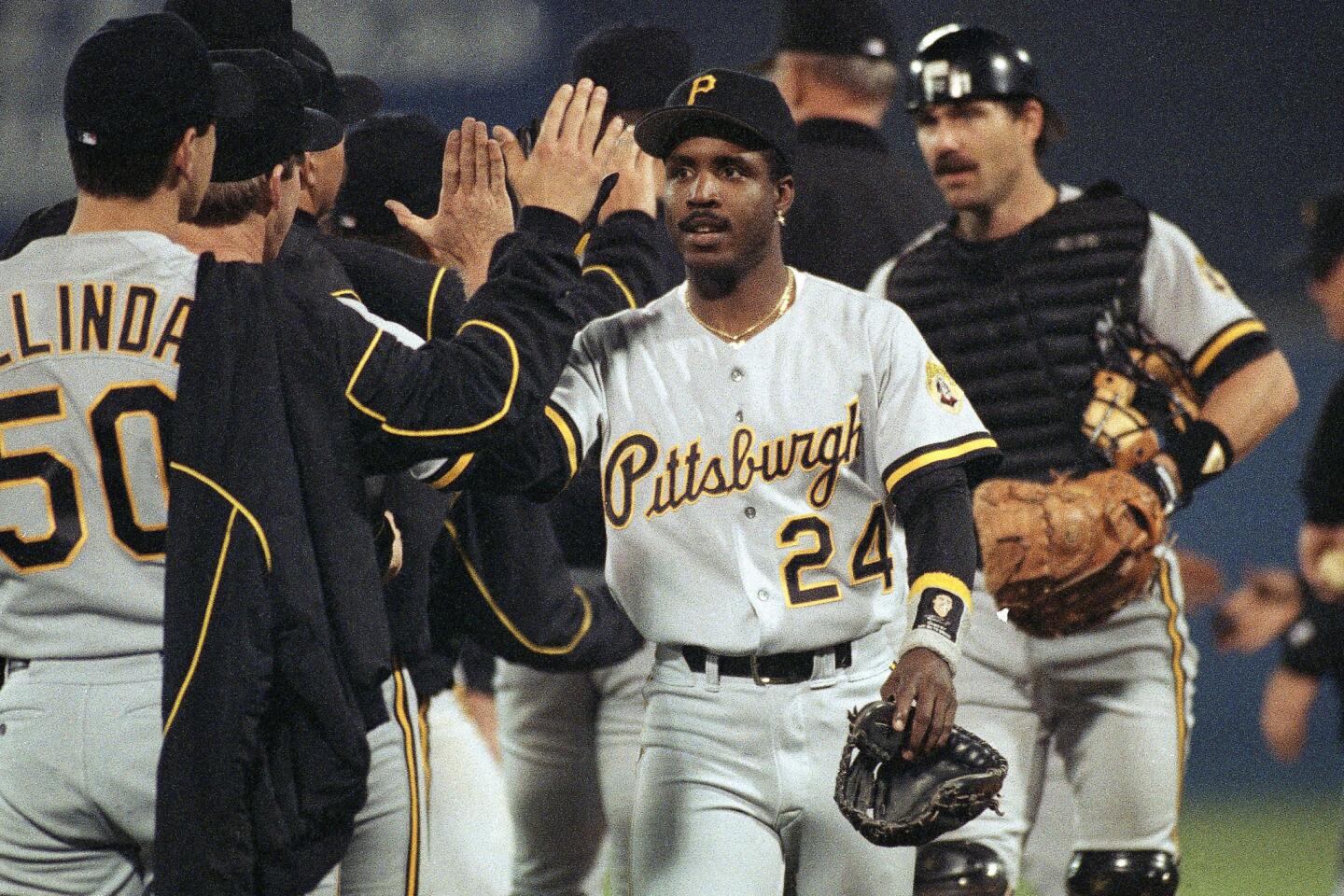 Barry Bonds, with the Pittsburgh Pirates on Oct. 14, 1992, high-fives teammates after the Pirates' 13-4 win over the Atlanta Braves in Game 6 of the National League Championship Series in Atlanta.
(John Swart / Associated Press)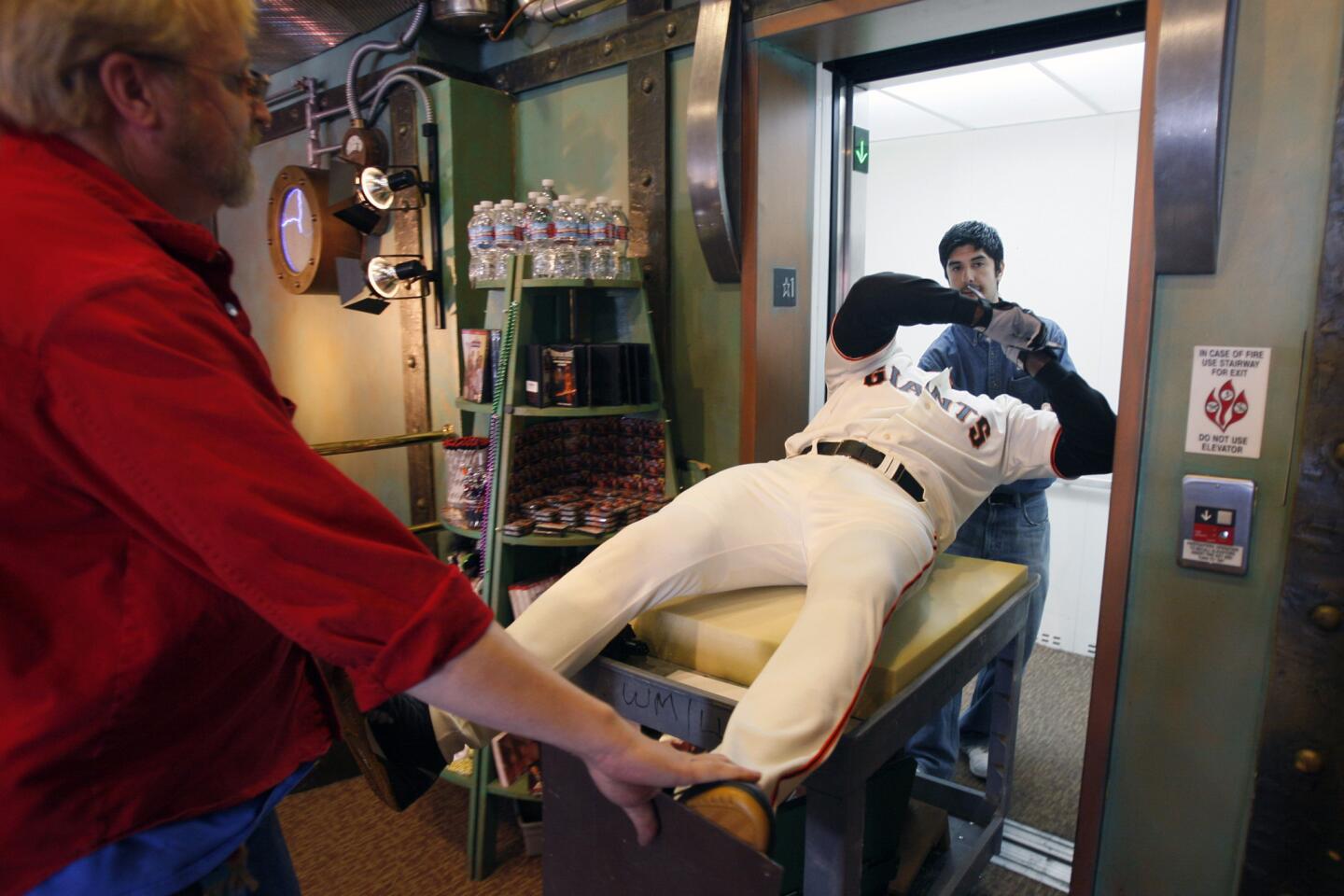 Curtis Huber, left, and Eric Valencia load a wax figure of Barry Bonds into an elevator at the Wax Museum in San Francisco on April 16, 2008.
(Paul Chinn / Associated Press)
Barry Bonds tosses his bat after hitting a two-run home run off the Montreal Expos' Javier Vazquez on Aug. 18, 1999, in the first inning of a game at Candlestick Park.
(Ben Margot / Associated Press)
SAN FRANCISCO -- A federal appeals court Friday upheld slugger Barry Bonds' conviction for obstruction of justice for being evasive during grand jury testimony.
A three-judge panel of the U.S. 9th Circuit Court of Appeals ruled that someone may be convicted of obstruction for making factually true statements if they are intended to mislead or evade.
During testimony in 2003 before a federal grand jury investigating the distribution of performance-enhancing drugs, the former San Francisco Giant and home run king was asked if his trainer ever provided him with substances that could be injected. Bonds gave a long-winded answer about being a celebrity child before he denied being given any such drug.
Bonds was tried in San Francisco in 2011 on charges of making false statements to a grand jury and obstruction. The jury was hung on three counts of false statements but convicted him on the obstruction charge, a felony.
Bonds appealed, arguing he could not be found guilty of a crime for giving a truthful, albeit meandering, statement.
The court said that Bonds' statements about being the child of a famous baseball player "had nothing to do with the question" and was "at the very least misleading."
"The statement served to divert the grand jury's attention away from the relevant inquiry of the investigation," the court concluded.
Bonds was sentenced to two years' probation, 250 hours of community service, a $4,000 fine and a month of monitored home confinement, all of which had been put on hold pending his appeal.
ALSO:
Snoop Lion donates to girl's funeral after 'heartbreaking' killing
Morgan fire is the latest forest blaze to be blamed on humans
Sheriff's deputy accused of having sex with teen was decorated hero
Twitter: @mauradolan
maura.dolan@latimes.com
Sign up for Essential California for news, features and recommendations from the L.A. Times and beyond in your inbox six days a week.
You may occasionally receive promotional content from the Los Angeles Times.