Barry Bonds' obstruction of justice conviction overturned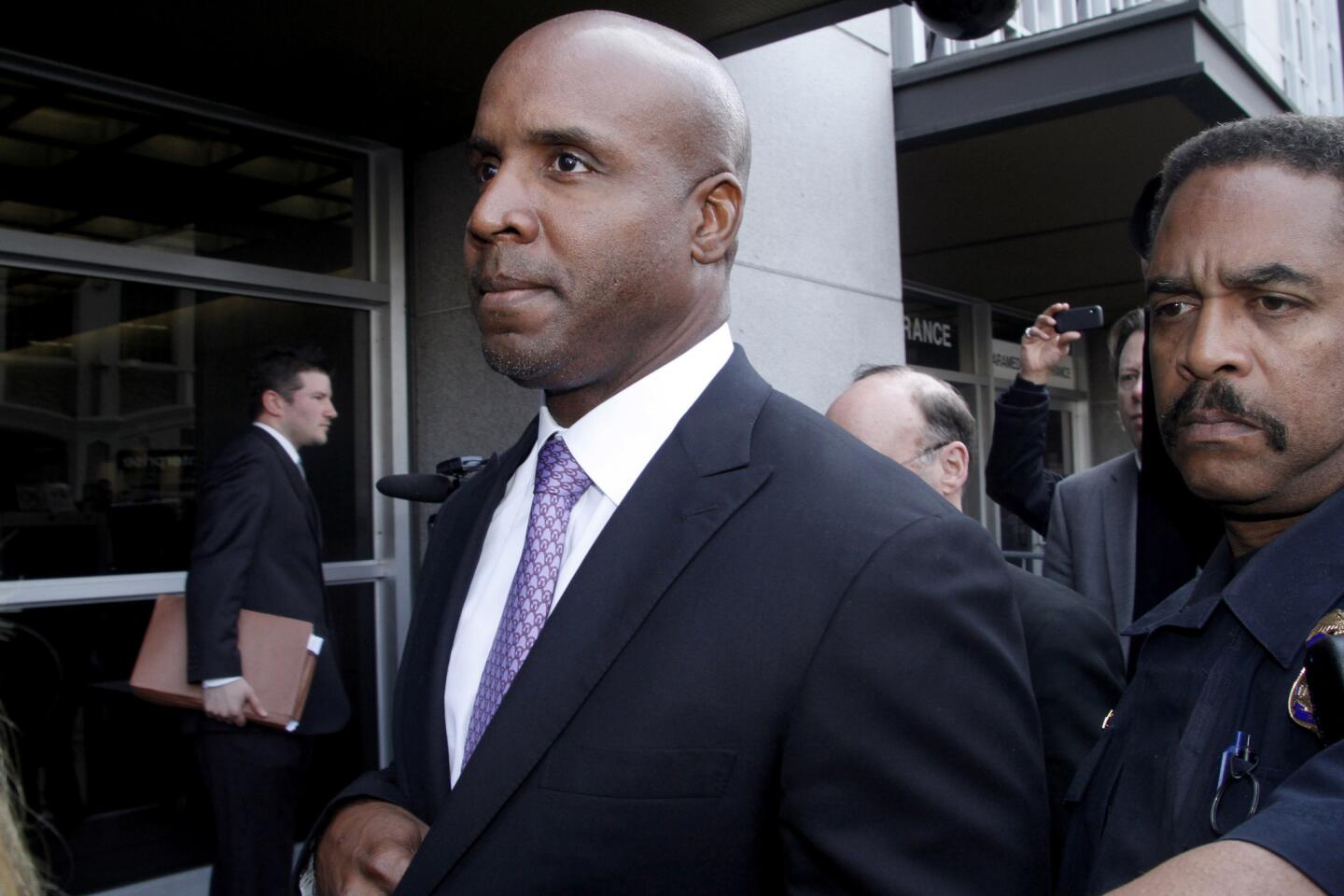 Barry Bonds leaves court during his trial in 2011.
(George Nikitin / Associated Press)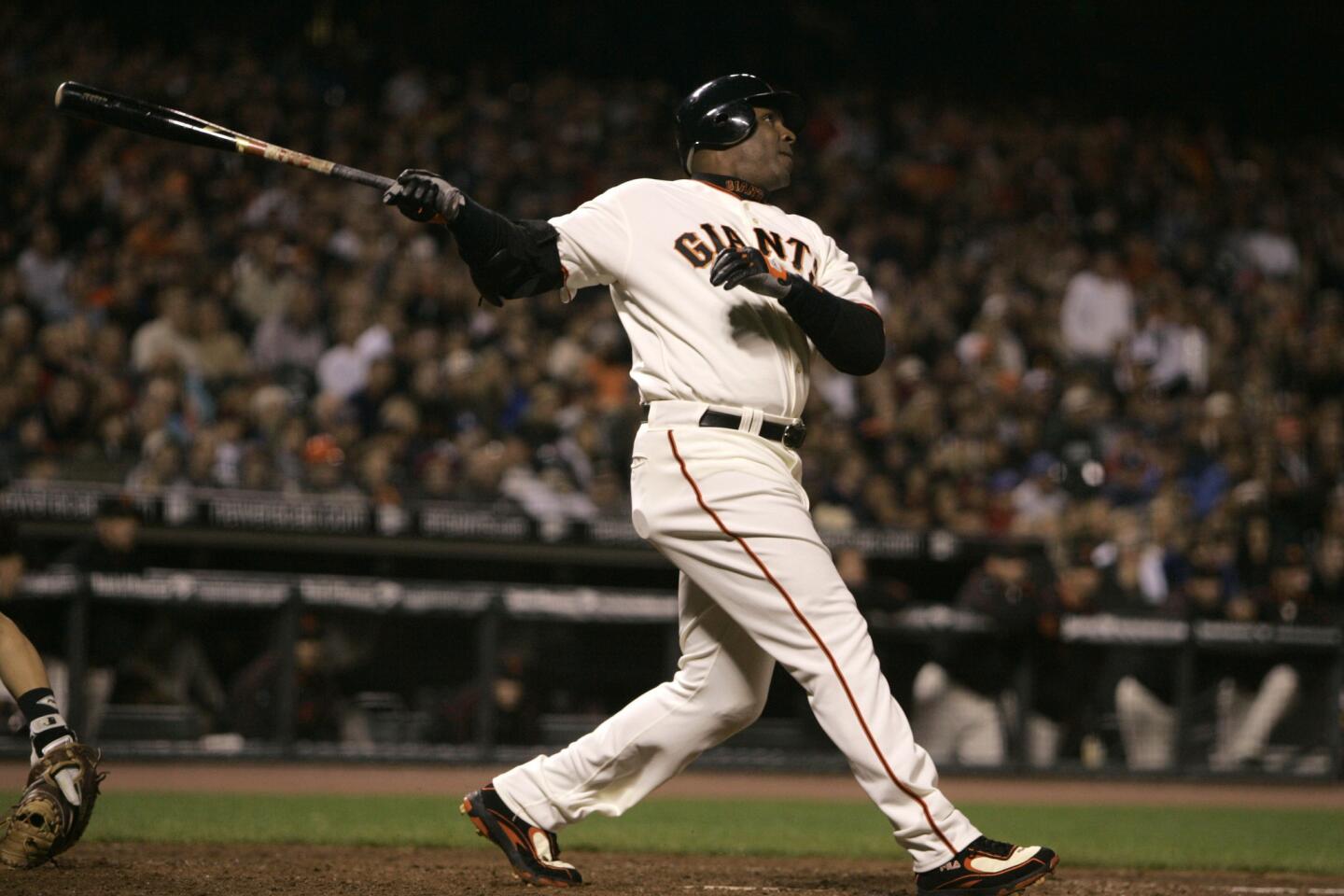 Barry Bonds hits his 750th career home run. He finished his career with 762.
(Ben Margot / Associated Press)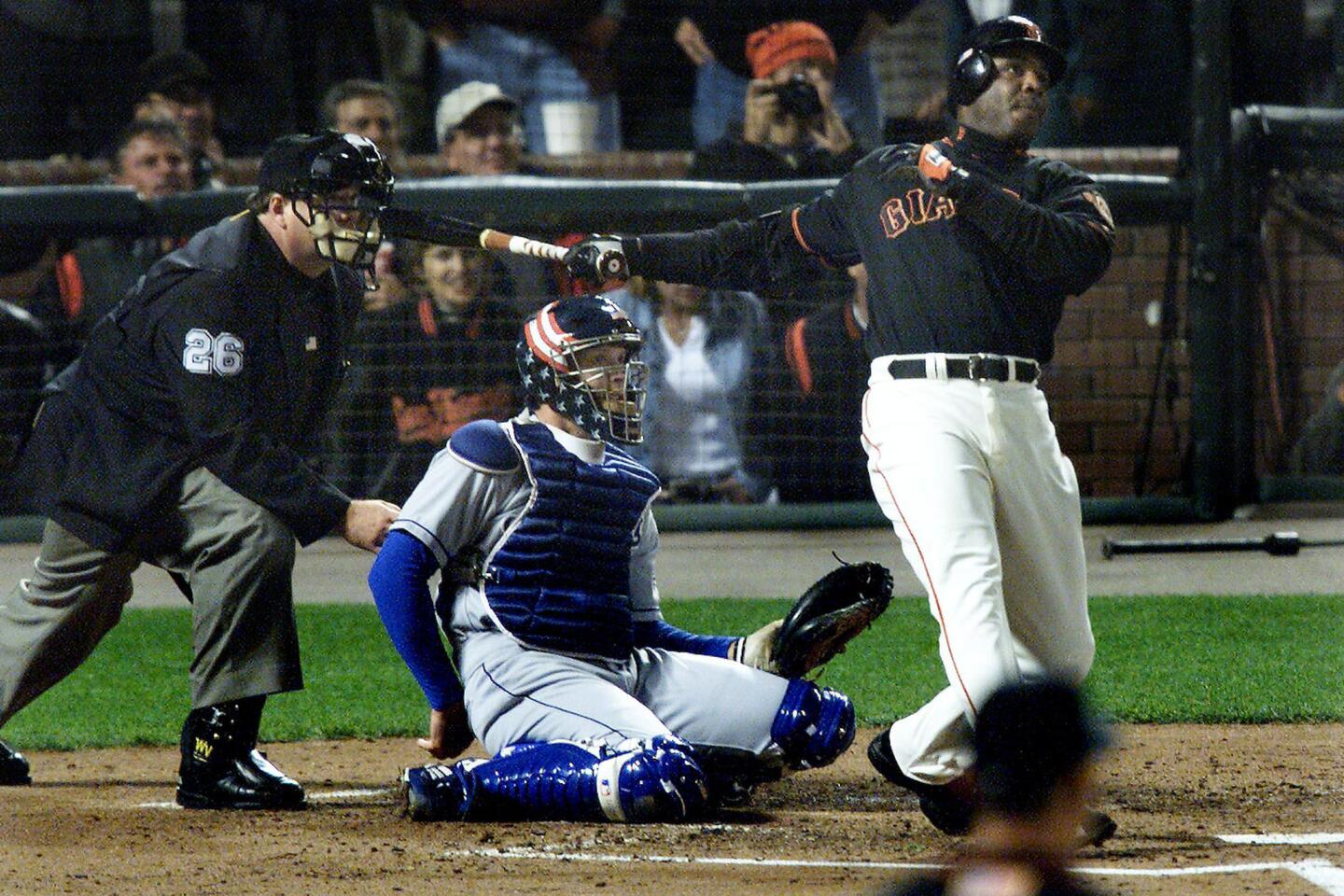 Barry Bonds breaks the single-season home run record in 2001. He finished the year with 73.
(Robert Durell / Los Angeles Times)
Barry Bonds circles the bases after hitting his 600th career home run in San Francisco in 2002.
(Eric Risberg / Associated Press)
Barry Bonds played seven seasons with the Pittsburgh Pirates, beginning in 1986. He played the remainder of his career in San Francisco.
(Otto Greule / Allsport)
One of Barry Bonds signature towering home runs — this one the 756th of his career — leaves AT and T park in Bonds' final season. The longtime Giant's home run records are a source of controversy because of allegations of performance-enhancng drug use.
(Eric Risberg / Associated Press)
Reporting from San Francisco —
A federal appeals court Wednesday overturned former San Francisco Giant Barry Bonds' felony conviction for obstructing justice, leaving the federal government without a single conviction after a years-long and multimillion-dollar effort to prosecute the home run king.
The 10-1 decision by a politically diverse panel of the U.S. 9th Circuit Court of Appeals was a major defeat for prosecutors, who brought Bonds to trial in 2011 on perjury and obstruction charges. The jury hung on the perjury charges, convicting Bonds of only one count of obstruction for giving an evasive answer to a federal grand jury investigating illegal steroid distribution.
In an unsigned ruling, the 9th Circuit said there was insufficient evidence that Bonds' rambling reply was material to the prosecution's case, and the government may not retry him. The court did not agree on the scope of the obstruction law, and several judges wrote separately to express their views.
"Making everyone who participates in our justice system a potential criminal defendant for conduct that is nothing more than the ordinary tug and pull of litigation risks chilling zealous advocacy," Judge Alex Kozinski wrote in a concurring opinion, signed by four other judges. "It also gives prosecutors the immense and unreviewable power to reward friends and punish enemies by prosecuting the latter and giving the former a pass."
In a dissent, Judge Johnnie B. Rawlinson said the court wrongly second-guessed the jury and ignored precedent.
"I cry foul," she wrote.
The ruling overturned a unanimous 2013 decision by a three-judge panel that upheld the conviction. That 9th Circuit panel ruled that someone may be convicted of obstruction for making factually true statements if they are intended to mislead or evade. Bonds decided to serve his sentence — house arrest — and paid a fine while appealing the decision.
Dennis Riordan, Bonds' appellate lawyer, argued that the former slugger could not be found guilty for giving a long-winded answer to a question he eventually answered. Prosecutors countered that Bonds' response amounted to a lie and was intended to mislead.
"In this particular case, we must determine whether a single truthful but evasive or misleading answer could constitute evidence of obstruction of justice," Judge N.R. Smith wrote in another concurrence, signed by three judges. "It could not."
Extending the reach of the law to such situations would allow a prosecutor to permit an evasive answer "in the hopes of obtaining an obstruction of justice conviction later," the judge said.
A spokesman for U.S. Atty. Melinda Haag said the government had no immediate comment. Prosecutors could ask the 9th Circuit to reconsider the case or appeal to the U.S. Supreme Court.
University of Richmond law professor Carl Tobias said it was unclear how the ruling might affect other cases because the decision came in a short, terse "per curiam" ruling.
The decision and separate analytic writings by the judges "could serve notice to federal prosecutors that judges across the political spectrum on the 9th think the government may be overreaching in use of the law generally and in the pursuit of Bonds specifically," Tobias said.
Given the millions of dollars already spent to prosecute Bonds, the government might just decide to drop the case, the law professor said.
The obstruction conviction stemmed from Bonds' reply to a federal prosecutor about whether his former trainer, Greg Anderson, had ever given him an injectable substance.
Bonds' lawyers could not be reached for comment.
The decision means that federal prosecutors lost on every charge they filed against two of the greatest players in baseball history — Bonds, the only seven-time winner of a major league most-valuable-player award, and Roger Clemens, the only seven-time winner of the Cy Young Award as his league's best pitcher.
Neither Bonds nor Clemens failed a drug test administered by Major League Baseball. Bonds was identified as a steroids user through the Bay Area Laboratory Co-Operative investigation, and Clemens was identified in the Mitchell Report, the league's self-funded investigation into its steroid era.
Clemens challenged the Mitchell Report so loudly that Congress summoned him to testify. He appeared, subjecting himself to perjury charges by denying he ever had used performance-enhancing drugs. After federal prosecutors filed perjury charges, Clemens was found not guilty.
That courts have cleared both players of perjury has not swayed voters for baseball's Hall of Fame. On their baseball records alone, Bonds and Clemens should have been elected on their first try. However, neither player has gotten even 40% of the vote in any of the three years on the ballot. Election to the Hall of Fame requires 75% of the vote.
Twitter: @mauradolan
Times staff writers Bill Shaikin and Dylan Hernandez contributed to this report.
Sign up for Essential California for news, features and recommendations from the L.A. Times and beyond in your inbox six days a week.
You may occasionally receive promotional content from the Los Angeles Times.