Barry Bonds' conviction will be reviewed by larger 9th Circuit panel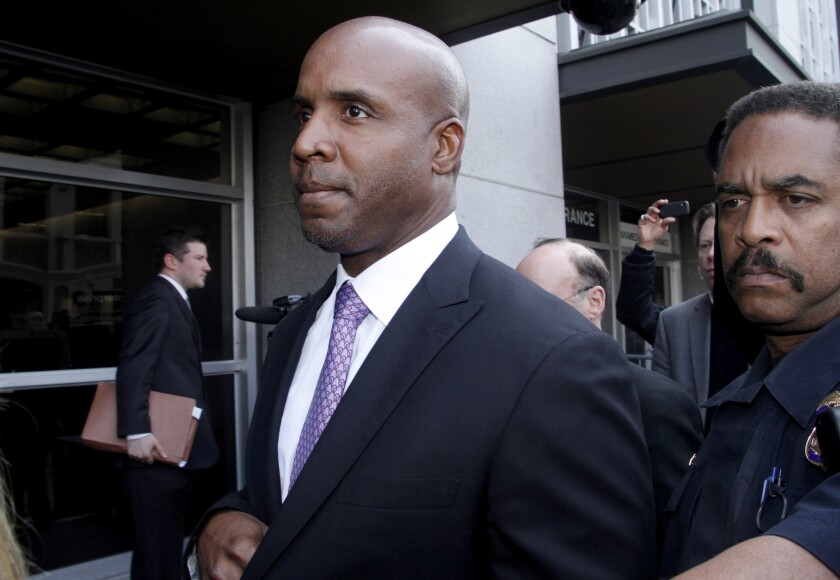 Reporting from San Francisco —
Former San Francisco Giants slugger Barry Bonds won another opportunity Tuesday to overturn his felony conviction for giving evasive testimony to a federal grand jury.
The U.S. 9th Circuit Court of Appeals announced that an 11-judge "en banc" panel would review last year's 9th Circuit decision upholding Bonds' conviction for obstruction of justice. A three-judge panel ruled that someone may be convicted of obstruction for making factually true statements if they were intended to mislead or evade.
Bonds was tried in San Francisco in 2011 on charges of making false statements to a grand jury and obstruction. The jury hung on the perjury charges, agreeing only that he obstructed justice.
Bonds appealed, arguing he could not be found guilty of a crime for giving a truthful, albeit meandering, statement.
In a brief order, the 9th Circuit said the judges decided by a vote to reconsider the case. The decision means that last year's ruling against Bonds cannot be cited as precedent.
Bonds' conviction stemmed from testimony in 2003 before a federal grand jury that was investigating the distribution of performance-enhancing drugs.
The former baseball player gave a long-winded, meandering answer to a prosecutor's question that the three-judge panel said had nothing to do with the query and was intended to mislead.
Bonds was sentenced to two years' probation, 250 hours of community service, a $4,000 fine and a month of monitored home confinement. He decided to begin serving his sentence last September instead of waiting for his appeal to be resolved.
Follow @mauradolan for coverage of California legal issues.
---
Get breaking news, investigations, analysis and more signature journalism from the Los Angeles Times in your inbox.
You may occasionally receive promotional content from the Los Angeles Times.