Activists occupy City Hall bathroom stalls to protest skid row toilet shortage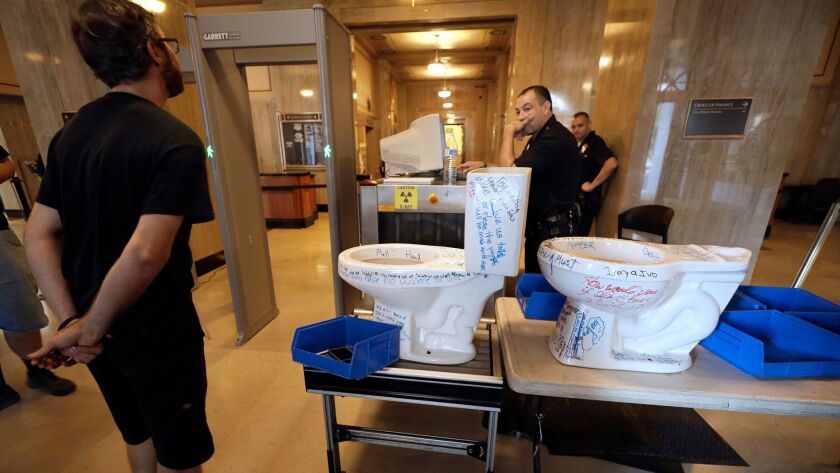 Protesters took graffiti-covered toilets to Los Angeles City Hall and occupied bathroom stalls on Wednesday to highlight what they called a severe hygiene shortage for homeless people on skid row.
The activists tried to deliver the toilets, scribbled with slogans, to Mayor Eric Garcetti. But they were stopped at the security checkpoint by Los Angeles police, who cited safety concerns with hauling the ceramic thrones through the gilded Art Deco hallways and elevators of the landmark building.
Protesters also occupied fourth-floor bathroom stalls and placed at least one set of sneaker-clad dummy feet inside a stall to make it appear someone was inside.
The new call for more bathrooms follows this fall's Hepatitis A outbreak, which has struck 14 people in Los Angeles County — at least half of whom are homeless. Statewide, 614 people have been infected with the virus and 19 have died, all in San Diego County.
The demonstrators asked for 164 toilets and wash stations for skid row, which they said would bring hygiene conditions in the 50-block district up to United Nations standards for Syrian refugee camps. Nine toilets are available to 1,800 homeless people who sleep on skid row, they said.
"We're not asking for gold toilets with diamonds and emeralds, we're just asking for some … toilets," said Ruben Martin Garcia, 55, a downtown resident who lived on skid row streets for 24 years.
Councilman Jose Huizar, who represents skid row, agreed more bathrooms were needed and said he was looking to add to the $500,000 set aside for facilities in this year's budget.
"We need more resources and more urgency on this issue," Huizar said.
The city plans to open a skid row hygiene center with 14 restrooms later this fall as a first step toward expanding bathroom access for homeless people citywide.
"The city is working to create new facilities in other areas of Los Angeles — because no one should be forced to live in unhealthy, dangerous, or unclean conditions while they are waiting to move into new permanent supportive housing," Garcetti spokesman Alex Comisar said in a statement.
The City Council has scheduled a discussion Friday on bringing emergency portable toilets to the burgeoning number of homeless people living in street encampments.
A motion from Councilmen Huizar, Mike Bonin and Marqueece Harris-Dawson would set a two-week deadline for staff to report on public health threats and portable toilets, including a mobile toilet program in San Francisco. The councilmen also called for hiring bathroom attendants, which Bonin last week suggested could fix past problems with public toilets.
Toilets for homeless people have a long and checkered history in Los Angeles. Former Mayor Richard Riordan had two dozen portable toilets placed on skid row. Half were yanked in 1998, then returned after a protest.
In 2006, the city, under then-Mayor Antonio Villaraigosa, had the toilets pulled out after they were discovered to have been taken over for prostitution and drug use.
More recently, the Los Angeles County Public Health Department cited the city for deplorable hygiene conditions on skid row in both 2012 and 2014, and the city expanded overnight access to mission and other bathrooms. But the improvements were slight.
At the demonstration, Los Angeles Catholic Worker organizer Matt Harper read a statement from a USC doctor stating that public toilets were important to combat the spread of Hepatitis A. Advocate Suzette Shaw said a dearth of feminine hygiene products as well as bathroom access intensifies the trauma of being homeless for women on skid row.
"Where is the dignity and humanity when we talk about the needs of women?" Shaw said.
"A single hygiene center on a single corner is not enough to meet the needs of thousands of people on skid row," Harper said.
Twitter: @geholland
---
The stories shaping California
Get up to speed with our Essential California newsletter, sent six days a week.
You may occasionally receive promotional content from the Los Angeles Times.