Mudslide probably caused Bay Area commuter train derailment, railroad official says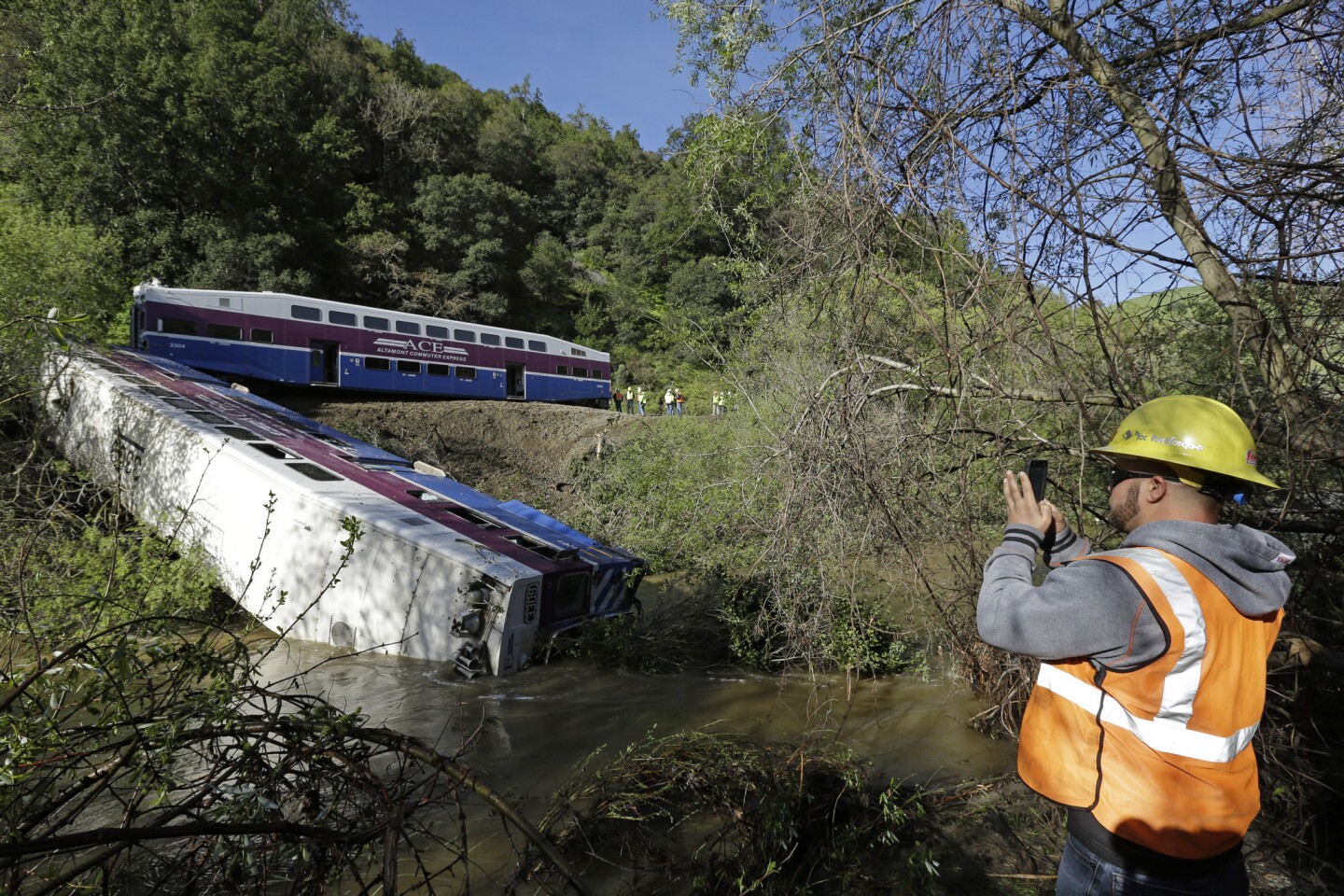 Workers investigate the scene of a derailed Altamont Corridor Express train Tuesday in Sunol, Calif. A Union Pacific spokesman says a mudslide most likely caused a commuter train derailment in Northern California that sent its leading car plunging into a swollen creek, injuring several people.
(Ben Margot / Associated Press)
A worker cuts a tree beside a derailed Altamont Corridor Express car in Sunol, Calif.
(Ben Margot / Associated Press)
A car of a derailed Altamont Corridor Express train is partially submerged in Alameda Creek in Sunol, Calif.
(Ben Margot / Associated Press)
A preliminary investigation shows that a mudslide triggered by days of rain probably caused a Bay Area commuter train to derail on Monday night, according to an official of Union Pacific Railroad, which owns the tracks.
The Altamont Corridor Express, also known as the ACE train, was traveling north between Fremont and Pleasanton shortly after 7:15 p.m. when it struck a tree that had fallen onto the tracks and derailed, said Steve Walker, an ACE spokesman.
The train was the last of four from San Jose to Stockton that evening, Walker said. The three others — including one within an hour of the crash — had passed over that stretch of track without incident, he said.
NEWSLETTER: Get the day's top headlines from Times Editor Davan Maharaj >>
Days of sustained rain weakened a muddy hillside around a bend, and mud and water flowed onto the tracks and brought a tree with them, Walker said. The speed limit in that area is 40 mph and the train was going 35 mph, he said.
Of the 205 people on board, including two crew members, four people were hospitalized with serious injuries and five suffered minor injuries, Walker said. Neither crew member was hurt.
The front car completely derailed and landed in a creek, the second car was lifted off the tracks and remained upright and the final three cars and the locomotive remained on the tracks, Walker said.
The Department of Transportation's Federal Railroad Administration will investigate the crash.
Francisco Castillo Jr., a Union Pacific spokesman, said in an interview with local news outlets Tuesday morning that the company sent investigators to the scene Monday night and that "our preliminary investigation shows a mudslide may have caused the derailment ... when we went and checked out the area there was mud up to the wheel. It's clear that mud was involved."
Passengers in the car that landed in the creek broke out windows to escape, a witness told KRON-TV.
"One side was in the water, one side which was up. People were coming out of the window. Tearing out the window and coming out that way," passenger Naveed Mozaffar told the station.
See more of our top stories on Facebook >>
ACE trains serve about 5,000 passengers daily, Walker said. Service was suspended Tuesday and will probably be closed again Wednesday, he said.
"It's impossible to find 50 to 60 buses to get people to where they need to go," Walker said. "Ideally, the train is what we need but we're not going to rush it. We want to make sure the hill is stable."
Buses took passengers stranded by the crash to the Alameda County Fairgrounds on Monday night. Buses also were sent to ACE stations along the way to Stockton to pick up about 30 people who had planned to board the commuter train.
Firefighters completed their work at the scene by 2 a.m. Tuesday, officials said.
One of the Bay Area's smaller transit lines, the ACE train serves passengers traveling from parts of the Central Valley to the East Bay and Bay Area.
The express service through the Altamont Pass began in 1998 and has been expanded since then.
The transit line runs from Stockton to San Jose, with stops in several cities including Tracy, Livermore and Fremont.
Cities along the route have seen major development over the last three decades, with some considered bedroom communities for the Bay Area.
For breaking California news, follow @JosephSerna
ALSO
Cal State faculty, students expected to press trustees on pay raises, tuition at Long Beach meeting
Amazon to open a second bookshop, this one in Southern California
O.J. Simpson is 'a little worried' knife could affect his parole, friend says
---
Life is stressful. Our weekly mental wellness newsletter can help.
You may occasionally receive promotional content from the Los Angeles Times.