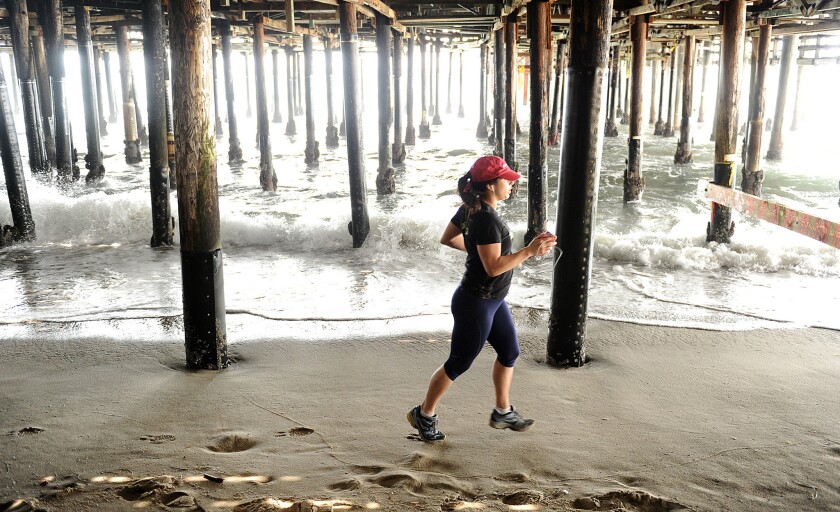 Water quality at Southern California beaches has shown marked improvement for the second year in a row in what experts say is a continuing byproduct of the severe drought that has cut polluted runoff into the Pacific Ocean.
About 97% of Southern California beaches received an A or B grade for water quality during the busy summer months, according to the annual Beach Report Card released by Heal the Bay, an environmental group.
That's up three percentage points from last year's report.
In California as a whole, 95% of state beaches earned an A or B during the summer — the same as 2015.
Heal the Bay uses bacteria counts at more than 450 beaches to formulate letter grades from A to F. High bacteria counts can be linked to such potential illnesses as stomach flu, ear infections and major skin rashes.
The main reason for the increased water quality is a lack of rain runoff — a consequence of record-low rain levels in the Southland.
The leading cause of water pollution at beaches is storm-drain runoff, flowing untreated to the coast and often contaminated with motor oil, pesticides, yard waste, animal waste and other pollutants.
"This was the fifth year in a row of below-average rainfall in Southern California, and as a result, its beaches experienced less urban runoff, which likely led to the improvement of overall grades," the report said.
Despite predictions of a wet El Niño winter, Southern California's recorded average rainfall was way below normal. Downtown Los Angeles reported 58% of normal rainfall between January and April of this year.
Water conservation efforts also have contributed to less runoff, said Leslie Griffin, a scientist with Heal the Bay.
Many municipalities have barred residents from washing their cars or using their sprinklers more than twice a week.
Recently, however, California regulators approved new water conservation rules that will loosen the strict rationing Gov. Jerry Brown imposed a year ago.
"We don't want people to go back to their bad behavior because rainfall comes back," Griffin said. "This is something we should be doing going forward."
The most polluted shoreline on Heal the Bay's "Beach Bummers" list is Cowell Beach in Santa Cruz County, which has won that dismal distinction for three years in a row.
Monarch Beach in Dana Point ranked fourth on the list of the top 10 worst polluted beaches, with Santa Monica Pier, Mother's Beach in Marina del Rey and Redondo Municipal Pier coming in fifth, sixth and seventh, respectively, according to the report.
For the first time in 14 years, the harbor side of Cabrillo Beach, an enclosed beach with poor circulation, did not make the "Bummer" list. Over the last several years, Port of Los Angeles officials have added wiring and poles to keep seagulls and other birds away from that beach.
"It is only one year, but hopefully a trend that holds up," the report said.
Many of the polluted sites have piers, which attract both humans and birds — key contributors of bacteria, Griffin said.
"Don't go swimming by the pier as a general rule," she said.
Here is Heal the Bay's Top 10 list of beach locations that had significant pollution problems:
Cowell Beach, west of the wharf (Santa Cruz County)

Clam Beach, near Strawberry Creek (Humboldt County)

Shoreline Beach Park at Shelter Island (San Diego County)

Monarch Beach, north at Salt Creek (Orange County)

Santa Monica Pier (Los Angeles County)

Marina del Rey – Mother's Beach (Los Angeles County)

Redondo Municipal Pier (Los Angeles County)

Candlestick Point/Sunnydale Cove (San Francisco County)

Pillar Point, end of West Point Avenue (San Mateo County)

Pismo Beach Pier, 40 feet south (San Luis Obispo County)
---
UPDATES:
7:24 p.m.: This article has been updated throughout with additional information and quotes.
This article was originally published at 12:47 p.m.
---