Beck formally asks for second term as LAPD chief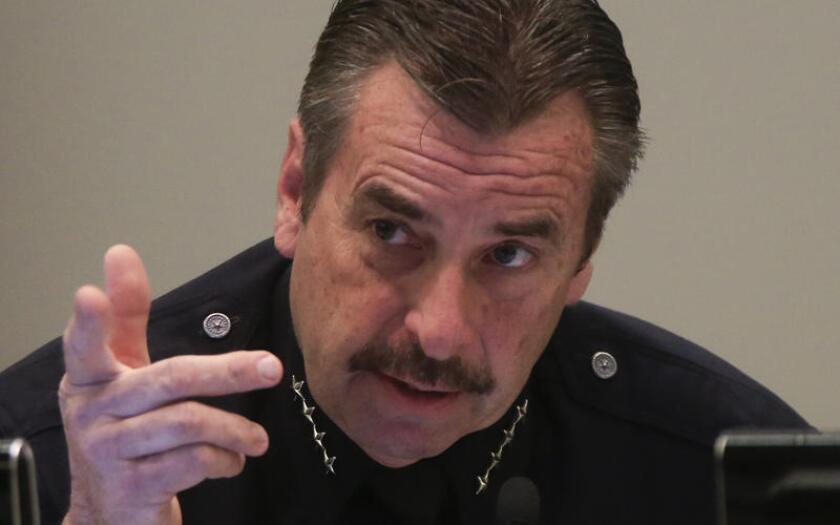 Charlie Beck on Thursday formally notified his civilian bosses he is seeking a second term as chief of the Los Angeles Police Department.
With a brief letter to the Police Commission, which oversees the LAPD, Beck met the requirement spelled out in the city's charter that he put in writing his wish for another five years at the helm of one of the country's largest police departments.
"I still believe there is much more to be accomplished," Beck, 60, wrote in the letter.
Beck told commissioners he wants more time as chief in order to "continue to rebuild and reengineer a department that's suffered massive budget cuts" and to enhance the LAPD's use of technology and data in crime fighting.
His decision to seek a second term was widely expected. In recent weeks he has said publicly he would like to stay on.
The decision of whether to grant Beck another term rests technically with the five-member commission. In the coming months, the board will meet privately to evaluate Beck and hold public forums. They have until mid-August -- three months before the end of Beck's current term -- to decide.
But Mayor Eric Garcetti, who appointed the commissioners, is expected to have a large say in whether Beck remains.
With public safety and the performance of the LAPD major factors in how the mayor -- and the city -- are perceived, Garcetti made clear he would be involved, saying in a statement, "I look forward to working with our Police Commission to assess Chief Beck's plans."
Beck has received generally high marks during his first term as chief -- a period in which the department has reported declines in crime and managed to work within tight budget constraints.
His tenure, however, hasn't been without friction. Beck has clashed periodically with the commission over his handling of officer discipline, which commissioners have said is uneven and, at times, too lenient.
Most recently, Beck came under scrutiny for refusing to fire an officer who was caught on tape using a racial slur and later denied making the comment.
His decision to give a lengthy suspension to the officer, whose father and uncle were both in the LAPD, angered critics, who say it is common for favored officers to receive preferential treatment.
---
For reporting and exclusive analysis from bureau chief John Myers, get our California Politics newsletter.
You may occasionally receive promotional content from the Los Angeles Times.