Organizers call off far-right festival at UC Berkeley; some speakers plan rally on campus on Sunday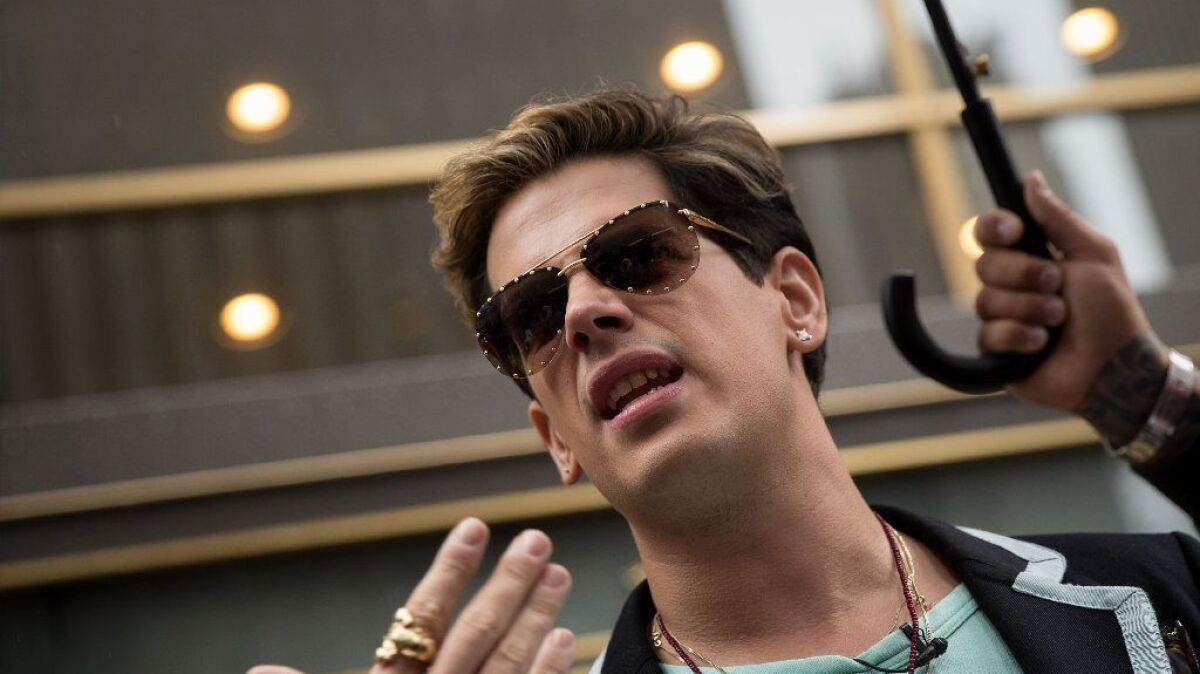 Reporting from BERKELEY —
Organizers of a far-right speakers' series planned on the UC Berkeley campus informed school officials that all speaking events scheduled for the coming week have been canceled, the university said Saturday.
Representatives of the student group Berkeley Patriot informed the school that Free Speech Week, which was scheduled to kick off Sunday, would not take place, Dan Mogulof, a campus spokesman, said in a statement. There was no reason given for the cancellation.

For the record:
12:57 a.m. March 22, 2023A previous version of this article misspelled Chase Aplin's last name as Apin.
"It is extremely unfortunate that this announcement was made at the last minute, even as the university was in the process of spending significant sums of money and preparing for substantial disruption of campus life in order to provide the needed security for these events," Mogulof said.
The event seemed to be in trouble in recent days as organizers failed to meet Berkeley's deadlines for renting indoor venues on campus, while at the same time some scheduled speakers either canceled plans to attend or said they never agreed to appear.
Right-wing provocateur Milo Yiannopoulos, who struggled to help organize the far-right festival, said he still planned to speak at noon Sunday at Sproul Plaza, where the university's free speech movement began. The campus become the national staging ground for confrontations between the right and left
"We are unable to host an official UC Berkeley speaking event," Yiannopoulos said. "So we're going to host an unofficial one."
Chief Margo Bennett of the UC Police Department said that Sproul Plaza is public space where "anybody can walk on and talk." But she noted that Yiannopoulos had not applied to use amplified sound on the plaza.
The blame for this event's new mutated form lies squarely with UC Berkeley."
— Milo Yiannopoulos
Members of Berkeley Patriot disagreed about whether to cancel the Free Speech Week event, but the group's leadership ultimately decided to pull the plug late Friday.
"For the last few days, we've been concerned about threats the university had been making and the potential of violence," Berkeley Patriot President Mike Wright said in a phone interview.
Sophomore Chase Aplin, one of the group's 11 members, said most of the club's members did not agree with the decision to pull the group's sponsorship of the speakers' series and would be joining Yiannopoulos at Sproul Plaza.
"Most members do not feel this was the correct choice," Aplin said in a text message.
Conservative champions Mike Cernovich and Pamela Gellar will also join Yiannopoulos at Sunday's event. The slate of speakers includes Canadian far-right personality Lauren Southern, Los Angeles street artist SABO, conservative author Lisa De Pasquale, and former UC Irvine College Republicans President Ariana Rowlands.
In an afternoon news conference on Facebook Live, Yiannopoulos said "the blame for this event's new mutated form lies squarely with UC Berkeley."
"These students have been bullied, cajoled and manipulated by UC Berkeley," he said of the Berkeley Patriot organizers.
Lucian Wintrich, a writer for the Gateway Pundit website, which regularly publishes outlandish stories about politics, was supposed to speak at Free Speech Week. But earlier this week he pulled out, telling The Times that he didn't want college students to "waste their money" coming to the event.
In a Saturday email to a UC Berkeley administrator, obtained by The Times, Wintrich said that Yiannopoulos had known for some time that the Free Speech Week event would be canceled.
When asked if this was all "set up," Wintrich responded "yes."
"It was known that they didn't intend to actually go through with it last week, and completely decided on Wednesday," he wrote.
Yiannopoulos said this was not true, but he did appear to take some responsibility for the now-canceled event's chaotic and disorganized rollout.
"I understand there were some hiccups with speakers, which I take personal responsibility for," he said. "Although it was an error of my staff, it's down to me."
In recent weeks, Yiannopoulos insisted that a bevy of high-profile speakers would be attending the Berkeley series. But one of the most controversial names on the list — conservative commentator Ann Coulter — told The Times Friday that she was "never" coming.
"My speakers bureau never booked me to speak at Berkeley. No contract for me to speak existed," she said in an email Friday.
Former White House strategist Stephen K. Bannon was another unconfirmed speaker. He didn't respond to repeated requests for comment.
Meanwhile, a previously scheduled counter-demonstration in Berkeley on Saturday afternoon went forward as planned with about 500 participants. That mostly subdued event, dubbed "No Hate in the Bay: March Against White Supremacy," was sponsored by an array of groups including labor unions and human rights organizations.
The crowd meandered around the Oakland/Berkeley border chanting against Nazis.
Cat Brooks, the founder of the Anti Police-Terror Project in the Bay Area who helped lead the march Saturday, said Berkeley had become "a crown jewel" for right-wing activists working to build their ranks.
She called Yiannapoulos a "showman" and said she wasn't surprised his event had fallen apart.
"They know that here is not the place to come," she said. "You will not win that fight here. You will not win that fight in the Bay Area."
Yiannopoulos has complained to reporters that the university had tried to sabotage plans for Free Speech Week by making it difficult for organizers to make logistical arrangements and to meet certain deadlines.
But Mogulof, the UC Berkeley spokesman, said such claims were "without basis in fact."
"The university was prepared to do whatever was necessary to support the 1st Amendment rights of the student organization," Mogulof said in a statement.
UC Berkeley has incurred at least $1.4 million in security costs since February, when Yiannopoulos' last appearance sparked violent protests. The campus spent $200,000 on security for that event, $600,000 for Coulter, whose event ultimately was canceled, and an estimated $600,000 for the talk last week by conservative writer Ben Shapiro, according to the university.
Officials shut down a large portion of Berkeley's campus as well as three city blocks to prevent the kind of rioting that happened when Yiannopoulos' February event was canceled.
The protests outside Shapiro's talk were relatively subdued with no widespread violence and nine arrests.
Even as Free Speech Week at the university buckled under its own weight, Yiannopoulos took the time during this Facebook Live stream on Saturday to announce four upcoming speaking dates for his planned seven-month Troll Academy tour across the U.S.
Three of them are in California, on Oct. 25 at Cal State Bakersfield, Oct. 29 at San Diego State and Oct. 31 at Cal State Fullerton.
ALSO
Trump picks fights with the NFL and the NBA — and top athletes fight back
Protesters interrupt James Comey during convocation speech at Howard University
Boycott of Sean Hannity's Fox News show is largely ignored by advertisers, and viewers
---
UPDATES:
6:45 p.m.: This article was updated with new comments from UC Berkeley officials.
3:20 p.m. This article has been updated with more information about counter-demonstrators march.
2:20 p.m.: This article has been updated with comments from counter-demonstrators.
1:40 p.m.: This article has been updated with additional comments from Milo Yiannopoulos.
1 p.m.: This article was updated with a notice posted on Milo Inc. that a free speech march would be held at UC Berkeley on Sunday.
11:45 a.m.: This article was updated with additional comments from Lucian Wintrich, one of the scheduled speakers.
10:50 a.m.: This article was updated with new comments from UC Berkeley's spokesman.
This article was originally published at 10:20 a.m.
The stories shaping California
Get up to speed with our Essential California newsletter, sent six days a week.
You may occasionally receive promotional content from the Los Angeles Times.