Best Buy employee who was fired for tackling a burglary suspect is offered his job back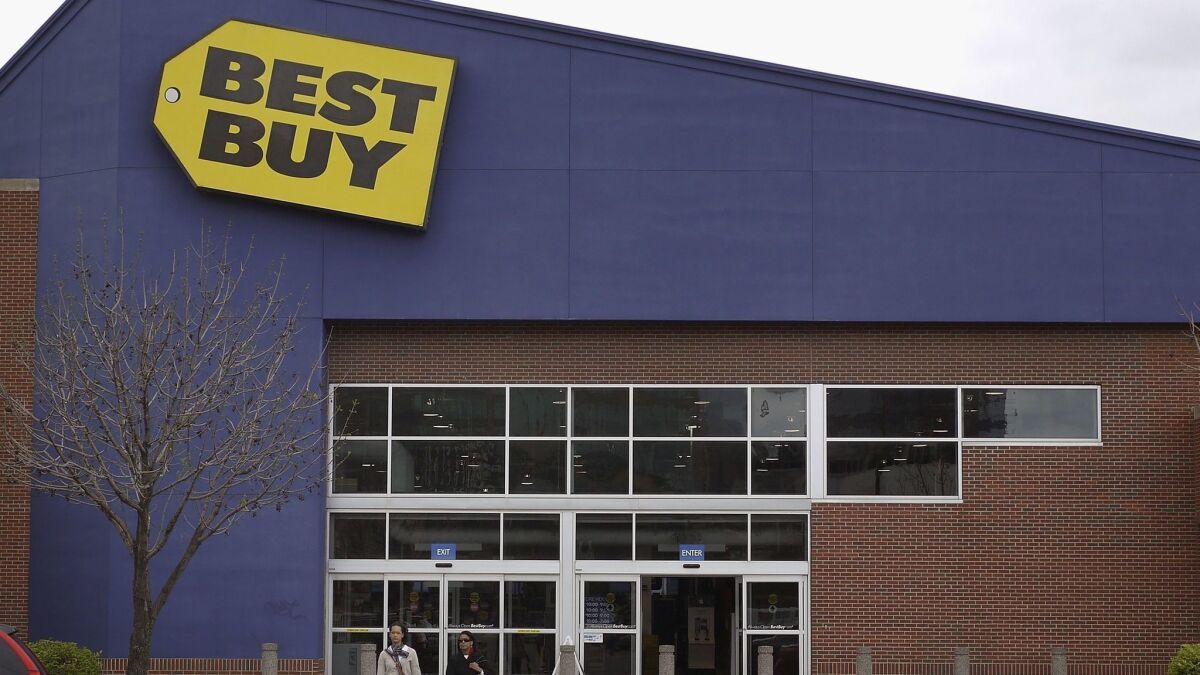 When a Best Buy employee in the Sacramento area saw a man assaulting a law enforcement officer and then fleeing, he jumped to the officer's aid, chasing the suspect and tackling him to the ground in a parking lot.
The employee's quick thinking helped officers catch the man, who was suspected of numerous burglaries in Nevada — but it cost him his job because he violated company policy.
But the big-box retailer has since had a change of heart: Best Buy said Monday it was offering the employee his job back.
"We made a decision to terminate our employee for violating our clear policies but have had reason to take another look at what happened," the company said in a statement. "In the end, we understand he made a split-second decision to do what he thought was right and, while we wish he hadn't put himself or anyone else at risk, we regret our initial decision and will be offering him his job back."
The incident began Jan. 11 when Placer County sheriff's detectives followed Timothy Trujillo, 35, into the Best Buy parking lot.
The Sparks Police Department in Nevada had issued a felony warrant for Trujillo's arrest and informed Placer County authorities he may be in the area of Roseville, a city just northeast of Sacramento, said Angela Mussalam, a spokeswoman for the Placer County Sheriff's Office. Detectives approached Trujillo in the store's parking lot, where authorities say he struck one officer.
The employee, who identified himself only as Tyler to the Sacramento Bee, told the newspaper he had been helping customers outside when he saw Trujillo punch the officer. Video footage shows Trujillo running away.
Meanwhile, Tyler, wearing a bright yellow jacket, sprinted toward Trujillo, and made a running tackle at the curb before pursuing detectives arrived.
Authorities said they found methamphetamine, stolen property and burglary tools after searching Trujillo's car and later connected him to two burglaries in Placer County.
Tyler told the Bee he knew Best Buy's policy, which says employees should not chase suspected criminals, but he didn't expect the discipline to be as harsh as it was. He said he had planned to go to a school for security guards.
The Placer County Deputy Sheriffs' Assn. even nudged Tyler to apply for a job at the Sheriff's Office in a Facebook post. The association said it recommends that citizens keep away from an active law enforcement scene but said it was grateful for Tyler's actions.
"In this case the citizen made a decision to come to the aid of the Deputy that had just been violently assaulted and for that we are extremely grateful!" the association said. "There is no doubt that Placer County is a safer place because of him."
Tyler could not immediately be reached for comment Tuesday about whether he planned to accept Best Buy's offer to return to work.
alejandra.reyesvelarde@latimes.com
Twitter: @r_valejandra
---
The stories shaping California
Get up to speed with our Essential California newsletter, sent six days a week.
You may occasionally receive promotional content from the Los Angeles Times.