Metro subway project through Beverly Hills can continue, judge rules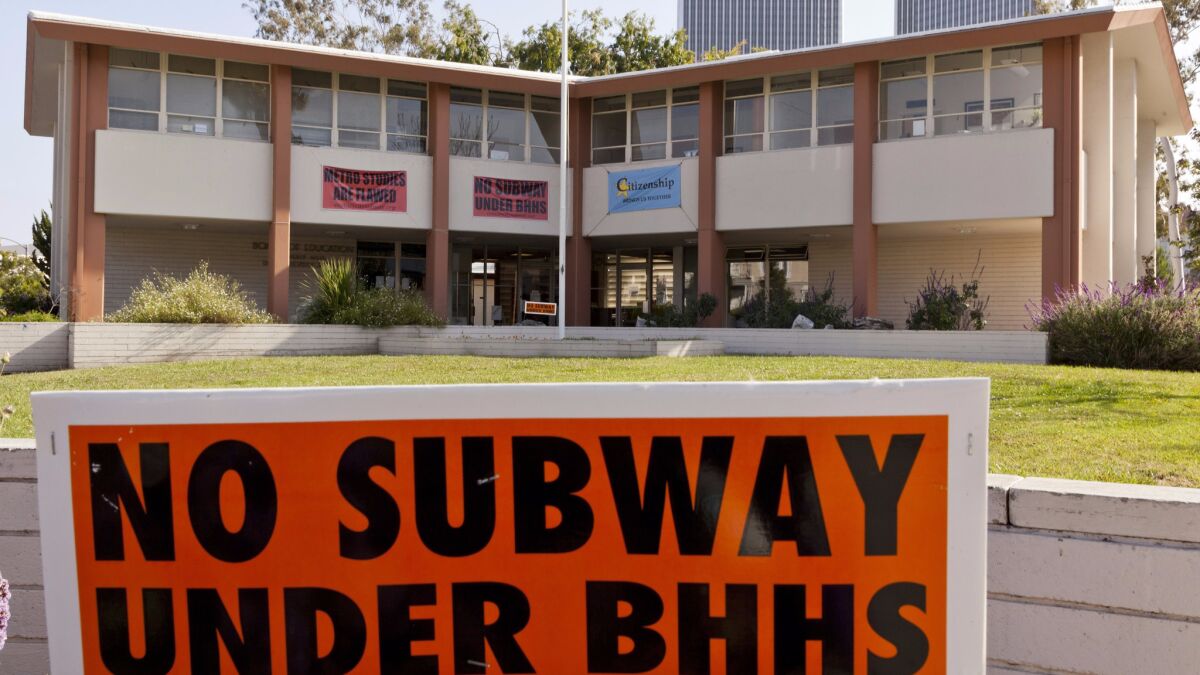 During more than three decades of discussion and planning, Los Angeles County transportation officials have cleared almost every obstacle to the long-planned Wilshire subway.
The main exception has been Beverly Hills.
Over the last five years, the city and the local school district have spent nearly $10 million fighting the Metropolitan Transportation Authority's plans to tunnel beneath Beverly Hills High School for a nine-mile heavy rail link between Westwood and Koreatown, where the subway line currently terminates.
That legal battle moved toward detente Friday, when a U.S. District Court judge issued a ruling that chided federal officials for several missteps during the environmental review process but stopped short of delaying the subway's construction.
In a 23-page ruling, Judge George H. Wu said the Federal Transit Administration had not adequately responded to Beverly Hills Unified School District's concerns about tunneling in an area studded with pockets of methane gas, and had not addressed the effects of construction on air quality and recreation at the high school campus.
But Wu refused to void the environmental review entirely, which could have added several years to the project's timeline.
Nothing so far has kept us from meeting the goal of delivering the project.
— Metro spokesman Dave Sotero
Delaying the phase of the subway that will run through Beverly Hills could have a "domino effect" on the subsequent phase of the project, to West L.A. and Westwood, Wu wrote. That could jeopardize grants and low-interest federal loans for the project, as well as L.A.'s bid to host the 2024 Summer Olympics.
Metro officials called the ruling "very good news." A spokesman said the agency will finish the new analyses in the spring — at least six months before heavy construction begins on the phase of the subway that will pass through Beverly Hills.
"We take the ruling seriously and we are going to get the work done," Metro spokesman Dave Sotero said. "Nothing so far has kept us from meeting the goal of delivering the project."
But school district attorney Jennifer Recine called the ruling a victory for Beverly Hills, noting that the additional Federal Transit Administration and Metro studies "may well be superficial," opening the door for future litigation.
The school district "will pursue those claims, if necessary, to ensure its community's resources are protected and preserved," Recine said.
When asked if the ruling was good news, a spokeswoman for the city of Beverly Hills did not respond.
Construction on the $6.3-billion Purple Line extension is planned in three phases: first, from Koreatown to Miracle Mile, slated for 2023; to Beverly Hills and Century City in 2026; and finally to Westwood and West L.A. in 2035.
The subway route Metro chose includes a station near Constellation Boulevard in Century City, two blocks west of Beverly Hills High School. Metro considered an alternative route along Santa Monica Boulevard but discarded it after agency studies found a complex earthquake fault zone in that area.
Metro's additional analysis will "incorporate already public seismic information" about the Constellation station, Sotero said.
Officials are hoping that the extension to Westwood and West L.A. can be finished 11 years ahead of schedule to transport athletes, visitors and journalists between downtown and UCLA during the 2024 Olympics.
Metro's half-cent sales tax increase proposal, which will be on the November ballot, would allot nearly $1 billion to accelerate construction of the line. Transportation officials have also sought federal grants and low-interest loans to speed construction.
Beverly Hills city and school officials sued the FTA in 2013 over grants and federally backed low-interest loans for the Purple Line, saying the project violated environmental, transit and administrative laws.
They filed a similar lawsuit against Metro in Los Angeles County Superior Court. A judge ruled two years ago that the agency's five-year, $13.8-million environmental review had been thorough and fair.
For more transportation news, follow @laura_nelson on Twitter.
ALSO
Donald Trump will be the nominee of two parties on California's November ballot
U.S. appeals court upholds $2-million verdict against L.A. County Sheriff's Department
Santa Monica loses another round in effort to close its airport
---
Life is stressful. Our weekly mental wellness newsletter can help.
You may occasionally receive promotional content from the Los Angeles Times.