Big Sur locals are fed up with tourists, banner over Bixby Bridge shows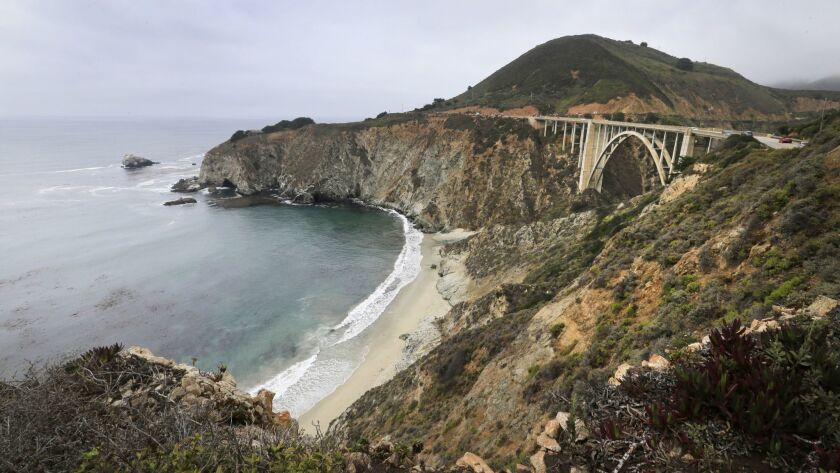 The Bixby Creek Bridge on Highway 1 is an iconic symbol of Big Sur. Spanning an arroyo by the blue sea, it stands prominently in the opening credits of HBO's "Big Little Lies" and stars in countless selfies by nearly anyone who visits the California dreamscape.
Last weekend, it got a temporary addition that revealed an ongoing frustration among many locals: A neon-yellow banner was draped over the bridge, blaring an all-caps message: OVERTOURISM IS KILLING BIG SUR.
For nearly two years, fires, heavy rains and mudslides ravaged Big Sur and upended life for residents. The ongoing closure of Highway 1 prevented visitors from making their way to the coastal escape and affected the local economy, which relies on tourism.
But in the year since the main road has reopened, tourism has ballooned again. A Fourth of July video posted to Vimeo shows miles of cars stopped in traffic as visitors pull over to take photos near the Bixby bridge.
Residents' frustration with the hordes that visit has been in plain sight for months.
In December, locals launched the Big Sur Pledge, asking tourists to honor the land.
"The recent increase in the number of visitors is challenging the safety and wellbeing of residents, visitors and the fragile natural environment. All of us can make a positive difference to protect and nurture Big Sur," the introduction to the eight-step pledge reads.
Others have taken a less patient approach. An Instagram page titled "Big Sur Hates You" went viral in recent months after its photos shamed tourists taking part in bad behavior such as bringing bikes onto roads where they are banned or creating gridlock.
The page, which appears to be an offshoot of the larger selfie-shaming "Our Public Lands Hate You" page, is no longer available on Instagram. Instead, it has popped up under a new, less aggressive name: "Big Sur Educates You." The page made its stance on the banner clear.
"Whoever put that sign up: brilliant!" a recent post read.
According to SF Gate, the group behind the banner is Take Back Big Sur and is made up of about two dozen locals.
The Monterey County Sheriff's Office removed the banner shortly after it appeared. The California Department of Transportation said the group had not obtained the proper permit required to put up a sign.
"Caltrans has the responsibility for the safety of the traveling public along this well-traveled corridor," spokesman Jim Shivers said. "In the interest of public safety, it is essential there are not unregulated or unapproved signage or banners within the state right-of-way, which could prove to be a distraction to the public."
The sign is gone, but frustrations remain.
---
The stories shaping California
Get up to speed with our Essential California newsletter, sent six days a week.
You may occasionally receive promotional content from the Los Angeles Times.