Facing surging costs for bike crashes, L.A. has started to overhaul some bikeways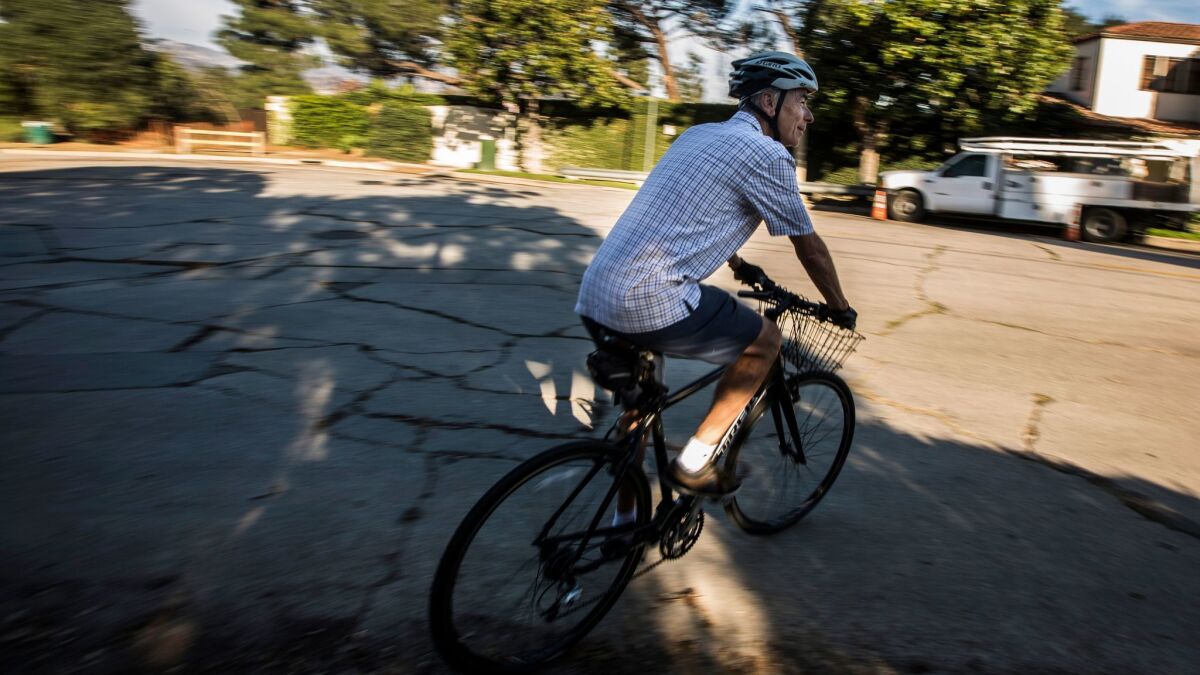 As Los Angeles faces surging costs for lawsuits over bicycle crashes, city crews have started to remove and replace badly broken pavement traveled by cyclists, a Bureau of Street Services official told lawmakers Wednesday.
At a City Hall hearing on the battered state of bike infrastructure, Assistant Director Greg Spotts said that in June, the bureau got funding to do a one-time, comprehensive inspection of bike lanes, routes and other designated "bikeways." A few months later, funding was granted for six new positions to maintain bikeways in the city, he told lawmakers.
Spotts said the bureau fixed more than 300 areas and found an additional 200 locations where the pavement needed to be completely removed and replaced, a type of repair that cannot be carried out by a pothole truck. As of Monday, the bureau had fixed 19 out of the 200 damaged locations, using some of the $700,000 it was granted for overtime, Spotts told a City Council committee.
But that work will continue to creep along at a slow pace if the city has to rely on its existing staff, Spotts said.
The bureau plans to request dozens more staffers to do such "large asphalt repairs" and proactively fix bikeways in the coming budget year, at an estimated cost of $2.5 million annually. In addition, Spotts suggested that new workers who are being hired to reconstruct badly broken streets this year could be brought on three months early to do a "bikeway repaving blitz."
The committee, headed by Councilman Bob Blumenfield, did not immediately act on that idea Wednesday. It backed two motions seeking a comprehensive plan, timeline and funding estimates for smoothing out the network of bicycle paths and lanes, and sent them along to the entire council for approval.
Bicycle advocates cautioned that the city should not focus too narrowly on bike lanes or paths as it seeks to make the roads safer for cyclists and avert hefty payouts. One of the biggest settlements last year was a $6.5-million payout tied to a gruesome crash that did not occur in a bike lane.
"All streets are legal places for people on bikes to be riding," said Lyndsey Nolan, policy and outreach coordinator with the Los Angeles County Bicycle Coalition.
Last year, the city paid out more than $19 million to cyclists and their families for injuries and deaths on local streets, a Times analysis of city data found. A recent report by an outside consultant found that Los Angeles been hampered by a "reactive" approach to potholes and street maintenance.
At the Wednesday hearing, Councilwoman Nury Martinez said she was stunned to read in the newspaper that the Bureau of Street Services had, at one point, stopped inspecting the streets.
The Times reported that bureau supervisors used to proactively inspect all roads in their areas annually but halted the practice roughly five years ago, according to legal depositions by former bureau officials. The bureau told The Times it had resumed regular inspections of major streets — but not residential roads — more than a year ago.
"We picked that back up," Spotts told Martinez. "We are now regularly, proactively inspecting the arterials."
Spotts also told lawmakers that in the past, city staff had been repeatedly turned down when they sought dedicated employees to inspect the bikeway network.
But the bureau has also faced pointed questions from lawmakers in the past about why it has not spent all its budgeted money. The department has repeatedly spent less than it was allocated, citing hiring difficulties.
Broken and perilous streets and sidewalks continue to spur legal payouts for the city, involving not only injured bicyclists but others using its streets. Earlier Wednesday, the City Council approved a $150,000 settlement with a bicyclist who crashed and was injured on Glendale Boulevard more than three years ago.
The council also approved spending up to $2.5 million to settle a lawsuit brought by the parents of Chris Rodriguez, a 13-year-old boy who was riding a scooter in Boyle Heights when he was hit and killed by a driver nearly three years ago. In their lawsuit, the Rodriguez family alleged that the street intersection lacked warning signs and was set up in a way that created a dangerous "trap" for both drivers and pedestrians.
And the council also agreed to pay a total of $625,000 to settle two cases involving trip-and-fall accidents that occurred years ago.
The shoddy state of the streets and sidewalks has also raised concerns as the city prepares to host the Olympics in a decade. On Wednesday, Councilmen Joe Buscaino and Mitch Englander said they want city officials to report back on how the city could finance "crucial street and sidewalk infrastructure improvements" ahead the 2028 Games.
Twitter: @AlpertReyes
---
The stories shaping California
Get up to speed with our Essential California newsletter, sent six days a week.
You may occasionally receive promotional content from the Los Angeles Times.