The Port of Los Angeles has struggled more than a decade to clean up Cabrillo Beach.
In 2000, officials began putting lids on trash cans. Next, they increased litter pickup, capped and moved sewer lines and told parents not to let their children wear diapers in the water. In 2007, they even replaced all the sand at the beach.
Despite all those efforts, which cost more than $20 million, the San Pedro attraction made Heal the Bay's annual "Beach Bummer" list for 13 straight years. The influential list ranks the state's 10 most polluted beaches based on high bacteria counts.
"It was tremendously frustrating and painful for them," said Mike Schaadt, director of the Cabrillo Marine Aquarium, which is located next to the beach. "The port would've been happy to write a check for any amount to solve the problem."
Recently, however, Heal the Bay announced the beach had skyrocketed from its dismal D rating to a crisp, clean A.
The possible reason for the turnaround? A recently installed canopy of wires that keeps seagulls and pigeons away from the beach.
"It's the only thing that's changed recently, so you kind of have to correlate those two items together," besides the weather, said Leslie Griffin, a scientist with Heal the Bay.
According to the latest Heal the Bay report, water quality at the inner part of Cabrillo, by the restrooms, improved drastically during the summer months of 2014 and 2015.
A variety of factors probably contributed to the increased water quality, experts said, and the state's ongoing drought was undoubtedly a major reason. About 97% of Southern California beaches received an A or B grade for water quality during the busy summer months, according to the report, a historical high.
The leading cause of water pollution at beaches is storm-drain runoff, which flows untreated to the coast and often is contaminated with motor oil, pesticides, yard waste, animal waste and other pollutants.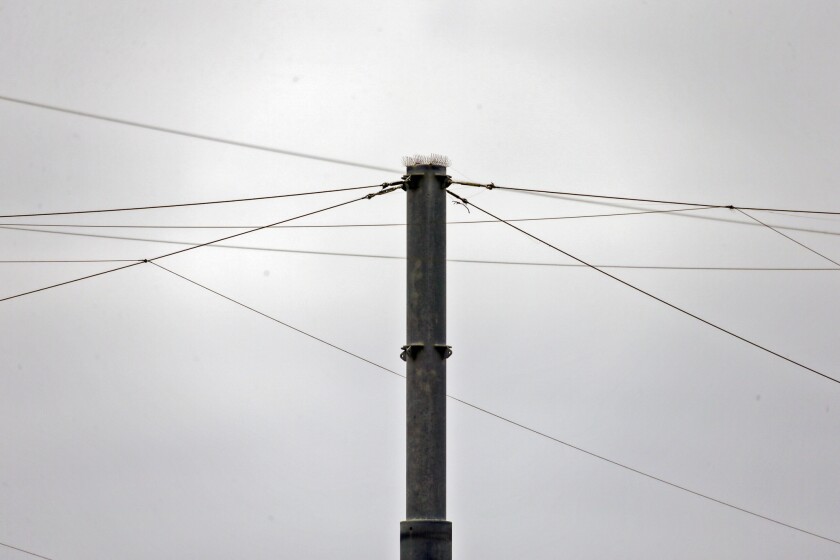 "This was the fifth year in a row of below-average rainfall in Southern California, and as a result, its beaches experienced less urban runoff, which likely led to the improvement of overall grades," the report said.
But the wiring also played a large role in the improved water quality at Cabrillo. In 2013, the port installed wires designed to keep seagulls, pigeons and other birds away. The work was an extension of a similar $700,000 project completed in 2010.
The long, thin wires, which hang over the beach like utility lines, are designed to reflect sunlight and scare away the birds. Other beaches, including Mother's Beach in Marina del Rey, use similar devices, while some locations have installed fake coyotes and even used falconers to keep gulls away.
At Cowell Beach in Santa Cruz, which has been ranked No. 1 on the "Beach Bummer" list for three years in a row, workers are installing wire mesh on the pier to keep birds from roosting, said Jon Bombaci, Santa Cruz's wharf supervisor.
But the inner part of Cabrillo Beach has its own challenges to keeping the water clean. The beach is protected from strong currents and waves by a manufactured structure. While this leads to a serene environment for toddlers and children, not to mention nervous parents, it also cuts down on water circulation.
"It's always been a dilemma," said Kathryn Curtis, the marine environmental supervisor for the port.
Eel grass also grows by the inner beach, further restricting water flow. But the vegetation provides valuable habitat for marine life and can't be removed, Curtis said.
The unprotected part of the beach, where ocean currents are not affected, has consistently received high marks from Heal the Bay.
When she first began trying to improve Cabrillo's water quality, Curtis said she assumed there would be a quick solution. "We all thought the bacteria was coming from one source, and we would fix it and everything would be fine," she said.
As the years dragged on and potential fixes didn't move the water quality needle, and as Cabrillo became a longstanding member of the "Beach Bummer" list, Curtis said frustration mounted. But she and others also understood that there wouldn't be a magic bullet.
"It's a very complicated situation," she said.
Griffin warned that birds quickly get used to wiring and that Cabrillo's improvement could be short-lived. And port officials will continue to try to find sources of bacteria and study whether the water is safe for humans, Curtis said. Port officials believe it is, although Heal the Bay scientists say enclosed beaches are best avoided.
For now, though, Curtis said she's ecstatic that Cabrillo is no longer on the "Beach Bummer list."
"We're thinking of popping a bottle of champagne," she said.
Twitter: @byjsong
---