Dominic Luong, first Vietnamese American bishop in U.S., dies at 77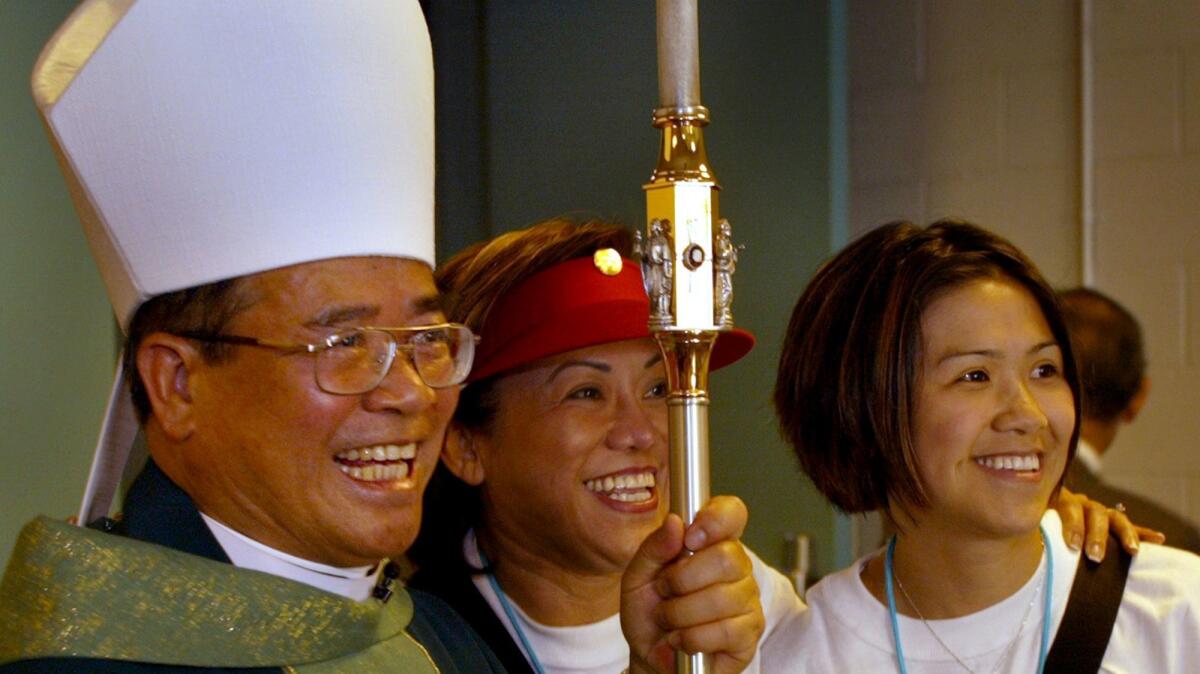 In 1975 when refugees from Vietnam began arriving in America by the thousands, Dominic Luong saw his future.
The freshly ordained priest left the seminary in Buffalo, N.Y., where he was teaching biology and working as a hospital chaplain, and headed to New Orleans — a port of arrival for many forced to flee their homeland after the fall of Saigon.
There he helped found what would be the first Vietnamese-American parish in the U.S., Mary Queen of Vietnam Church. For years he tended to the needs of the refugees and immigrants, those whose lives years later would be uprooted again when Hurricane Katrina devastated the city.
Luong's work was so tireless and his passion so evident that Pope John Paul II appointed him auxiliary bishop of the Diocese of Orange in 2003, making him the first Vietnamese-born Roman Catholic bishop in the U.S. and an immediate spiritual leader in the country's largest Vietnamese-American community — Little Saigon.
After years of service in Orange County and months of declining health, Luong died Dec. 6. He was 77.
"He was someone gentle who drew people to him and to the church. He never judged," said Tai Nguyen, a parishioner who spent more than 14 years working with Luong, sometimes as a personal assistant, occasionally as the bishop's chauffeur.
Father Thai Nguyen, director of the Vietnamese Catholic Center in Santa Ana who worked closely with the bishop, said Luong gave so freely it sometimes worried friends and associates.
"You had to sort of make a fence around him to protect him," said Thai Nguyen. "We have lost a man who was always giving."
Luong seemed to have little use for material goods and often lived in spartan apartments or rooms he rented in the homes of acquaintances. Friends said he preferred to focus his full attention on his faith and community projects. And in Orange County — with 62 parishes and an estimated 1.3 Catholics — he had his hands full.
Luong grew up the second youngest in a family of 11 children. He was born Dec. 20, 1940, in Minh Cuong, more than an hour's drive from Hanoi, and came to the U.S. in 1956 as a young seminarian to continue his studies.
He was ordained in 1966 in New York before earning a bachelor's degree in physics and a master's in biology and psychology and then returning to junior seminary in Buffalo to teach.
Luong's commitment to immigrants and refugees in New Orleans, where he served as the head of Archdiocesan Vietnamese Apostolate, spurred the pope to give him the title monsignor.
"Troubles come to him and he offered solutions," Thai Nguyen said.
Often separated from his family — first during the Vietnam War and then by his immigration to the U.S., Luong sometimes battled loneliness.
"He loved having guests. People would visit from Vietnam, yet once here, did not have enough money to fly to see other family or friends out of state and he would just give them the airfare," Nguyen said.
Luong loaned his name and support to social-justice causes, including Education for the Poor, a nonprofit whose volunteers concentrated on improving English skills and boosting academics in rural Vietnam.
"If anyone donated to him or gifted him a sum, he would in turn share it with us," remembered Tue Phuong Van, the group's co-founder. "That's his heart. I never heard him say anything unkind."
Luong retired in 2015 but continued to be active at St. Bonaventure Church in Huntington Beach, where the largely Vietnamese-American congregation continued to lean on him for advice and quiet conversations. The man who entered the priesthood because he said it was "a great vocation to serve people" won distinction as the first Vietnamese priest to take the role of vicar of charities for Catholic Charities Orange County,
"In everything I do, I just tried my very best," Luong said in October when he attended ceremonies at Christ Cathedral to congratulate his successor, Thanh Thai Nguyen, who was ordained earlier this week.
"I did not grow up in California, but to minister to people it does not matter where you are from," he said. "What matters is how you listen."
Twitter: @newsterrier
Sign up for Essential California for news, features and recommendations from the L.A. Times and beyond in your inbox six days a week.
You may occasionally receive promotional content from the Los Angeles Times.