Dr. Bob Sears, critic of vaccine laws, again accused of improper vaccination exemptions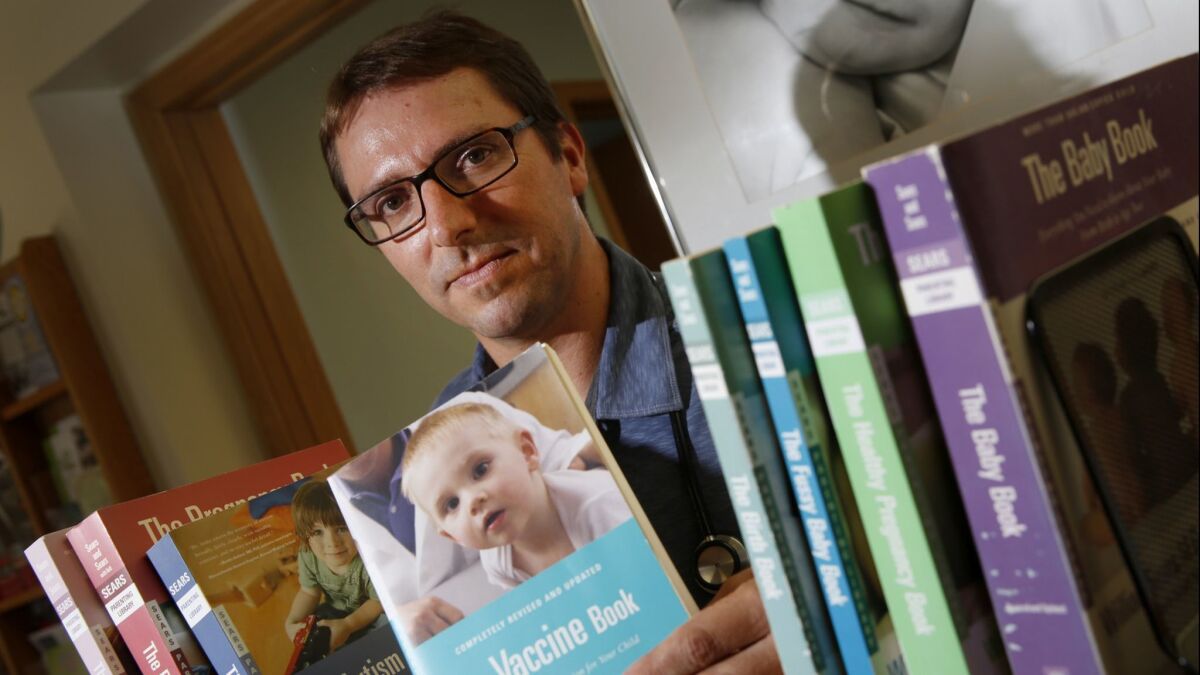 A Southern California pediatrician who is a vocal critic of mandatory vaccine laws faces a new complaint from the state medical board saying he wrote invalid vaccination exemption letters for children.
The move marks the second time Dr. Bob Sears, of Dana Point, has been accused of negligence in issuing vaccination exemptions that were "without medical basis," according to a complaint filed Tuesday by Kimberly Kirchmeyer, executive director of the Medical Board of California.
The formal accusation came two days before Sears spoke at the California Assembly against a bill that would tighten the state's school immunization requirements. Senate Bill 276 sailed through a key committee vote despite hours of impassioned testimony from parents and other opponents.
Sears, who has said he does not oppose all vaccinations, was already on a 35-month probation after the medical board sanctioned him last June for writing a letter excusing a 2-year-old boy from future vaccinations after the child's mother said the boy went limp and couldn't pass urine or stools after receiving shots.
The board said Sears was "grossly negligent" in making his recommendation without obtaining the toddler's basic medical information, including vaccination history.
In the case filed last week, the medical board said Sears issued improper exemptions for two siblings who were both seen by the doctor in May 2016, each with the chief complaint of "vaccine exemption."
The first patient, a 7-year-old boy, suffered from psoriasis and had a family medical history of inflammatory bowel disease as well as autoimmune, psychiatric and neurodevelopmental disorders — none of which qualified the child to be excused from vaccinations for the duration of his childhood, according to the medical board.
The boy's sister, whose age is not mentioned in the complaint, also received a vaccination exemption from Sears based on a review of her family's medical history, and her own health, which involved having a bee sting allergy, a viral infection and feeding difficulties.
The board said the girl's childhood-long vaccine exemption, which was based on her family history alone, was "a simple departure from the standard of care."
An attorney for Sears did not immediately respond to a request for comment Saturday.
But in a Facebook post on Friday, Sears defended himself against the latest accusation, saying the law and the medical board require doctors to consider family history in evaluating whether a patient should receive an exemption.
"Knowing that vaccines can trigger psoriasis or make existing psoriasis worse, based on the research studies below, and knowing how severe and debilitating lifelong psoriasis can be, an exemption is appropriate for these kids," he said in the post, which linked to studies he claimed supported his position.
The siblings are no longer subject to the exemptions after their father retracted his consent for the letters. Vaccination exemptions for children must be done with the agreement of both custodial parents.
Sears said he expects the next step in the case would be a hearing in front of a judge in a year or so.
Richard Jaffe, a former attorney for Sears who is familiar with the medical board's procedures, said the formal accusation against the doctor has little practical effect and that Sears can continue to practice medicine, pending further action from the board.
Sears, author of "The Vaccine Book," has said that some of his patients forgo vaccinations altogether but that others follow an alternative vaccination schedule that would delay some shots for children.
The accusation against Sears came just before Los Angeles County confirmed on Saturday two new cases of measles in patients who returned to the county after traveling. Public health officials say the recent measles outbreak could have been prevented if more people got the measles vaccination.
Twitter: @mayalau
---
Life is stressful. Our weekly mental wellness newsletter can help.
You may occasionally receive promotional content from the Los Angeles Times.