Border pedestrian bridge project delays are feared over Mexico's lack of funding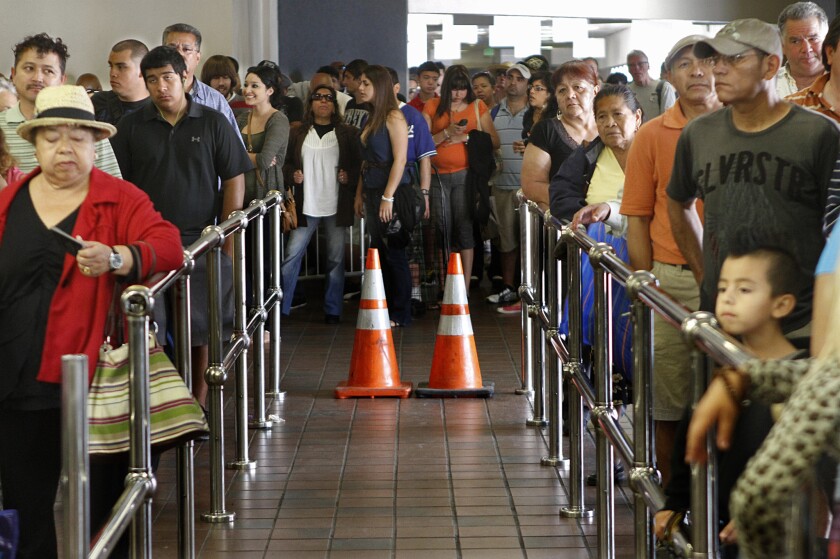 U.S. and Mexican authorities said that they are working to address concerns over a possible delay in the opening of a much-needed new pedestrian border entrance in San Ysidro known as PedWest.
The entrance's 12 new lanes are part of a $741 million reconfiguration of the San Ysidro Port of Entry, which is scheduled for completion in 2019. The U.S. General Services Administration, which is overseeing its construction, has announced that PedWest remains on schedule, and will be operational this June.
Fears of a delay have mounted in recent weeks after Mexican authorities said they lacked funds to complete their end of the project. Oscar Escobedo, Baja California's tourism secretary, said early this week that Mexican federal officials had told their U.S. counterparts "that we have to wait because we don't have the resources."
Escobedo said Friday through a spokeswoman that he had since met with "the appropriate authorities" in Mexico City. "They're going to look for funding, but there is nothing yet."
The lanes will be a critical piece of infrastructure for an average of 24,000 pedestrians who cross daily into the United States at the San Ysidro Port of Entry. At peak crossing times, many people now endure lengthy waits at the outdated existing 13-lane pedestrian entrance located east of the port's vehicle lanes.
"We cannot permit progress on the port to be delayed," Escobedo said.
"Pedestrians are still waiting two and three hours to get across the border," said Jason Wells, executive director of the San Ysidro Chamber of Commerce, whose members rely heavily on the cross-border pedestrian traffic.
The opening of PedWest not only would expand the number of available lanes for pedestrians, it also would allow the GSA to launch the replacement of the eastern entrance with an expanded new facility designed to include 20 inspection booths. That project is expected to open in 2019.
While there have been private reassurances that Mexico's funding snag will be solved, the Mexican Consulate in San Diego maintained this week that "we will not make any statement until we have a bilateral understanding."
Read more here.
Dibble writes for the San Diego Union-Tribune.
ALSO
How can gas company offset emissions from the Aliso Canyon leak? Regulators offer a plan
How 'March Miracle' turned California into snowy winter wonderland
Baldwin Park officials lose battle for restraining orders against critics
---
The stories shaping California
Get up to speed with our Essential California newsletter, sent six days a week.
You may occasionally receive promotional content from the Los Angeles Times.