Hit-and-run driver triggered crash that killed 5-year-old, police say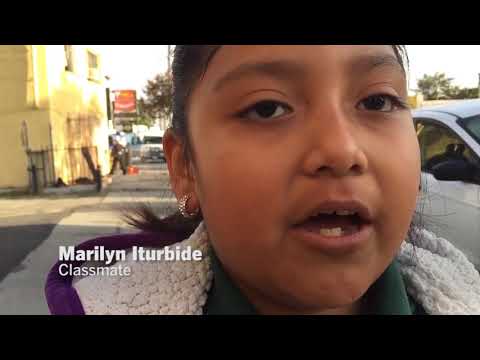 A 5-year-old boy was killed early Thursday when an intoxicated driver plowed into a South Los Angeles apartment, police said. Members of the boy's family were also injured.
A hit-and-run driver who caused another motorist to swerve off the road and plow into a South Los Angeles apartment building, killing a 5-year-old boy, has been charged with vehicular manslaughter, according to authorities.
Jorge Ruiz-Garcia, 28, surrendered to police on Dec. 9, more than a week after he fled the collision but left the front grill of his car at the scene, according to the Los Angeles Police Department.
The incident occurred just after midnight on Dec. 1, when the driver of a 2012 Chevy Cruz crossed into opposing traffic in the 2800 block of South Central Avenue, ran off the roadway and crashed into a two-story apartment building.
Six family members were home at the time of the crash, and the boy and his father were pinned beneath the vehicle.
The driver, identified by police as Vrenda Moreno, 23, told authorities she swerved because a vehicle cut her off; she was found to be under the influence of alcohol, according to officials. She was arrested on suspicion of vehicular manslaughter with gross negligence.
On Monday however, the LAPD's Central Traffic Division said in a statement that Moreno, who suffered minor injuries from the crash, had been released from custody "after detectives discovered the actual cause of the collision."
Detectives recovered video from surveillance cameras in the area that showed a man getting into a vehicle parked in a northbound direction along the east curb of Central Avenue, police said. The driver started his car and made a U-turn directly into the path of Moreno's northbound Chevy Cruz.
The vehicles made contact, with the front grill of the turning vehicle becoming dislodged, police said. Moreno continued in a northwestern direction and hit the apartment building.
The other driver "stopped briefly then fled the scene southbound on Central Avenue," police said.
Officers found the front grill at the scene and identified the second vehicle as a 1996 Saab. Police said they identified Ruiz-Garcia, who lives nearby, as the owner and issued a warrant for his arrest.
Ruiz-Garcia turned himself in to the Central Area Police Station, where he was booked and then released, authorities said.
Ricardo Santiago, a spokesman for the Los Angeles County district attorney's office, said Ruiz-Garcia has been charged with one felony count of hit-and-run driving resulting in death and one misdemeanor count of vehicular manslaughter.
Santiago said Moreno has not been charged and that prosecutors have asked police for further information before deciding whether to charge her.
Luis Sanchez, the boy, suffered blunt force trauma and was pronounced dead at Los Angeles County USC Medical Center shortly after the collision, police said.
His parents suffered severe injuries and numerous bone fractures. Three other children — a 16-year-old boy, 13-year-old girl and 6-year-old girl — suffered minor injuries.
Luis and his father were trapped under the vehicle and debris, according to Brian Humphrey, an L.A. Fire Department spokesman. The boy was the "most severely trapped," he said in a statement.
Police told KCBS-TV the boy had written a note to Santa Claus, asking for a bicycle for Christmas. The note was strewn among wreckage from the crash.
Twitter: @haileybranson
ALSO
Second suspect arrested in hate crime killing of East Bay musician
Unarmed 73-year-old man with dementia was shot 9 times by Bakersfield police, son says
Why the Audubon Center at Debs Park doesn't draw the 'ethnically diverse' crowd it hopes for
Sign up for Essential California for news, features and recommendations from the L.A. Times and beyond in your inbox six days a week.
You may occasionally receive promotional content from the Los Angeles Times.