Oklahoma man convicted in 2016 slayings of Long Beach mother and daughter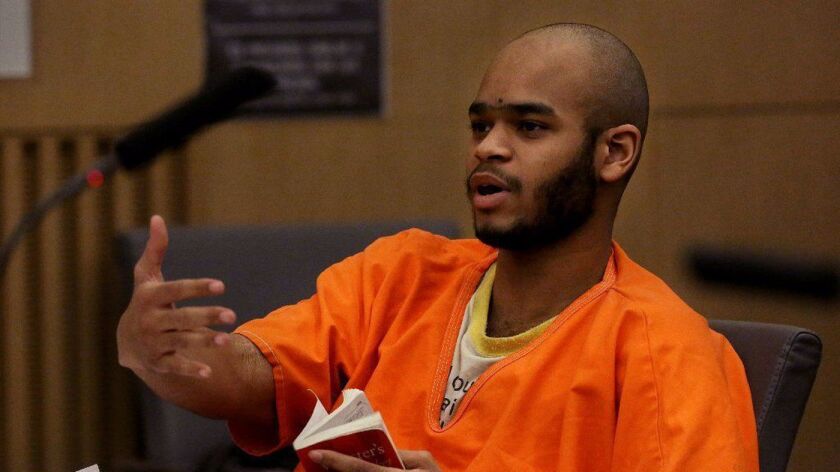 An Oklahoma man with a history of mental illness was convicted Friday of shooting and killing a Long Beach woman and her 4-year-old daughter as they returned home from grocery shopping in 2016.
Jurors deliberated for roughly one hour before finding Brandon Colbert, 23, guilty of murder in the deaths of Carina Mancera, 26, and her daughter, Jennabel. Colbert also was convicted of attempted murder of Mancera's longtime boyfriend, Luis Anaya.
Prosecutors have never explained why Colbert — a native of Tulsa, Okla., who came to California for the first time just days before the slayings — would gun down the mother and child on a Long Beach street in August 2016.
He was arrested on suspicion of stealing a car days after the shooting, but those charges were dropped. Months later, police matched Colbert to DNA found on a spent shotgun shell at the shooting scene.
Prosecutors have described the shooting as an ambush. Colbert hid behind a sign close to an apartment building near 9th Street and Locust Avenue, and opened fire as Mancera, Anaya and their daughter were unloading groceries from their car.
His gunfire narrowly missed Anaya. Mancera died of her wounds almost instantly. Jennabel died hours later. Colbert faces up to life in prison at sentencing on Feb 2. Prosecutors declined to seek the death penalty at trial and have declined to say why.
Colbert's trial lasted only days, but questions about his mental health and his insistence on acting as his own attorney have hung over the case for more than a year.
Medical records obtained by The Times last year showed that Colbert had been diagnosed with schizophreniform disorder, meaning he was presenting symptoms of schizophrenia but not for the six-month period necessary for a formal diagnosis, in Tulsa in 2014. Doctors in Oklahoma also feared that he had been abusing a synthetic form of marijuana known as K2 or spice.
Colbert was declared incompetent to stand trial in May, but he was restored to competency after a stay in a state mental hospital.
He insisted on acting as his own attorney, but his defense consisted largely of conspiracy theory. During preliminary hearings last year, Colbert claimed he was being framed by a corrupt law enforcement system, likening his situation to the 1997 crime drama "Gang Related."
The movie, starring James Belushi and Tupac Shakur, centers on a pair of corrupt police officers who frame a homeless man for the slaying of an undercover federal agent.
Colbert also once claimed that Mancera and her daughter were still alive.
"I don't believe these people are actually dead because I said this is like a Hollywood movie and I'm not an actor and I don't want to play this game," he said, according to a transcript of the March 2017 hearing.
Mancera and Anaya began dating in 2011 after they met at a party, according to friends, who said both were well-liked in the neighborhood.
"How are you gonna see a family walking and go crazy?" Gabriel Sanchez, 26, a longtime friend of Mancera's, asked the day after the killings. "Why would you shoot a child?"
In a statement Friday, Long Beach Police Chief Robert Luna praised the detectives who spent months trying to solve a case authorities originally referred to as a "whodunit."
"We are very pleased with today's guilty verdict and are happy to see justice served. This will help bring closure to the family of Carina and Jennabel," the statement said.
In a text message, Colbert's mother, Yolanda, said she still believes her son is innocent, and expressed disgust that the court allowed him to act as his own attorney despite his history of mental illness.
"The system has failed a person with severe mental illness," she said. The prosecution had an "easy trial because Brandon had no defense."
Follow @JamesQueallyLAT for crime and police news in California.
---
UPDATES:
6:25 p.m.: This story was updated with comments from Long Beach Police Chief Robert Luna and Colbert's mother.
This story was originally published at 1:40 p.m.
---
The stories shaping California
Get up to speed with our Essential California newsletter, sent six days a week.
You may occasionally receive promotional content from the Los Angeles Times.