Bruce Jenner crash once again puts focus on paparazzi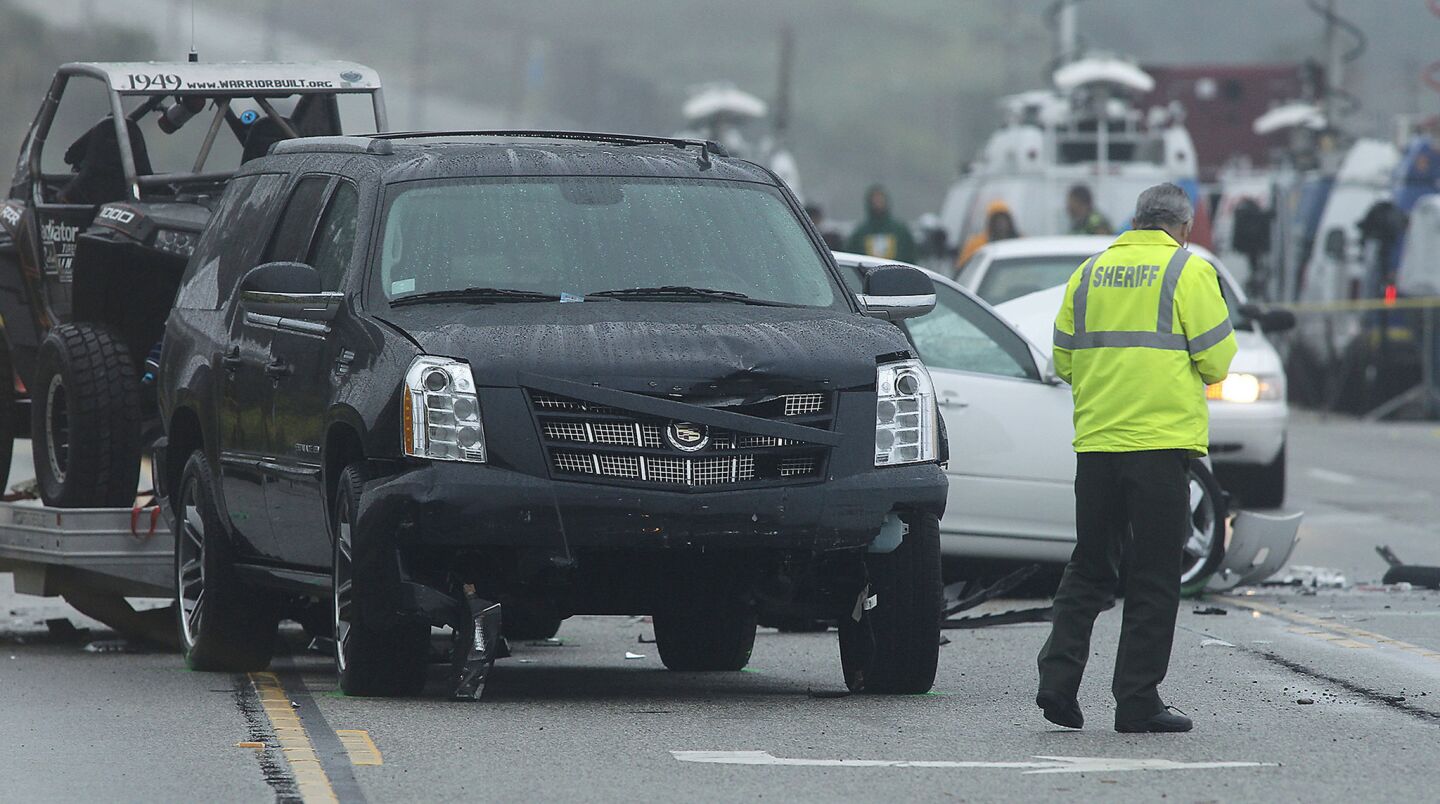 Bruce Jenner was believed to have been driving this black SUV at the time of the collision.
(Brian van der Brug / Los Angeles Times)
Los Angeles County Sheriff's deputies investigate the scene of a four-vehicle crash in Malibu on Saturday. Officials have confirmed that former Olympian Bruce Jenner was involved in the crash.
(Brian van der Brug / Los Angeles Times)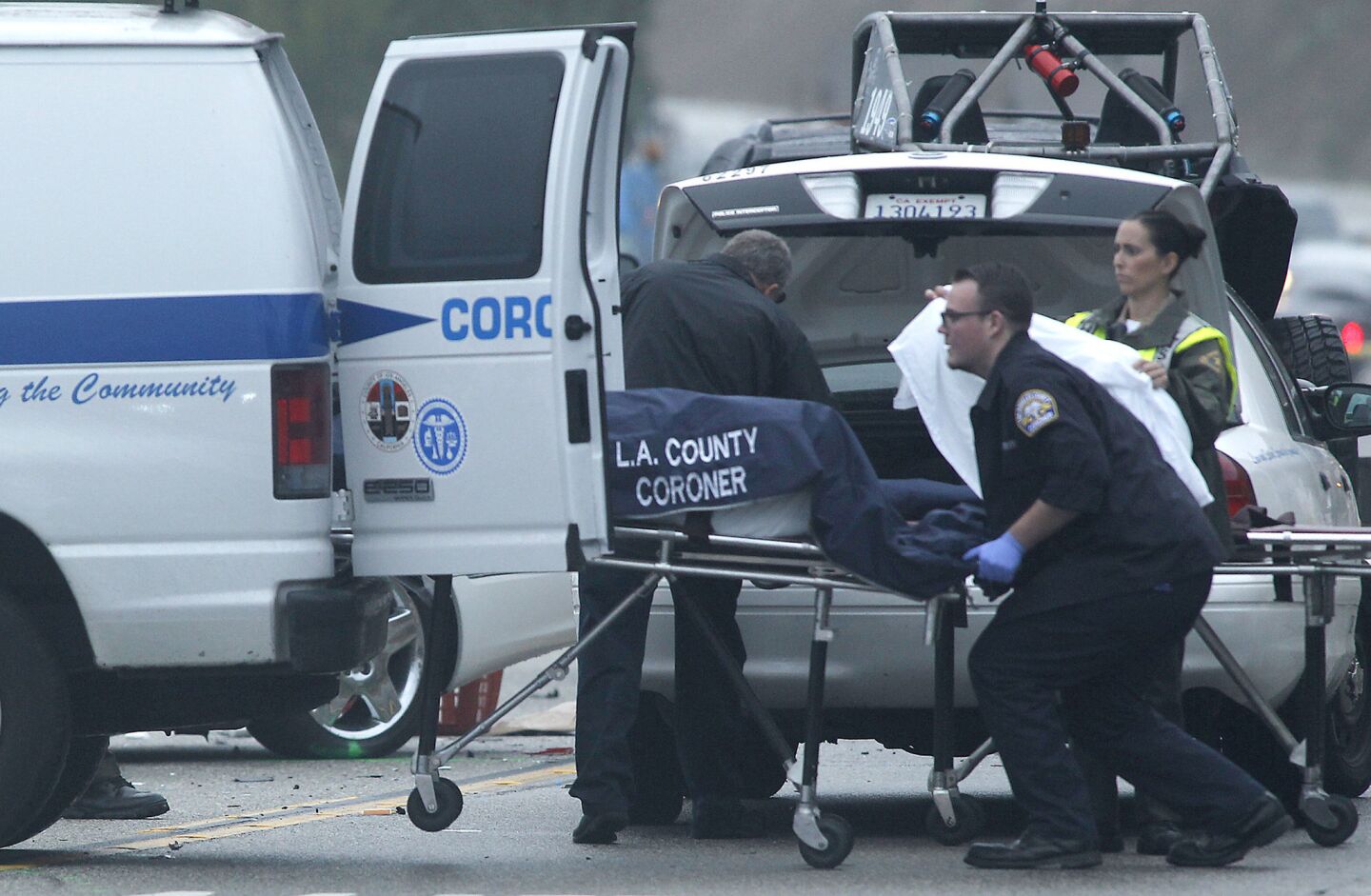 A woman's body is removed from the scene of a four-vehicle collision in Malibu. Five other people were injured in the crash.
(Brian van der Brug / Los Angeles Times)
Onlookers watch from a bluff overlooking Pacific Coast Highway as investigators examine the scene of the accident.
(Brian van der Brug / Los Angeles Times)
A person who was in this white car was killed and five other people were injured in the crash on Pacific Coast Highway in Malibu.
(Ringo H.W. Chiu / Associated Press)
A Los Angeles County Sheriff's deputy photograph the scene of a fatal car crash on Corral Canyon Road in Malibu.
(Ringo H.W. Chiu / Associated Press)
Bruce Jenner's publicist, Alan Nierob, says Jenner was unhurt.
(Ringo H.W. Chiu / Associated Press)
Los Angeles County Sheriff's deputies at the scene. There have been reports that paparazzi photographers also were at the scene of the collision.
(Ringo H.W. Chiu / Associated Press)
The fatal accident involving former Olympian Bruce Jenner in Malibu on Saturday is again raising concerns about paparazzi who aggressively follow celebrities.
Los Angeles County Sheriff's Department officials said they are still trying to sort out what happened in the accident, but there are reports that Jenner was being followed by paparazzi. One woman in another car was killed; Jenner apparently was not hurt.
Law enforcement sources told The Times that it appears to have been a chain-reaction crash involving four vehicles. The sources said paparazzi were present but initial information suggests they were not the cause. The sources stressed that that determination was a preliminary finding and that the investigation is ongoing.
TMZ posted paparazzi photos of the accident at what it said was the moment of impact.
In 2010, the state Legislature passed AB 2479, a law that imposed stiffer penalties — including possible jail time — for photographers who drive recklessly or block sidewalks in pursuit of celebrities and create a sense of "false imprisonment."
Actresses Jennifer Aniston and Reese Witherspoon, among others, spoke to lawmakers about high-speed car chases through Hollywood as multiple photographers compete for a celebrity image.
Some news organizations argued that because reckless driving and trespassing were already illegal, the law threatened photographers' 1st Amendment rights.
In 2012, a photographer who allegedly chased Justin Bieber on the 101 Freeway was the first to be charged under the law.
A judge later ruled that the anti-paparazzi driving law did not pass constitutional muster. But an appeals court later said the charges could be reinstated.
Incidents involving celebrities, paparazzi and cars are nothing new, but they tend to be minor, along the line of fender-benders that occur as stars maneuver in or out of parking lots, garages and valet-parking areas with photographers crowded around.
In July 2012, however, Justin Bieber was cited for speeding on the 101 Freeway while trying to evade photographers. He admitted to driving at least 80 mph.
Dennis Zine, who was a Los Angeles city councilman at the time and called 911 to report the incident, said he saw paparazzi in pursuit of the pop star, who was behind the wheel of a $100,000 Fisker Karma. CHP witnessed one car in pursuit.
"Any time you do 90, the paparazzi are going to go 90," Zine told The Times in 2012.
In January 2013, photographer Chris Guerra was killed while taking pictures of Bieber's white Ferrari while it was parked on Sepulveda Boulevard after being pulled over by the CHP on the 405.
Guerra was hit by a passing car as he crossed the street on the way back to his own car. A friend of Bieber's was behind the wheel of the Ferrari, and the singer was not in the car.
Nicole Kidman was knocked to the ground by a photographer on a bicycle during New York Fashion Week in September 2013. The man had reportedly been pursuing the actress at speeds around 20 mph, then lost control of the bike and hit her as she emerged from her car. At an event later that day, she admitted she was "shaken" by the incident.
Lindsay Lohan's docu-series, which was set in New York City and aired in early 2014, featured footage showing her chauffeurs driving quickly and aggressively to elude photographers.
Of course, the highest-profile celebrity car crash linked to paparazzi happened decades ago, in August 1997.
While entering a tunnel in Paris with photographers on his tail, Princess Diana's driver lost control, going about 65 mph, and slammed his car head-on into a concrete pillar.
Only one of the four people in the vehicle survived the accident. Princess Diana was among those who died.
French magistrates later ruled that the pack of paparazzi who were in pursuit played no role in the accident, blaming instead driver Henri Paul's speed and blood-alcohol level.
ALSO:
Bruce Jenner has reportedly told family about gender-transition plans
Kim Kardashian: Bruce Jenner will share his 'journey' when 'time is right'
---
Life is stressful. Our weekly mental wellness newsletter can help.
You may occasionally receive promotional content from the Los Angeles Times.