Dodgers responsible for attack on Giants fan, consultant testifies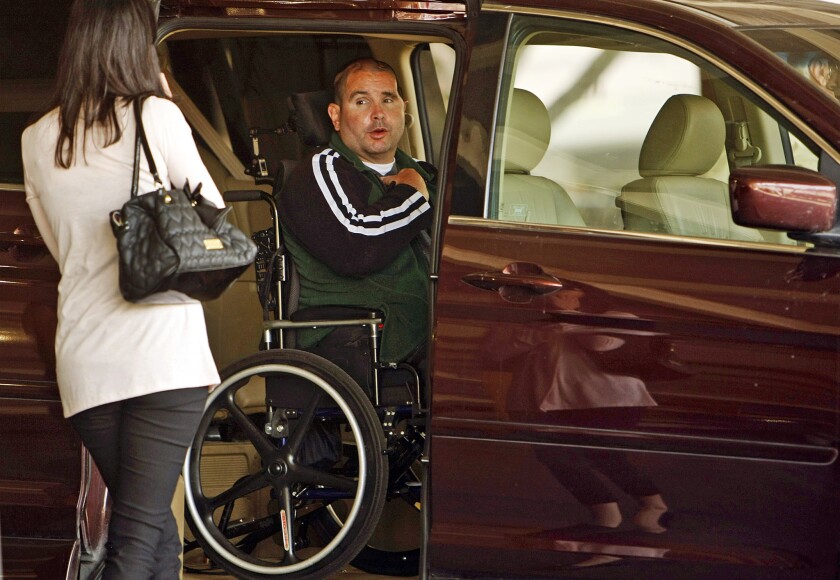 Bryan Stow more than likely would have avoided being beaten in a Dodger Stadium parking lot had the organization followed its security policies and procedures, a risk management and security consultant testified Thursday.
Hired by the plaintiffs, Gil Fried said he reviewed the Los Angeles Dodgers' security documents, employment history and deployment sheets, as well as depositions and trial testimony, and found that fans were not provided enough safety on opening day in 2011.
Fried pointed out that Louie Sanchez — one of the men who pleaded guilty to Stow's attack — should have been ejected from the stadium for throwing soda and food at people around him. He also said that the Dodgers had a duty to be on high alert for a game against the arch-rival San Francisco Giants, which drew a sold-out crowd. He noted that the level of excitement after a game was more volatile and that a greater number of patrons were likely to be intoxicated.
"After a game, one set of fans is going to be pretty happy and the other side's not going to be happy at all, and that could lead to potential conflicts," Fried said. "That's why you have to monitor the situation more aggressively."
In the ongoing civil trial that accuses the Dodgers and former owner Frank McCourt of inadequate security and lighting, defense attorneys have pointed out that about 200 on-duty LAPD officers were on hand outside the stadium.
But Fried said the responsibility lay with the Dodgers because it was their property. "Nobody else," he said. He also said the Dodgers should have had a larger number of security that day as well as more off-duty officers in uniform. "No doubt in my mind that they are responsible," he said.
Fried is on the board of directors for the Academy for Venue Safety and Security, a training program once attended by the Dodgers' head of security, Shahram Ariane. Fried was among his teachers at the time.
During cross-examination, an attorney for the Dodgers tore into the credentials and background of Fried, a former attorney and a professor in the management of sports industries program at the University of New Haven.
"You've come in here criticizing the Dodgers about their day-to-day management of Dodger Stadium but you yourself have never had any hands-on involvement in the day-to-day operations of a stadium, an arena or a sports complex, true?" Dana Fox asked.
"Correct."
Fox likened such critique to being an "armchair quarterback" without "nitty-gritty" experience. He brought up legal cases Fried had been involved in as an expert that included an inline skating incident and a balance-beam accident.
Fox then held up a textbook written by Fried titled "Managing Sport Facilities" and pointed out that it contained a chapter written by Bill Squires, a former facility manager for Yankee Stadium and Giants Stadium, who is expected to testify for the defense. "His opinion is that the Dodgers acted reasonably," Fox said.
Walking Fried through his own book, Fox asked him about a handful of sentences that included, "It is impossible to have a 100 percent safe event" and "There is no clear-cut standard for the number of security personnel needed to staff any event or facility."
---
The stories shaping California
Get up to speed with our Essential California newsletter, sent six days a week.
You may occasionally receive promotional content from the Los Angeles Times.