Inglewood mayor's home purchase from city consultant raises questions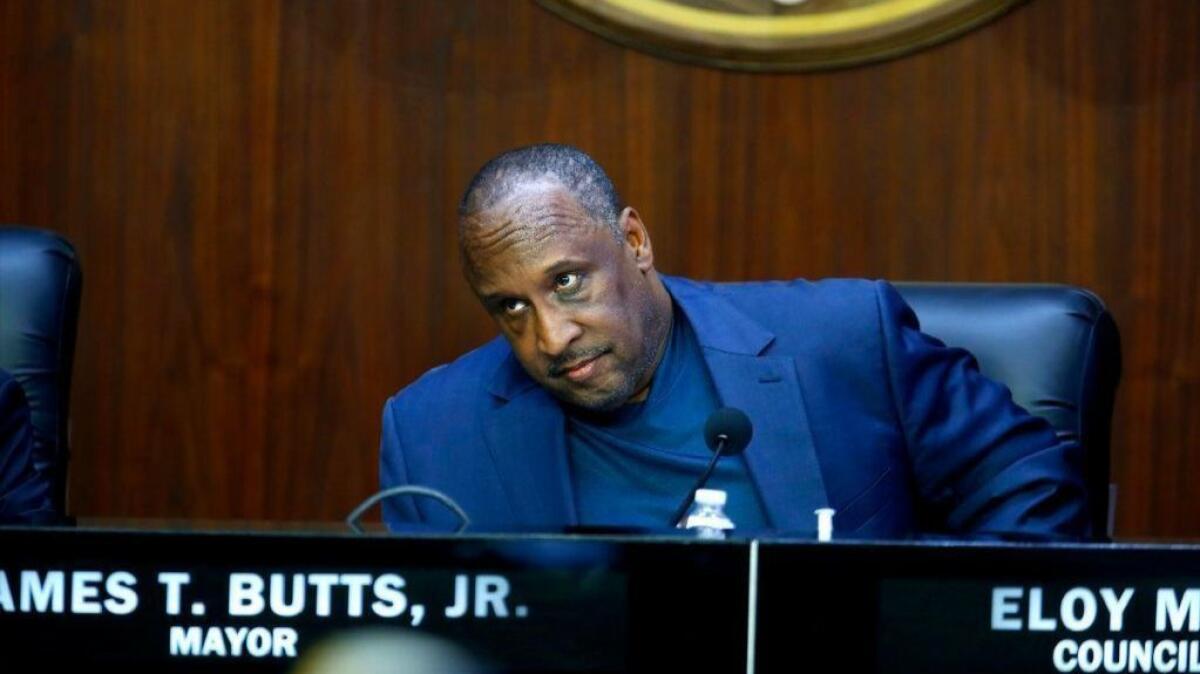 Among the 48 homes that changed hands in Inglewood in April, one transaction stood out.
James T. Butts Jr., the mayor of the city, paid $680,000 for a three-bedroom home in the Morningside Park neighborhood. The home was sold by Christine Robert, a politically connected and prominent public affairs consultant who has done hundreds of thousands of dollars in work for Inglewood.
It had been her childhood home, and it belonged to her 89-year-old mother who lived there up until a couple of years ago.
In an interview with the Los Angeles Times, Butts said that it was nothing more than a coincidence the home belonged to someone who has been hired to work for the city.
"The reality is that when the house was listed I saw it on the [Multiple Listing Service], I went by the house, recognized that the house actually belonged to the mother of Chris Robert, and then I contacted the listing agent and asked, 'Is the house for sale?' and they said yes."
The transaction raised eyebrows in a city already scrutinized by local media over high pay for city officials and where there has been bruising political jostling related to big-money NFL and NBA stadium projects that have put Inglewood in a spotlight.
Robert's firm, the Robert Group, has been involved in the effort to bring the football stadium and basketball arena to the city and, as he runs for reelection, Butts has made the projects the centerpiece of his plans to rebuild Inglewood.
Loyola law professor Jessica Levinson said the house transaction raises questions about the financial relationship between a public official and city contractor.
"Is it an ideal setup? No, it's not," said Levinson, who specializes in ethical issues and money in politics. "Does it look like there's a certain level of coziness between the mayor and a consultant who has business before the city? Definitely."
Marc Little, a one-time Butts ally running for mayor, said the sale threw up "red flags." Little sued Butts in June, alleging his civil rights were violated and he was defamed in connection with a dispute at the Inglewood Airport Area Chamber of Commerce.
"It certainly smacks of the need for transparency because on its face, it raises eyebrows," Little said. "It may be legitimate but it raises lots of questions."
In a letter to the Los Angeles Times, a lawyer representing Butts said there was nothing out of the ordinary or improper about the home sale and added that there were "people out there taking shots at Mr. Butts for their own self-serving, false and malicious reasons."
Skip Miller of the Miller Barondess firm said that after Butts saw the house listed and contacted the agent, he learned it was already in escrow with another buyer and he "thereupon decided to, and did, submit a backup offer, with a deposit, in case the pending offer fell out of escrow."
Miller said the other buyer was not able to come up with the down payment, causing the escrow to be terminated. Butts ended up paying about $19,000 less than what the previous prospective buyer had offered: $699,000. Miller said that was because the property inspection revealed unpermitted living space that wasn't considered in the initial listing and a roof that was in need of repairing.
"The property was appraised at $680,000; and Mr. Butts tendered that as an offer," Miller wrote.
In an email, Robert said: "The house was shown several times and no one else made serious offers … I sold the house because we need the funds to continue to support my mom."
She added that she "never had a conversation with Jim Butts about the sales price."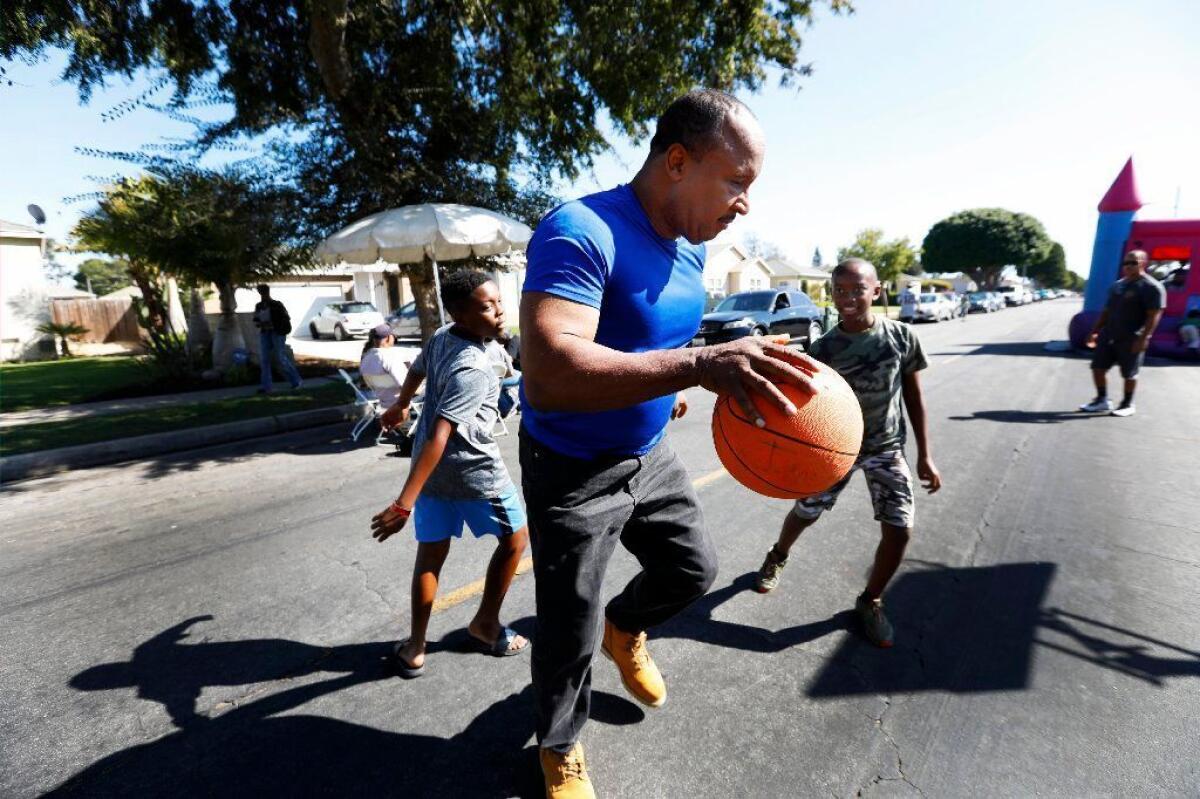 Questions about Butts' residences have followed the mayor since he first ran for the office in a special election in 2010 to fill the last two months of former Mayor Roosevelt Dorn's term.
He was disqualified from that race because of questions about where he lived and was registered to vote.
When he ran for mayor again in the general election a few weeks later, he was accused by a rival of residing in Ladera Heights while using his father-in-law's home to establish residency in Inglewood. He denied those charges and ended up winning the election in a runoff in early 2011.
The issue was revived most recently when the L.A. County district attorney investigated claims that Butts actually lived at an address in Los Angeles. The inquiry linked Butts to homes in L.A. and Inglewood, but after placing him under surveillance, investigators concluded that "Mayor Butts does appear to be living in the City of Inglewood," according to a March 2016 memo closing the investigation.
Court documents, public records and interviews paint a confusing and sometimes conflicting picture about where Butts resides.
In July 2017, he bought a home in the 8800 block of 5th Street in Inglewood but sold it seven months later at a $5,000 profit.
He was served with a court summons in March at a residence he owns in Ladera Heights. He said it happened when he dropped off his nephew and wife at the home following dinner out. (The couple have lived separately for the last five years, according to Butts.)
Four months later, Butts listed the newly-purchased Morningside Park property on his mayoral reelection paperwork. He said he has lived there for the last six months.
In August, Butts was served with another court summons at an address on Chapman Lane in the Renaissance gated community in Inglewood. He has been registered to vote at the address since 2014.
"I have lived in Inglewood continuously from the time I ran for office in 2010 to the present," Butts said. "I moved to 82nd Street directly from 3660 Chapman Lane in the Renaissance Homes."
Robert was raised in Inglewood and worked as a senior administration analyst and public outreach manager for the MTA before she started Robert Group.
Her firm helps with public outreach efforts for the multibillion-dollar stadium under construction for the Rams and Chargers as the centerpiece of a 298-acre development Butts championed. The firm also advocates for the arena complex the Clippers want to build in Inglewood near the stadium.
The Robert Group received a $300,000 contract from the city in November 2016 — with Butts and the four other city council members voting for it — to prepare stadium-related transportation plans. Her company is known for public relations and lobbying work, so she hired subcontractors with transportation-planning experience. The contract, which didn't go through the usual competitive bidding process because "the Robert Group is a highly specialized professional services firm," lasted 18 months.
The home on 82nd Street was sold just as that contract was ending, and Robert said it belonged to her mother, Vera, whose health she said is declining.
She added that her parents purchased it when she was a teenager. In May 2015, Robert and her brother decided to move their mother into a retirement home. They rented the Morningside Park home, then decided to sell as the costs of their mother's care increased.
Robert has donated $14,500 to Butts' campaigns through the years. She also has done extensive work for the MTA, whose board the mayor has sat on since 2014. Her company had been receiving contracts before Butts joined the board.
Robert's company is also behind Inglewood Forward, which bills itself as a "coalition of local residents, community leaders and business owners building a future of champions for Inglewood."
The organization, which features a prominent photo of Butts on its website, is funded by a Clippers-controlled company called Murphy's Bowl LLC. The team wants to build a privately funded arena complex in Inglewood that would also include team offices and a practice facility.
In an email, Robert said that she helped assemble the Inglewood Forward website, but "the mayor had no role in that."
Realtor Michelle Hicks, an old friend of both Butts' and Robert's, represented both parties in the sale. A member of the city's aviation commission, Hicks said she has known the mayor for about 30 years, since he was an officer in the Inglewood Police Department. She said she and Robert are "lifelong friends" who went to high school together.
She declined to say how much of a commission she received on the sale and said in an email, "I will NOT discuss this any further." Robert said she couldn't recall the amount of the commission.
Times staff writers Angel Jennings and Doug Smith contributed to this report.
Sign up for Essential California for news, features and recommendations from the L.A. Times and beyond in your inbox six days a week.
You may occasionally receive promotional content from the Los Angeles Times.