Alarming dry conditions in California setting new records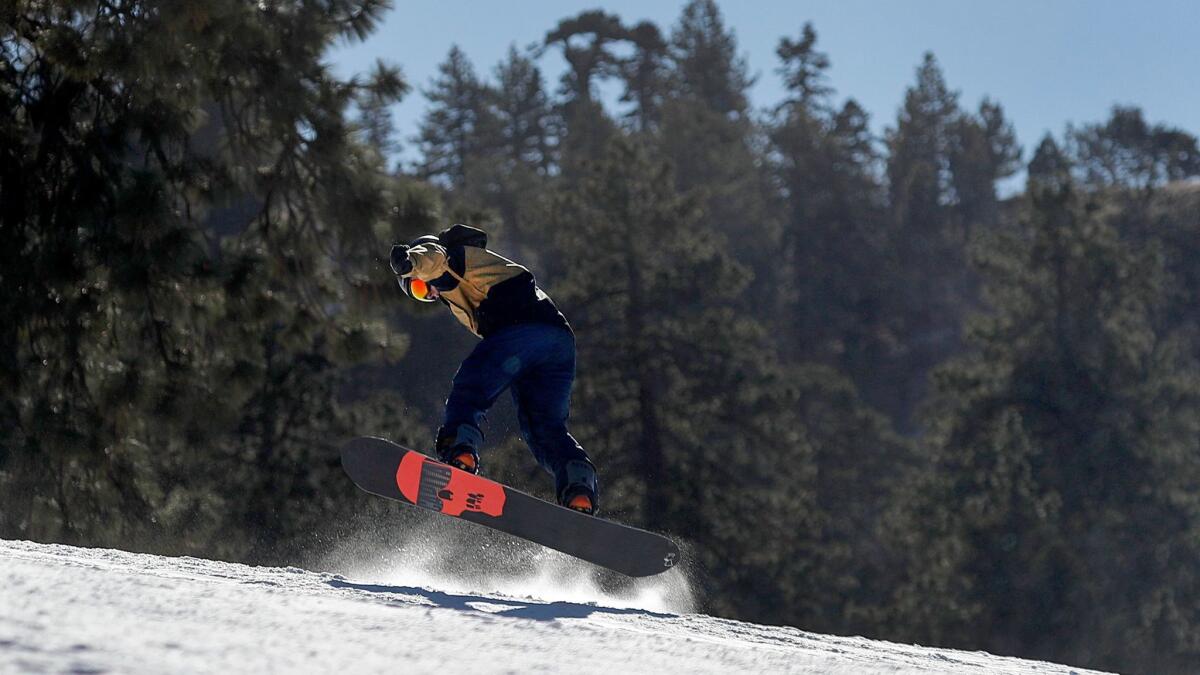 California is headed to a dry finish to February, historically one of the state's wettest months.
The state has been getting cold storms in recent days, which have been responsible for plunging temperatures, but the systems have been dry because they've been coming inland, from Canada, instead of over the Pacific Ocean, where they can soak up moisture.
"The West Coast is under what we call the Arctic Express — and so it's cold, but it's dry," climatologist Bill Patzert said. "Whether it's warm or cold, the rain story is the same, and here in Southern California, there's been scattered showers, but downtown L.A. hasn't seen more than a trace.
"We don't see any white horse charging on the horizon to change what's been a pretty disappointing rain year," Patzert said.
In fact, this month could be one for the record books as far as the driest February, or one of the driest, on record. Sacramento has received no rain at all this month; its record for driest February was in 1899, when the state's capital recorded 0.04 inch of rain.
San Francisco recorded its first measurable rain of the month on Thursday, but the city got only 0.01 inch; it typically gets about 4 inches in February.
The last time L.A. had no rain in February was in 1933, Patzert said; Los Angeles, however, has recorded 0.01 inch of rain so far this month. If downtown L.A. gets no more rain this month, this year's January-February period could be among the top three driest in the record books.
"What we've been having recently are these showers here and there. There's just not much moisture," said Jayme Laber, hydrologist with the National Weather Service's Oxnard office.
The conditions in the Sierra Nevada, California's greatest mountain range, have been dismal. The water content of the Lake Tahoe basin snowpack is just 20% of average for this time of year. At one station at Fallen Leaf, at elevation 6,242 feet, the land is dry and the snowpack is at 0% of normal. Farther up, at Heavenly Valley at 8,534 feet above sea level, the snowpack is at 47% of normal, said meteorologist Scott McGuire of the National Weather Service office in Reno.
Even the cold storms that have come through the Sierra recently have "all been fairly insignificant," McGuire said. "They have not been major contributors to the snowpack at all."
The snowpack stored in the Sierra Nevada over the winter is an important source for California's water supply.
Yosemite Ski & Snowboard Area announced it will not open this winter. "Unfortunately, there is not enough snow right now, or in the near forecast to open," the area said in a statement Wednesday. "We are contacting all season pass holders via email to offer the option of a season pass roll over to the 2018-19 season or a refund."
The recent weather pattern is a flip to the weather pattern that has seen California basking in a hot winter and the Midwest and East Coast shivering from frigid air. Now, a mass of high pressure is no longer affecting California and is instead now in place to the East, which is now seeing record high temperatures.
On Wednesday, it was 78 degrees at New York City's Central Park and 82 at Washington's Reagan National Airport. Records for the day fell again on Thursday in the southeast, with Charlotte, N.C., hitting 80, and Roanoke, Va., topping out at 84.
Record low temperatures for the date have been seen in the Bay Area, with Gilroy dipping to 30 on Wednesday and 27 in Napa a day earlier.
Farmers earlier this week feared that freezing temperatures could possibly endanger California's almond and other lucrative Central Valley crops.
This winter's lackluster rain season demonstrates how in some respects, it may have been premature for Californians to celebrate the end of the drought. Patzert said a look at the last 20 years of rainfall in downtown L.A. shows that, counting this year, 14 of them have been below average.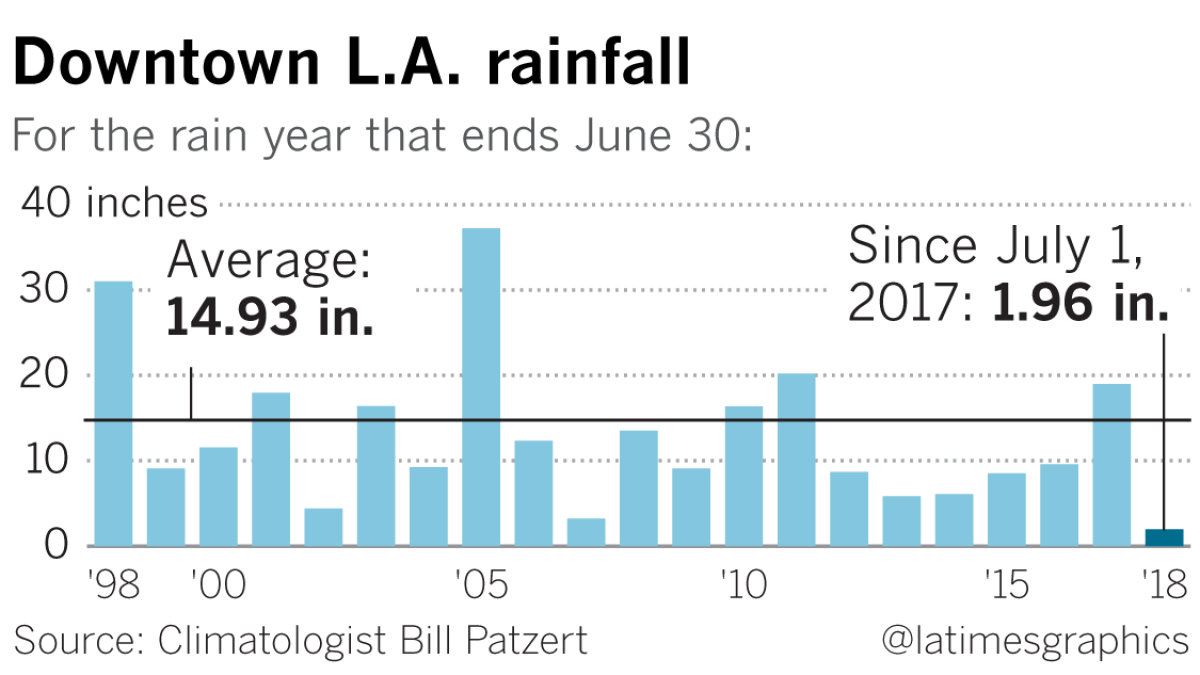 "Last winter was a temporary respite," Patzert said. "People are too quick to call an end to the drought. Droughts don't come and go in one year...When you call an end to the drought after one wet year, that's false hope."
At the moment, another cold storm is expected to come into California on Monday and Tuesday, although at the moment it doesn't look like that system will produce much rain.
A more promising bet comes about a week from now, on March 1, when some forecast models predict the arrival of a storm that could be a decent rainmaker.
But few are holding out hope that even a March miracle could bring California to the average annual precipitation level.
"It's virtually impossible to end up at average snowpack by April 1," McGuire said.
Sign up for Essential California for news, features and recommendations from the L.A. Times and beyond in your inbox six days a week.
You may occasionally receive promotional content from the Los Angeles Times.