Thousands remain without power after strong winds blow through California, keeping fire risk high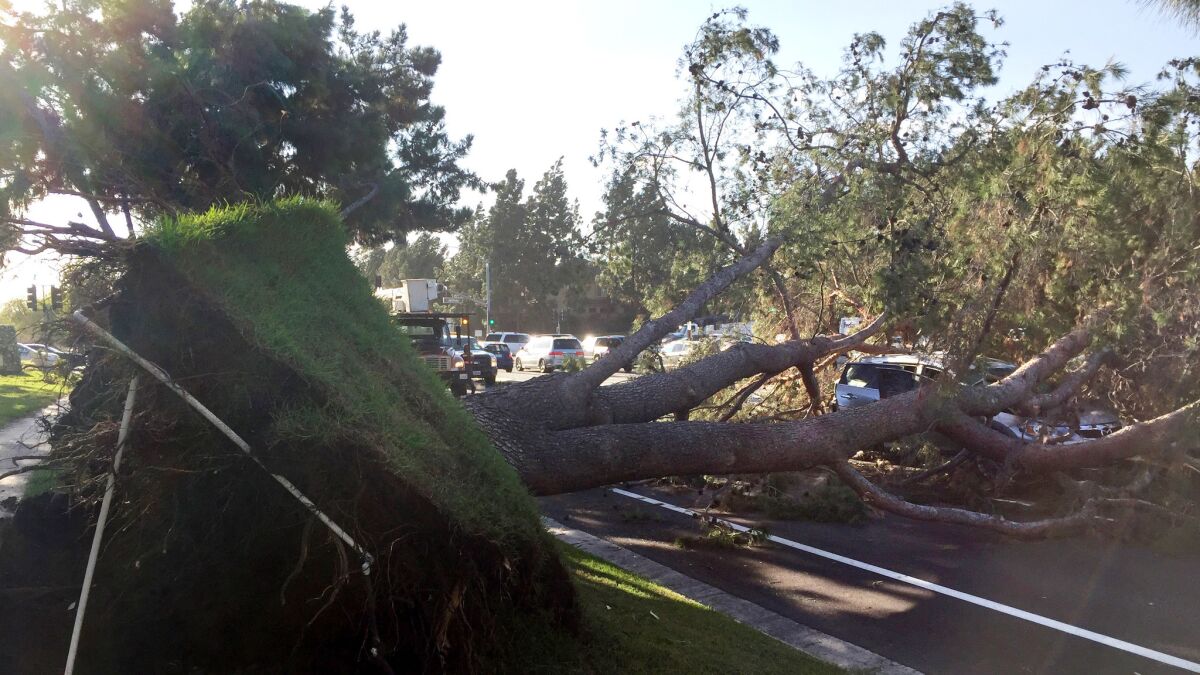 Thousands of California residents were still without power Tuesday after strong winds blew through the state, toppling trees and causing the death of one woman.
Wind warnings were still in effect in several areas, keeping fire crews on high alert. The extreme fire risk prompted PG&E to shut off power late Sunday to 59,000 customers in Northern California. By mid-morning Tuesday, the utility had restored power to about 66% of its affected customers, but more than 22,000 in El Dorado, Calaveras, Lake, Napa and Amador counties were still without power, spokeswoman Tamar Sarkissian said.
"We want to thank our customers for their patience during this time," she said, adding that similar proactive power outages are possible in the future. "After the fires that we experienced last year and the year prior, we've really seen that we're facing a new normal with climate change and we knew we needed to take steps to address this."
At one point, nearly 7,000 Los Angeles Department of Water and Power customers had lost power because of high winds, but the utility worked through the night to restore service by Tuesday morning, spokeswoman Sylvia Beltran said.
Across Los Angeles and Orange counties, fewer than 1,000 electric customers were still without power Tuesday, while in Riverside County, nearly 4,000 were waiting for the power to be restored.
Tuesday's winds are expected to be calmer, reaching 20 to 30 mph, with gusts of up to 45 mph, said Tom Fisher, a meteorologist with the National Weather Service. Officials said only the mountain and valley areas in Los Angeles and Ventura counties would be affected by the wind advisory, which is in effect until 3 p.m.
Monday's high winds reached hurricane force in some areas. Northern California saw gusts up to 95 mph, and the Malibu area saw winds of about 60 mph, according to the National Weather Service.
The high winds, combined with low humidity, continue to create red-flag fire alerts, which will remain in effect through 8 p.m. Tuesday, Fisher said, noting that people should remain vigilant about fire risks.
"Though there may not be a red flag warning out, it is still dry and we have breezy afternoons, so just be careful," he said.
alejandra.reyesvelarde@latimes.com
Twitter: @r_valejandra
The stories shaping California
Get up to speed with our Essential California newsletter, sent six days a week.
You may occasionally receive promotional content from the Los Angeles Times.