Heat wave heightens danger in an already epic summer of fire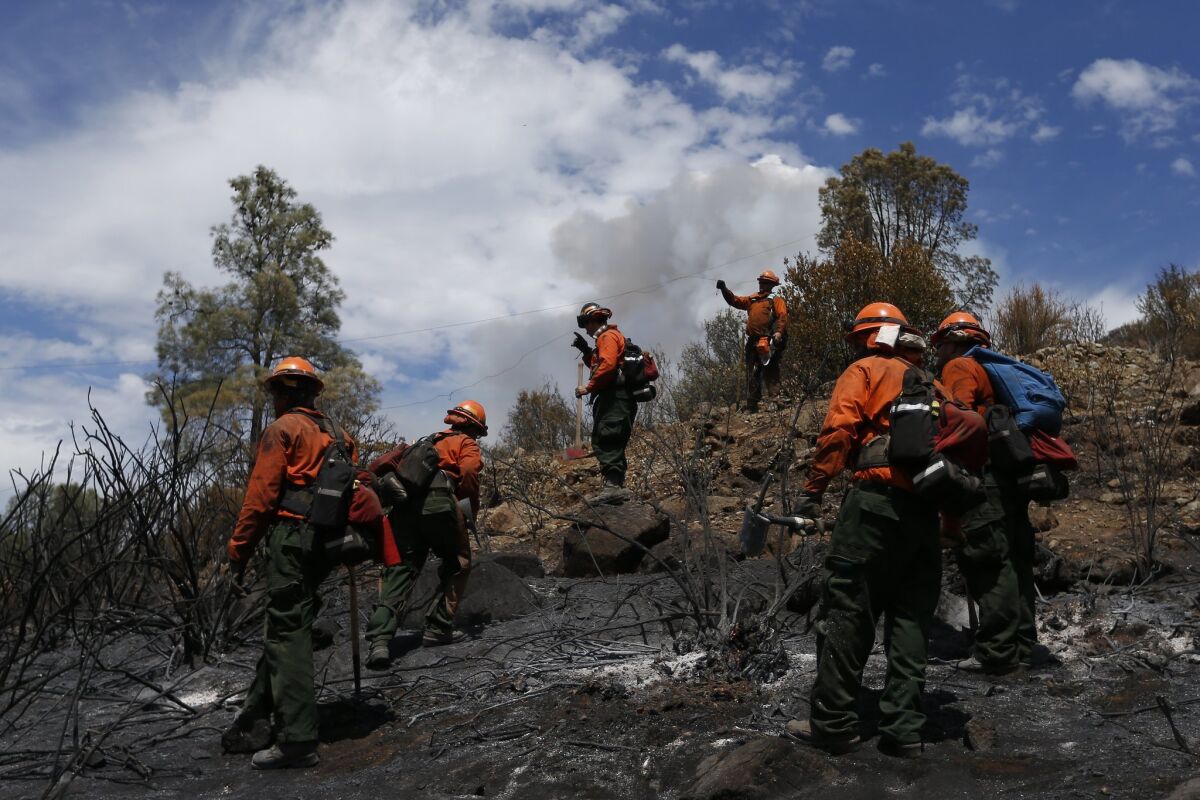 Northern winds that siphon moisture from the air. Flames that run rampant at night after aircraft have been grounded. Flying embers that spark more blazes. And now, rising temperatures are expected throughout the state.
The obstacles are only intensifying for crews fighting wildfires across Northern California, where years of drought have altered the landscape and set an unpredictable stage.
More than 11,000 firefighters are now battling blazes across the state, which has seen about 292,000 acres burned this year — significantly more than last year at this time, according to fire officials.
"We have a long road ahead of us," said California Department of Forestry and Fire Protection Capt. Amy Head. "Our most large and damaging fires are usually much farther down the road — September and October. We're already seeing these types of burning conditions."
In a move that veteran fire officials say they have never seen before, the U.S. Forest Service has pulled firefighters from all 50 states and Puerto Rico to help.
"That's remarkable," said Stanton Florea, a U.S. Forest Service spokesman. There's not just the fires we have, but anticipating additional fire activity."
A high-pressure system north of the Bay Area is expected to send temperatures toward triple digits, according to the National Weather Service. With it could come gusts of wind that send sparks flying.
"We're working furiously on this before that weather pattern kicks in," said Steve Swindle, a fire engineer with Ventura County who is assisting Cal Fire on the Jerusalem blaze.
Crews are already dealing with northern winds that suck moisture from coastline breezes. And although fires typically die down with cooler night temperatures, many this year have exploded under the cover of darkness when aircraft can't help ground crews.
"It just stays dry and windy all night," National Weather Service meteorologist Brad Charboneau said. "When you've got fires already going like this, any kind of gusty winds and low [moisture] recovery is going to cause problems."
On state-controlled lands, Cal Fire said, there were more than 4,300 fires through Saturday. That's about 1,300 more than compared to 2014.
This year's blazes have burned nearly 118,000 acres, or about 40,000 more acres than last year at this time, Cal Fire said. The five-year average for this time of year is about 2,800 fires burning 53,000 acres.
Despite the increases, 2015 is not one of California's worst fire years. The Cedar Fire in San Diego County in 2003 burned 273,000 acres and destroyed 2,820 structures – and it was only the worst of several destructive fires that year. Another fire in San Diego County in 2007 destroyed about 1,600 homes. In 2008, wildland fires in California burned nearly 1.4 million acres.
But officials said the dry conditions leave California especially vulnerable this year.
"You need to think there's four years of drought, so it's a little bit skewed. It's actually even more significant," Head said. "There's a lot more fires happening. It's all related to the drought."
A prime example is the Wragg fire, which burned for two weeks in Napa and Solano counties until it was contained Aug. 5, Head said. Authorities believe the blaze was sparked by a car crash and fueled by winds. It got into steep hills and rugged terrain, rapidly burning 8,000 acres.
"Normally there's some moisture in the fuels this time of year … we're well past that. They're already dead, dry fuel," she said. "On the Wragg fire, we were experiencing triple-digit temperatures and single-digit humidity. You get really explosive fire behavior. We can't get ahead of it, it's creating so much heat."
At 88% contained Wednesday, the Rocky fire — the largest of the 16 active fires in the state at nearly 70,000 acres — has been somewhat tamed since it broke out two weeks ago near Clear Lake. It quickly defied computer models and simulations, devouring 20,000 acres in five hours.
Officials were bewildered by the fire, which created a mushroom cloud of smoke and ash that every so often plummeted to the ground and sent flames and wind rushing in all directions.
A turning point came late last week, when the temperature dropped and moisture blanketed the area, allowing crews to double the containment of the blaze in two days, according to a Cal Fire official.
Now the big concern is the Jerusalem fire, burning directly to the south.
It broke out Sunday and has burned through 16,500 acres of heavy brush.
Fire officials say access is nearly impossible in some areas because of rugged terrain.
At one point the Jerusalem fire rubbed shoulders with the Rocky fire and the two threatened to merge.
To block the union, crews deliberately set fire to an unburned portion between the two, eliminating dry fuel in the area.
The two fires have many residents on edge.
Christian Ahlmann, 32, said the sky around his hometown of Clearlake has been filled with dark smoke and the rumbling of low-flying planes for days.
At his family's winery, flames jumped a containment line and consumed about 200 acres of land used for cattle grazing.
"It has been a rough two weeks," he said. "We have been on our toes every day."
Having already evacuated once because of the Rocky fire, he was troubled when employees spotted a new plume of smoke, this time from the Jerusalem fire creeping over nearby hills.
"It seemed almost surreal," he said. "We are the Grand Central Station for fire season this year."
Residents across Colusa, Lake and Yolo counties — where 96 structures, including 43 homes, have been destroyed —returned to their homes.
But those in Lake and Napa counties remain evacuated.
The causes of the Rocky and Jerusalem fires are under investigation.
Officials now worry that the upcoming heat wave could create the same conditions that whipped the Rocky fire into a frenzy.
The heat wave will also extend to Southern California, with higher than normal temperatures expected through early next week.
The hottest areas will be places such as Woodland Hills and Burbank, where temperatures could top out at 103 and 98 degrees, respectively, by the weekend, said Stuart Seto of the National Weather Service.
Downtown Los Angeles will bake in above-average heat Saturday and Sunday, when temperatures could hit 91 degrees, Seto said.
The temperatures, though not record-breaking, are still about 10 degrees above average for this time of year, Seto said.
The weather for the last week has been cooler than usual, he added.
The heat will bring an increased risk of fire in the drought-parched mountains and hills.
Although the humidity is not expected to drop low enough to trigger wildfire warnings, years of drought and 10-mph to 20-mph winds expected this weekend can turn any spark into a dangerous fire, Seto said.
Times staff writer Veronica Rocha contributed to this report.
ALSO:
The 36-cent 'shade ball' that could save $250 million and keep L.A. water clean
California will soon have toughest shower head requirements in nation
As El Nino grows, drought-stricken California braces for wild winter weather
---
Life is stressful. Our weekly mental wellness newsletter can help.
You may occasionally receive promotional content from the Los Angeles Times.