Cal State budget plan includes hiring more than 500 full-time faculty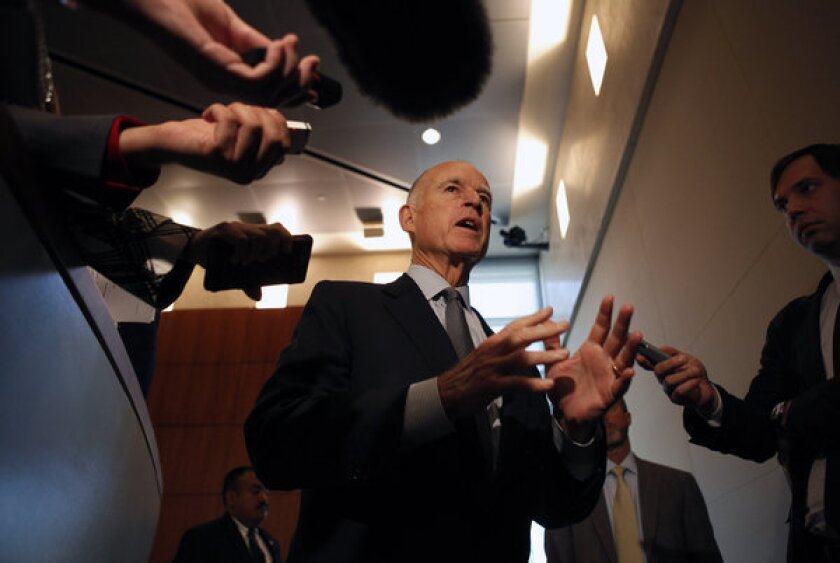 Hundreds of new full-time faculty would be hired to teach high-demand courses at California State University campuses under a budget plan to be considered by trustees Tuesday.
Under the proposal, about $13 million would be used to hire more than 500 full-time faculty members, enabling campuses to increase the number of classes in highly sought subjects such as English, algebra, geography and biology. An additional $8 million would pay for 70 new academic advisors, a crucial component in the system's push to have students meet graduation requirements more quickly.
"These are areas that took a big hit when we went into recession and we haven't been able to replenish," Cal State system spokesman Mike Uhlenkamp said.
The Board of Trustees is scheduled to act on the budget plan when it convenes in Long Beach. Gov. Jerry Brown, a member of the board, is to attend the meeting, which will continue Wednesday.
The overall 2014-15 spending plan seeks an additional $237.6 million from the state, slightly less than the $250-million preliminary plan presented to the board in September.
"It's slightly down, but we did feel it's realistic based on the needs we have," Uhlenkamp said.
But it is still more than the $142.2-million increase proposed by Brown under a multiyear funding plan for both Cal State and the University of California. That plan was formulated after the passage of Proposition 30, which raised taxes for education and other purposes.
Brown's proposal calls for annual increases over a four-year period and assumes neither system will increase tuition during that time. The Legislature hasn't adopted the governor's entire plan, but it did approve the first-year increase of $125.1 million for 2013-14.
At the September meeting, Brown suggested that Cal State may have a hard time persuading lawmakers to approve its full request given the state's still-shaky economy and competing demands.
"You can ask for more, but you have to understand that you're not alone -- a bunch of other people are also asking," he said.
More than 430,000 students attend Cal State's 23 campuses, which make up the largest higher education system in the nation. Since 2008, the system has lost nearly $1 billion in state support and has greatly curtailed the hiring and replacement of full-time tenure-track faculty while relying more on part-time lecturers. Increasing the ranks of full-time faculty would provide greater stability for students and expand the base of qualified professors to teach "bottleneck" courses -- those that are most in demand or needed for degrees but that have high failure rates.
"There is a commitment now to build the tenure-track workforce, and given that many faculty are reaching the end of their careers, it's not a moment too soon," said Lillian Taiz, president of the Cal State Faculty Assn. and a history professor at the Los Angeles campus. "Five hundred will not solve the problem, but it will certainly move us in a better direction than we've been going."
Once approved, the budget request will be presented to Brown's Department of Finance. The plan also includes nearly $80 million to boost enrollment by more than 20,000 students.
ALSO:
Preliminary UC plan calls for no tuition hike next year
O.C. may create Megan's Law-style website for vicious dogs
Man living in garage with baby is arrested, suspected of using meth
carla.rivera@latimes.com
Twitter: @CarlaRiveraLAT
---
The stories shaping California
Get up to speed with our Essential California newsletter, sent six days a week.
You may occasionally receive promotional content from the Los Angeles Times.