California faces $860-million repair bill for roads battered by record winter storms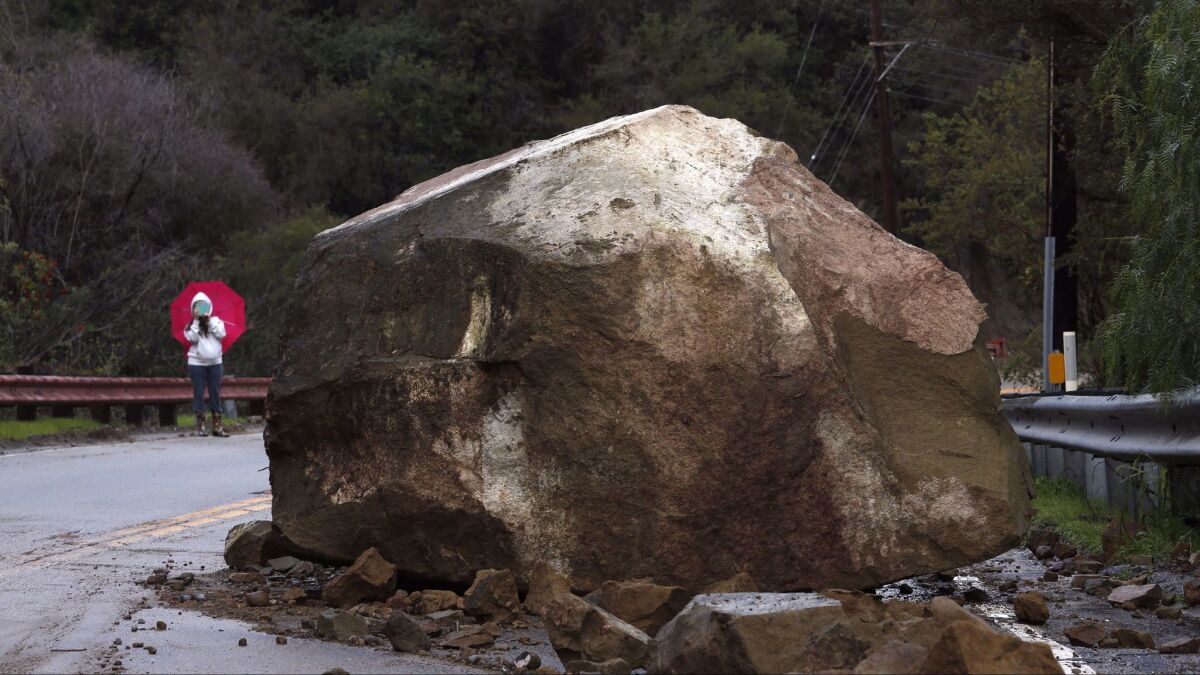 There were many dramatic images from California's extreme winter: interstates flooded, bridges buckled, highways covered in mud, snowbanks blocking key highways.
In Topanga Canyon, the lasting memory for many locals was the massive boulder that blocked Topanga Canyon Boulevard in January after one fierce rainstorm. The huge rock became a popular spot for selfies and social media posts.
The boulder has been removed, but the storm has left a costly legacy in the canyon and on roads across California.
Officials estimate it will cost more than $860 million to repair the state's roads, bridges and highways damaged from this winter's storms.
A combination of snow-heavy storms flowing south from the Alaska Gulf and atmospheric rivers moving east from the tropical Pacific in recent months produced some of the wettest conditions California has seen in generations and finally vanquished the drought.
But it left many roads in bad shape.
"I can tell you that it was a momentous series of storms that drenched our region," said Michael Comeaux, spokesman for Caltrans District 7, which includes Los Angeles and Ventura counties.
In Los Angeles County alone, emergency and permanent repair costs for all the damage will cost more than $55 million, according to a Caltrans preliminary damage assessment. Nearly half that cost will be toward one project on Highway 27, also known as Topanga Canyon Boulevard.
During a weekend in January, a wave of massive boulders and rain soaked mud crashed onto two sections of the road about a mile apart, forcing a 3.5-mile closure of the winding pass through the Santa Monica Mountains between Pacific Coast Highway and Grand View Drive.
"Everything came down," Comeaux said.
Approximately 2,100 cubic yards of earth, rock and debris were scattered across the road. It took heavy duty haulers more than 200 trips over several weeks to clear it.
"It was a major impact on the community," Comeaux said. "Because material could fall conceivably while people were working and there's heavy equipment being used, there was no way we could allow people to drive through."
Emergency repairs to the hillside cost about $2 million; but permanent restoration, which includes geotechnical assessments, moving utility lines and stabilizing the slope, could cost an additional $21 million, Caltrans estimated.
Caltrans faces an even costlier project farther north in Monterey County, where the Pfeiffer Canyon Bridge in Big Sur was destabilized earlier this year after a mudslide. It will cost Caltrans at least $26.5 million to replace it, the agency estimated. Officials said a new bridge could be reopened by October.
The most expensive job, however, goes to Caltrans District 4 in Santa Clara County, where a 200-foot long section of Highway 35 slid downhill more than 50 feet. A permanent rebuild of the highway and stabilization of the hillside is estimated to cost more than $29.5 million.
Of Caltrans' dozen districts, repair work in District 3 in Northern California is expected to cost the most overall, the assessment shows. The district, which includes Sacramento, Yolo, Yuba and Butte counties, experienced repeated floods in January and February as multiple rivers were overwhelmed with powerful storms. Repairs there are estimated to cost more than $360 million, the Caltrans assessment shows.
The two main highways through Sierra Nevada — Interstate 80 and U.S. 50 — were repeatedly closed due to heavy snow and blizzard conditions. The pounding storms left both roads with significant damage.
Also hit hard was Highway 17, which connect Santa Cruz to San Jose, was also closed repeatedly due to mudslides.
The assessment does not include repairs needed for Oroville Reservoir in Butte County, which is a Department of Water Resources project that was severely damaged in February. Permanent fixes to the facility's flood control spillways and hydroelectric plant are estimated to exceed $200 million, DWR officials said last month.
On Sunday, the Federal Emergency Management Agency announced that a slew of counties will receive federal emergency aid from storms that hit in February. Details on how much of that money will cover Caltrans repair work were not immediately available.
California officials are hoping to get some of the money for road repairs from the federal government.
For breaking California news, follow @JosephSerna on Twitter.
ALSO
California snowpack is one of the biggest ever recorded, and now poses a flooding risk
Another reservoir overflows as Northern California receives more rain
For the first time in almost 100 years, a rare frog population is having sex in the Santa Monica Mountains
The stories shaping California
Get up to speed with our Essential California newsletter, sent six days a week.
You may occasionally receive promotional content from the Los Angeles Times.