Residents fear losing Capistrano Beach as storms chip away at their 'piece of paradise'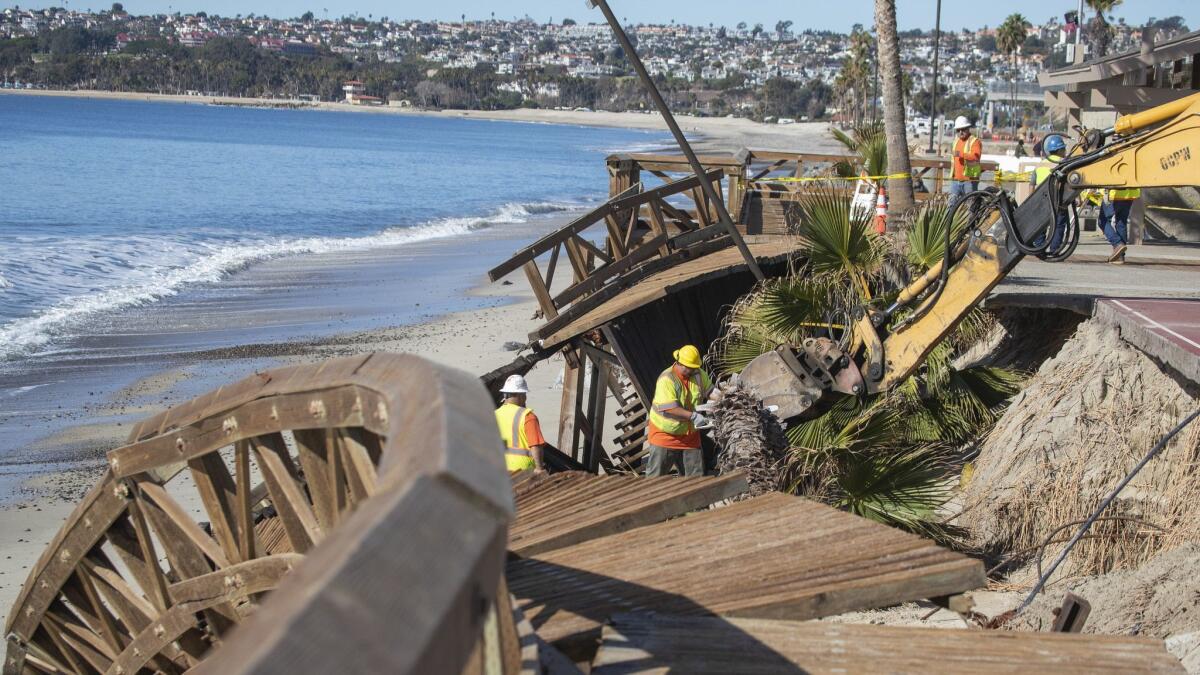 Walking along a battered stretch of her beloved beach, Sandie Iverson ticked off the destruction from recent storms. The boardwalk and a seawall collapsed. Palm trees were ripped from their roots.
As winter rains alight on Southern California, Iverson couldn't help but wonder what fresh calamity would befall small but picturesque Capistrano Beach.
"When this crazy weather ends, will we still have basketball courts?" the 70-year-old asked, as excavators continued clearing debris this week.
"Capo Beach" lies on the southern end of Dana Point and is jointly owned by the city, Orange County Parks and the state. It is bordered by Doheny State Beach to the north and San Clemente to the south. Its shimmering water, spread below jagged cliffs, as well as an air of tranquility beckon people who call it a jewel.
But Capistrano Beach has been increasingly chipped away at by recent and past storms — as well as rising sea levels. Last week's heavy rainfall eroded enough of the beach to expose the remains of old cars embedded in boulders filled with cement as part of a seawall built decades earlier.
This week's thunderstorms forced crews to haul 1,000 tons of large rocks to Capistrano Beach, lining them up as a bulwark to protect popular basketball courts from disappearing into the ocean. Bathrooms already are closed, but these same rocks should help "keep them and the land under them from drifting away," said Bill Reiter, parks division manager at O.C. Parks.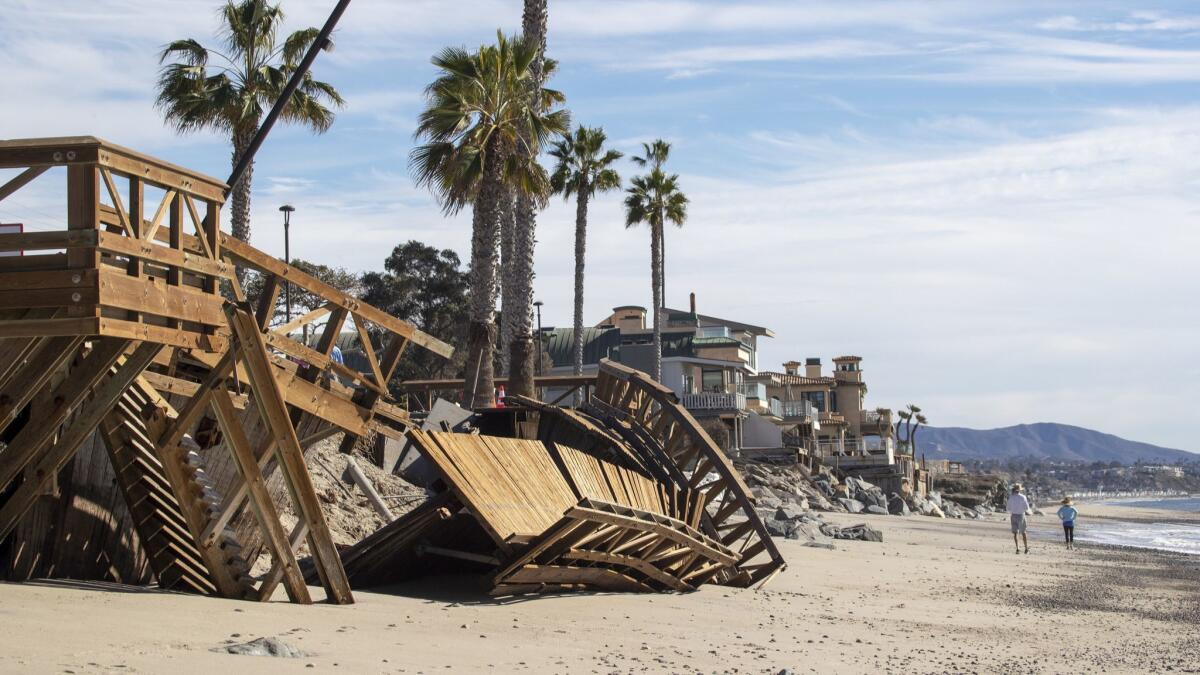 "We've been trying to pull out bits and pieces of the boardwalk — get that under control," he said. "But sometimes, the tide and surf are too high. We have to play the waiting game, but this beach has become a priority based on the damages we've witnessed."
Reiter grew up in Orange County and discovered Capo Beach in the early 1990s, when he started his job at the agency.
"It's a cool, little beach. I like it because it really is quiet," he said. "You don't get the massive crowds like at other places. Crowds go to bigger, fancy beaches, but here, you can have your own space."
Some residents credit Reiter and his South Coastal Operations team for being attentive to their worries, along with monitoring the Capo Cares Facebook page, a community co-founded by Toni Nelson. Many locals are supporting the county, which has contacted the California Coastal Commission to file for an emergency permit to stabilize parts of the beach with "riprap" — loose stone used to form a rock wall.
Spokesperson Noaki Schwartz said the commission "received an emergency permit request from the county for sand cubes and rock, and are currently working with them on the best solution for the short-term emergency protection in the area."
County officials will need to follow up with a plan to tackle the situation in the short and long term and the commission and the city will be reviewing that plan, she added.
Nelson, who along with Iverson, exercise their dogs three times a week at Capistrano Beach, said she hopes the commission "truly understands what this piece of paradise means to us. We want them to expedite the permits to make repairs and save our beach for another 10, 20 years — perhaps before Mother Nature again interferes."
Residents and tourists lament not just the threat of rising sea levels, but the loss of opportunity to make more memories for their families in one of the most stunning spots in the county. Iverson, photo archivist for the Dana Point Historical Society, held a picture of the Capistrano Beach Club and its Olympic-sized swimming pool from the 1960s, showing its heyday when club members gathered for fresh seafood buffets and dancing.
Along Beach Road, multimillion-dollar homes now occupy the sand near the old complex, but through the years, "milestones happened on this beach," Iverson said. For a long time, Capo "provided an economical way for people to go to the beach without having to pay for parking."
Last year, the number of visitors to Capo reached nearly 500,000, based on parking data, compared to nearly 2.5 million at neighboring Salt Creek Beach, also run by O.C. Parks and nestled next to the elegant Ritz-Carlton Laguna Niguel hotel.
Vacationer Sami Alvarez, who has cousins in San Clemente and visits them every few years, always squeezes in a stop at Capo. He described it as "a fun, pocket beach. It's like an escape. I'm not into the larger places and I wouldn't miss this because it's ideal for meditation."
Nelson would agree.
"You really can't put a value on just being able to sit at the beach and think or dream or be with the ones you love," she said. "So many people have raised their families here that it's heartbreaking to imagine that it could be gone. But that will eventually happen. What the ocean gives, it takes away."
Twitter: @newsterrier
Sign up for Essential California for news, features and recommendations from the L.A. Times and beyond in your inbox six days a week.
You may occasionally receive promotional content from the Los Angeles Times.