L.A. council committee balks at proposed agreement with warehouse operator amid strike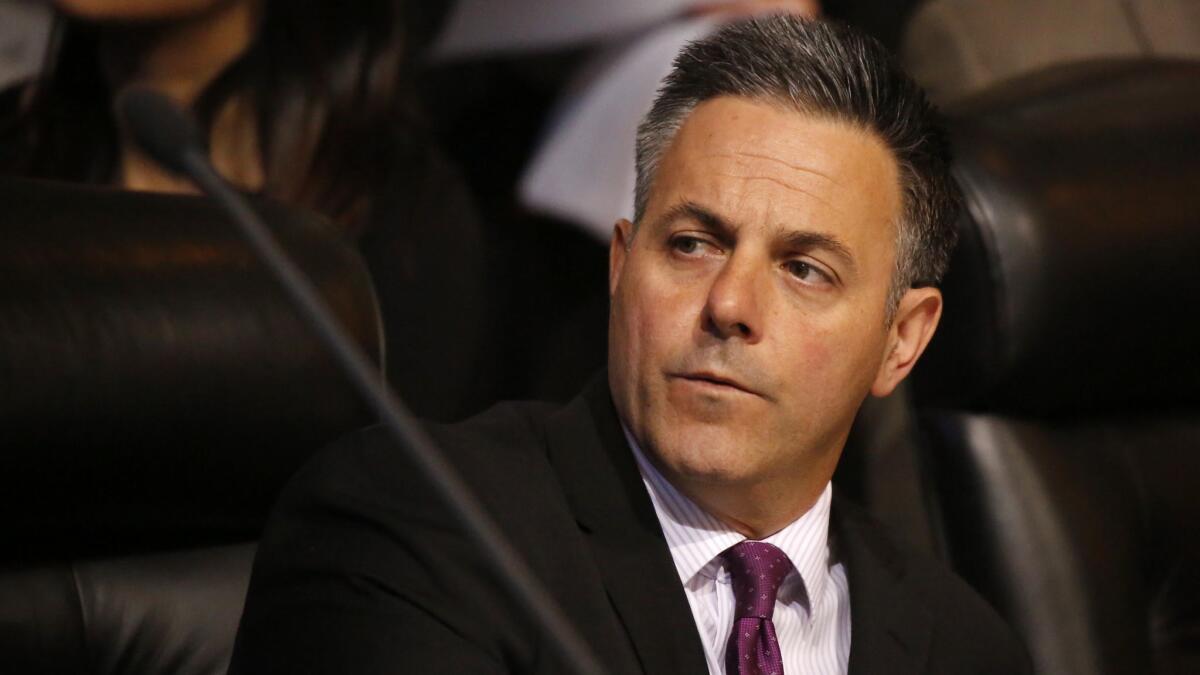 A Los Angeles City Council committee balked Tuesday at a proposed agreement between the Harbor Department and a warehouse operator that has been accused of labor violations, saying that the company first needs to reach a deal to prevent strikes.
The decision now heads to the entire council, which will vote on whether to reject the plan and kick the decision back to the Board of Harbor Commissioners. It comes one day after warehouse workers and truck drivers launched their latest strike in front of warehouses serving the ports, protesting the classification of drivers as independent contractors.
Labor activists, including the port division of the International Brotherhood of Teamsters, are urging the council not to accept an agreement unless it includes a "no labor disruption" provision to prevent future strikes, which they argue would prod the warehouse company and labor organizers to reach a deal addressing worker concerns.
Councilman Joe Buscaino backed that idea, calling for the harbor commission to revisit the proposed agreement and include "safeguards" to prevent work stoppages.
"We're not here to shut down anybody or take people's jobs away, OK?" Buscaino told warehouse workers and company officials who crowded into the meeting. "We are here to prevent further labor disruption."
Last month, the Board of Harbor Commissioners voted to approve a permit for California Transload Services LLC that would allow it to continue using roughly 85 acres of port property for warehouses and related operations in Wilmington where more than 700 people work.
The agreement would reap more than $5.3 million in rent for the Harbor Department annually, according to port officials.
California Transload Services is part of NFI Industries, which acquired the California Cartage group of trucking and warehousing companies last year.
Cal Cartage has repeatedly faced complaints about labor and safety issues. City Atty. Mike Feuer sued three of its trucking companies, alleging they misclassified drivers as independent contractors to avoid paying minimum wage and employee benefits.
In a report, the Harbor Department said that NFI seemed to be making a "good faith effort" to address concerns that had arisen under the former owner.
NFI said that since it bought the companies, it had granted raises and invested more than $1 million in the Wilmington facility. At the Tuesday hearing, several workers spoke up in support of the company.
"It is unfair for the city to make us pay for offenses that predate our ownership," NFI co-owner Ike Brown said Tuesday.
Labor activists countered that problems had continued under the new owner.
The National Labor Relations Board recently issued a complaint against California Transload Services and NFI, alleging that they told an employee that he could not tell others about their right to take heat breaks and retaliated against him for his union activities. California Transload Services also got cited for safety issues earlier this year.
"It's the same violations, the same lawbreaking," said Celene Perez, co-executive director of the Warehouse Worker Resource Center, arguing that the only thing that had changed at the facility was the name. At the Tuesday hearing, several workers complained about unsafe conditions and other problems.
NFI is contesting the safety citations against California Transload Services and said that the employee named in the NLRB complaint was terminated for disruptive behavior, not union activity. In a recent statement, it called the latest strike "unfortunate," arguing that the Teamsters are trying to force union representation on warehouse workers who have repeatedly rejected it.
The Teamsters have countered in legal filings that Cal Cartage threatened workers that their jobs would be lost if they voted for the union, tainting the election process. Fred Potter, vice president of the Teamsters port division, complained at the Tuesday hearing that they had been unable to hold an "honest election." Cal Cartage has disputed such assertions.
NFI said it was disappointed by the Tuesday decision. "It is unfortunate that this item is being used as a platform to advance the agendas of some very specific special interests, namely the Teamsters, instead of following the will of the people directly affected," the company said in a written statement.
Labor activists celebrated the decision on the steps of City Hall alongside Buscaino.
Potter said that reaching an agreement to prevent work stoppages would not force the company to unionize and could take many different forms. However, Potter said he hoped that such a deal would ensure that workers could legally discuss and act to join a union if they chose, without fear of retaliation.
"The company turns a blind eye to the workers," Potter said, adding that "this levels the playing field."
Buscaino aides said the decision is expected to go to the entire City Council next week.
Twitter: @AlpertReyes
Sign up for Essential California for news, features and recommendations from the L.A. Times and beyond in your inbox six days a week.
You may occasionally receive promotional content from the Los Angeles Times.