Developer Rick Caruso agrees to shave height of apartment tower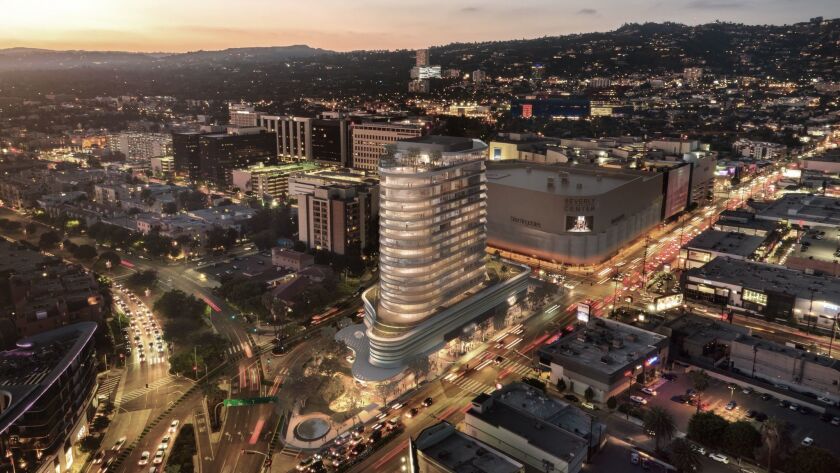 The developer of a residential tower planned near the Beverly Center offered new concessions to the city on Wednesday, saying he will reduce the height of his project by nearly 23%, taking it from 240 feet to 185.
Businessman Rick Caruso, appearing before the Los Angeles City Council's Planning and Land Use Management Committee, said he has agreed to scale back the La Cienega Boulevard project — cutting it from 20 stories to 16 — and promised to provide an additional $500,000 to the city for affordable housing.
Both changes were made at the request of Councilman Paul Koretz, who represents the area.
Koretz, who is running for reelection, announced last month that he had rescinded his support for Caruso's 145-unit tower, saying he had decided the project was too tall. That decision, said Koretz, was made after a group opposed to Caruso's project turned in a petition with more than 1,000 signatures.
On Wednesday, Koretz threw his support behind the project once again. He called the height reduction a "reasonable compromise" between Caruso and the Beverly Wilshire Homes Assn., which opposes the residential tower.
"I'm confident that we have succeeded in finding an appropriate middle ground," he said.
Representatives of the Beverly Wilshire organization disagreed. Attorney Sabrina Venskus said the building is still too tall and predicted the organization would sue the city if the project is approved at 185 feet.
"This compromise is a joke," said Diana Plotkin, the homeowner group's president.
The council's planning committee approved Caruso's redesigned project, sending it to the full council for a vote next week. After the committee's vote, Caruso said he "did the right thing" by agreeing to additional concessions.
"Diana Plotkin had an opportunity to be part of a process and be part of a solution, and I'm disappointed that she chose not to be that way, because we have a long history of working together," he said.
"This is a project that's supported overwhelmingly by the community," he added. "So unfortunately, Diana is a bit out of step."
For months, opponents have described the project as an example of the city changing its planning rules for a well-connected developer. The site where Caruso plans to build is zoned for buildings no taller than 45 feet, or roughly three stories.
Approval of a much taller project, said Beverly Grove resident Clark Carlton, will undermine the credibility of the city's planning laws.
"It means billionaire developers don't have to follow rules," he said.
The La Cienega project has become an issue for backers of Measure S on the March 7 ballot. Measure S seeks to put a two-year ban on projects such as Caruso's — those that need zoning changes or other discretionary approvals from city lawmakers.
The Times reported last year that Caruso and his associates provided more than $476,000 to city politicians and their initiatives over a five-year period. Caruso also promised the board of Westbury Terrace, an 11-story condominium tower across the street from the site of his project, that he would make $500,000 in repairs to their building.
Caruso said the money promised to Westbury Terrace shows that he is serious about addressing concerns raised about noise and dust from construction of his tower. And he argued that his political donations are part of a much larger pattern of philanthropic giving to churches, nonprofit groups and educational institutions.
During Wednesday's meeting, supporters of Caruso's tower said it would provide much needed housing to the Beverly Grove neighborhood, including 14 apartments rented at below-market rates. They also argued that the area already has buildings that are between eight and 11 stories.
At 185 feet, the Caruso project would be roughly the same height as the Cedars-Sinai Advanced Health Sciences Pavilion up the street.
Twitter: @DavidZahniser
ALSO
L.A. politicians propose banning campaign contributions from developers
Lopez: When it comes to political donations in L.A., what's legal can be worse than what's not
Did developer-linked donations violate campaign finance laws? State watchdog agency will investigate
---
The perils of parenting through a pandemic
What's going on with school? What do kids need? Get 8 to 3, a newsletter dedicated to the questions that keep California families up at night.
You may occasionally receive promotional content from the Los Angeles Times.