Judge sides with L.A. County against illegal dumping in the hills above Chatsworth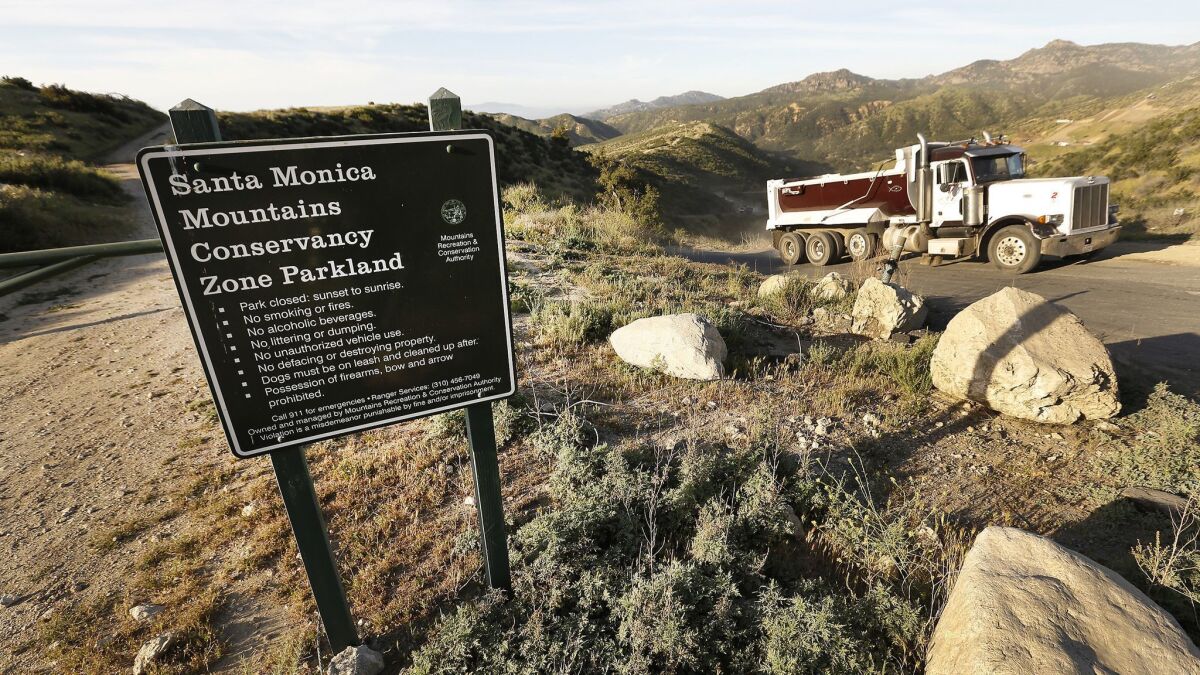 A Superior Court judge has ruled in favor of L.A. County in its fight with the owner and operator of an illegal landfill, where officials have been trying to halt dumping at the unpermitted site in an ecologically sensitive area in the hills above Chatsworth.
In his ruling, issued Friday, Judge Stephen P. Pfahler agreed with county officials that Wayne Fishback, Charles Lee, ABC Waste Management Corp. and Cepheid LLC continue to violate his 2015 order preventing the transport and deposit of concrete and demolition debris on the property.
For years, the volume of trucks heaving along the twisty 3.2-mile Browns Canyon Road, stretching toward Michael D. Antonovich Regional Park and Fishback's property, prompted endless complaints from neighbors about noise and environmental destruction.
Now, opponents laud Pfahler for banning all Class 6 trucks and higher from entering the hillside properties.
"I applaud the court's decision to finally put an end to the illegal dumping, the hundreds of trucks a day on Browns Canyon Road, and the general nuisance our local communities have had to endure for far too long," said L.A. County Supervisor Kathryn Barger, whose district includes the dump and its potential hazards.
She added that officials "will immediately" talk with law enforcement, the Mountains Recreation and Conservation Authority, Santa Monica Mountains Conservancy and regulatory agencies to "help vigorously enforce" the court order.
Pfahler, who issued a preliminary injunction in December 2015, also ordered the defendants to post "no dumping" signs on the property, which occupies one of the last patches of prime wildlife habitat in the north San Fernando Valley's Santa Susana Mountains.
The ruling appeared to have caught Fishback by surprise.
"I don't know anything about it," he said Monday. "I haven't heard anything about it."
Deborah Fox, an attorney representing Los Angeles County, called Pfahler's ruling "a great victory for the county and for our communities. The destructive parade of trucks has been absolutely awful for residents and they want it gone."
At times, as many as 100 trucks a day have poured tons of construction debris into a steep ravine. Earthmovers have leveled the mounds, slowly filling the canyon where Fishback hoped to build atop the acres he named Liberty Ranch — constructing a "big, beautiful park" not just for horse lovers and hikers, but also adding domed housing units, which he said were a potential solution for sheltering the homeless.
Fox, though, countered that homeless shelters are not allowed on land zoned for heavy agriculture. She and her team plan to soon submit a proposal for a modified injunction to the judge. Before the ruling, she said officials were confident about the injunction violations, thanks to "overwhelming evidence" from drone photos and materials presented in 500-plus exhibits.
Twitter: @newsterrier
Times staff writer Louis Sahagun contributed to this report.
The stories shaping California
Get up to speed with our Essential California newsletter, sent six days a week.
You may occasionally receive promotional content from the Los Angeles Times.